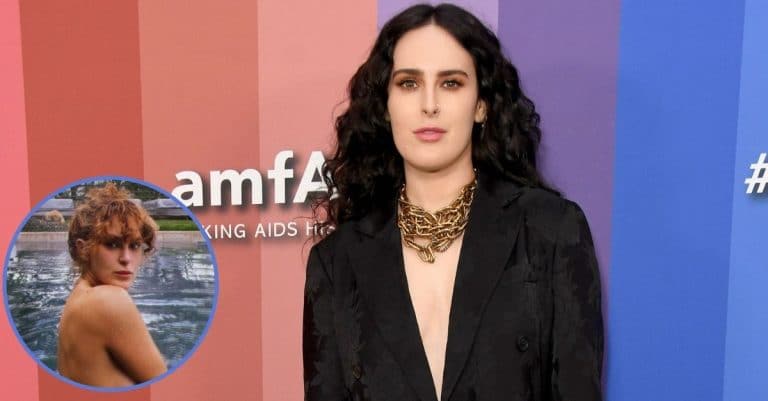 Demi Moore's daughter, Rumer Willis, looks absolutely breathtaking in some new poolside photos she's posted online. In the photos, she's very clearly nude, showing some profile shots in addition to snaps of her bare back. She captioned the photos with a simple mermaid emoji. Very fitting!
The photos were met with tons of positive feedback from fans. "So beautiful Rumer," one fan writes. Another says, "I always knew you were a mermaid. You and @demimoore too."
Rumer Willis shows off stunning poolside photos
View this post on Instagram
Following her poolside photos, she also shared an update about her sister, Scout, on her Instagram Story. "You all aren't even ready for the music magic that's about to bless your ears. @Scoutlaruewillis is coming in like a hot [red pepper] with her first song off her upcoming album," she wrote, featuring Scout's original post.
RELATED: Rumer Willis Shares Never-Before-Seen Childhood Photos With Demi Moore, Bruce Willis
Scout's original post read, "Last looks—> first looks. Only 3 more days until I get to share my heart with you. I've never worked harder on anything in my life, both internally and externally, and I could not be more thrilled to birth this baby into the world."
View this post on Instagram
The name of Scout's debut song is "Love Without Possession" and shared a release date of October 15th, 2021. It's surely been an exciting time for the whole family, as aside from Scout's new musical venture, Demi and Bruce Willis' youngest daughter, Tallulah, got engaged to her partner Dillon Buss. Dillon proposed to Tallulah in their back garden, showcasing the proposal in a series of snaps posted to Instagram. "With absolute most certainty," Tallulah writes in the caption, showing off a video of her engagement ring.
RELATED: Rumer Willis Responds To Fans Telling Her She's 'Too Thin'