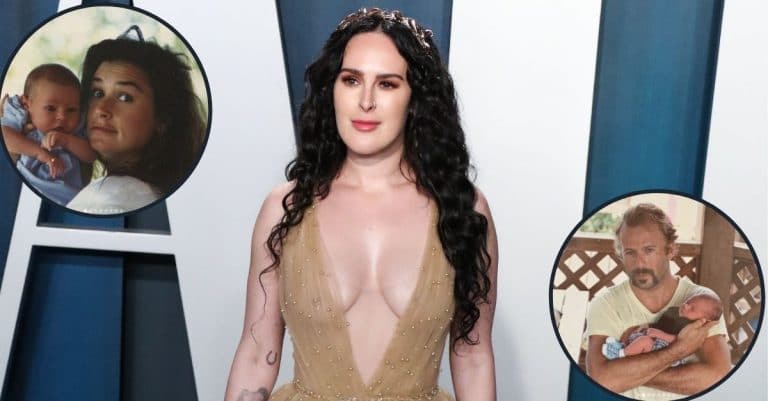 In celebration of her 33rd birthday, Rumer Willis has shared some never-before-seen childhood photos with her parents, Demi Moore and Bruce Willis. She captioned the montage of photos, simply, "How it started….. 8.16.88," showcasing a bunch of photos of a much younger Rumer with her parents.
Rumer is the oldest of three siblings of Moore and Willis. They are also parents to daughters Scout, 30, and Tallulah, 27. Demi also shared a sweet birthday tribute of her own for her daughter.
Check out these childhood photos!
View this post on Instagram
Sharing a throwback photo of baby Rumer and a more recent photo, Demi writes, "Rumer Glenn Willis – you rocked my world when you were born at 7:04am in Paducah, Kentucky. You kept to the schedule and arrived on your due date. Ready for life, love and learning."
RELATED: Rumer Willis Hits Back At Trolls With More Sultry Swimsuit Snaps
She continues, "You were a gorgeous baby and you have grown into the most stunning, remarkable young woman. I am so grateful you chose me to be your mother. Happy birthday, Rumer Glenn. I love and adore you and can't wait to see what the next 33 years brings!"
Sibling love
View this post on Instagram
Scout also took to Instagram stories to show off some sibling love, sharing a bunch of photos to her Instagram story in honor of her sister's birthday. "An icon was born today," she writes. She also posted on her Instagram account, writing a lovely, sisterly message. "The big picture is this, I am so unbelievably proud of you, and proud to be your sister. Every year you just become more deeply embodied, more connected to yourself, sexier, more confident in the most soul centered way," she writes.
View this post on Instagram
"I am so proud of you and I am so proud to be your sister and one of your best friends!" Rumer commented back, "I love you so much and so deep in my bones."
Happy birthday, Rumer!