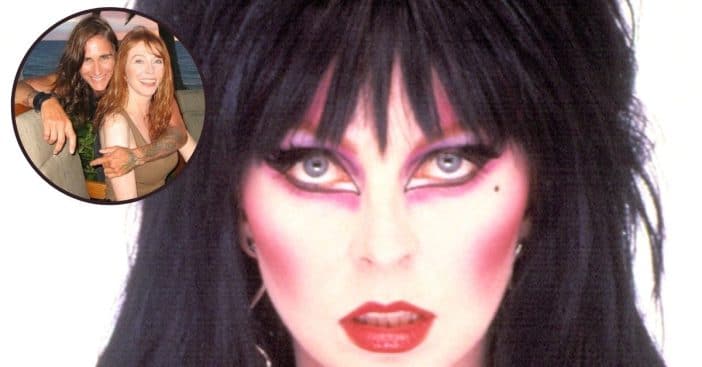 Cassandra Peterson, who is best known to be Elvira Mistress of the Dark, has finally shared a photo of T Wierson, the woman she's been with for the past 19 years. Just a couple of weeks ago, she came out in her new book, detailing the first time she met T, their blossoming friendship, and eventual relationship that has been ongoing for the past nearly two decades.
"Often, when I was doing my preworkout warm-up on the treadmill, I couldn't help noticing one particular trainer — tan, tattooed, and muscular — stalking across the gym floor, knit cap pulled so low over his long brown hair that it nearly covered his eyes," she writes about T in the book. "Dark and brooding, he gave off such intense energy that when he crossed the enormous gym floor, the waters parted and people stopped in their tracks to stare."
Cassandra Peterson and T Wierson
Elvira (Cassandra Peterson) and longtime girlfriend Theresa "T" Wierson. pic.twitter.com/wRb5VZtsRq

— WolfHawk (@WolfHawk) September 23, 2021
It wasn't until they bumped into each other in the ladies' room that Cassandra realized her dream bad boy was actually a bad girl. "A former bodybuilder, track runner, and cyclist, she was an incredibly sweet person, despite her tough exterior," she says of T. It was when T appeared on Cassandra's doorstep one night and needed a place to stay that their relationship really took off – they helped each other through very difficult times, especially as both of them were fresh out of relationships.
RELATED: Elvira Comes Out As LGBTQ, Has Been In A 19-Year Relationship With Woman
Their friendship blossomed into a loving relationship
"T was like a big kid, and she turned out to be the best babysitter anyone could ask for. Evenings were spent with all of us laughing, cooking, singing, and dancing around the kitchen while she helped me prep dinner. The black cloud that had hung over our home for so long felt like it had finally lifted. I began to feel happier than I had in years and I could tell my child was feeling the same way," Cassandra writes of her experience with T.
It was after the two watched a movie together that Cassandra felt a new desire. "I told her goodnight and suddenly felt compelled to kiss her — on the mouth. As shocked as she was, I think I was even more surprised. What the hell was I doing? I'd never been interested in women as anything other than friends."
View this post on Instagram
Well, the rest truly is history, as despite the confusion Cassandra felt, the two have been together ever since. "I've never had a long-term relationship in which my partner has treated me with so much love and respect, is always there for me, loves me for who I am, and doesn't try to change me,… For the first time in my life, I'm with someone who makes me feel safe, blessed, and truly loved."