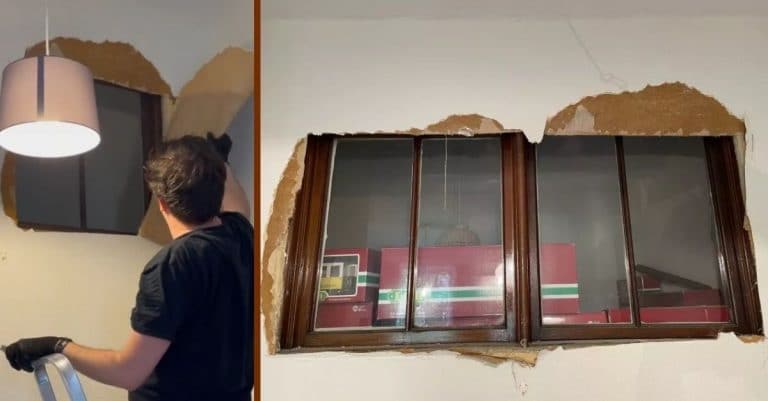 Alex Howard, resident of Edinburgh, Scotland, is no stranger to old, historical architecture – but he likely never expected to discover features from a historical thriller in his own home. The house in question dates back to the 19th century and has plenty of secrets to tell – most notably, a secret window hidden behind the wallpaper.
Howard began restoring the magnificent property and documented his progress on TikTok. Part of that meant addressing the wallpaper, which is called woodchip and resembles a popcorn surface sometimes found on ceilings.
A window to the past behind the hard wallpaper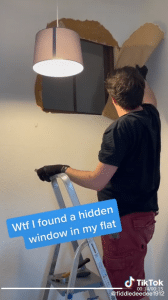 Over on the TikTok page @housedoctoralex, Howard chronicles his home renovation journey. Howard, also an author, shared a video of himself on a ladder, wielding a wallpaper scraper to remove the popcorn-esque wallpaper. However, at one point, the scraper ends up poking a hole through the covering. He learned there was more than just hardboard.
RELATED: Couple Discovers Tiled Gem Beneath Carpet Inside Their 1830s Home
Howard then shouts "window!" as he continues to uncover the wall. After some ripping, he can be seen unearthing a frame lined in black. He also captioned the video, "Wtf I found a hidden window in my flat. Well that was unexpected."
Plenty more to unearth where that came from
The space in question, a two-bedroom apartment, dates back to 1890, according to Howard. He and his wife are not done renovating the space; next, the woodchip is "getting steamed off and re-lined next month." Howard plans a thorough job as, with decades of history under its roof, Howard anticipates the apartment has "no doubt been home to countless students and tyrannical landlords over the years." When Howard called the home his own, he "did that classic 'dad' thing" of tapping the walls to hear if any made a different noise. Sure enough, one part did.
As it turns out, this surprise feature comes with history of its own. "There's nearly always a window connecting the kitchen alcove and a box room (which has often been converted into a kitchen bathroom)," Howard informed of the window hidden behind the wallpaper. "Presumably it was the Victorian idea of giving that little interior space some natural light. In fact, I learnt only yesterday they are called 'borrow windows,' presumably because you're borrowing light from another room." Because the glass has the same rippling effect to it, which dates to before the war, Howard was able to determine that the fixture is relatively original to the house.
What surprises have you discovered as a home owner?