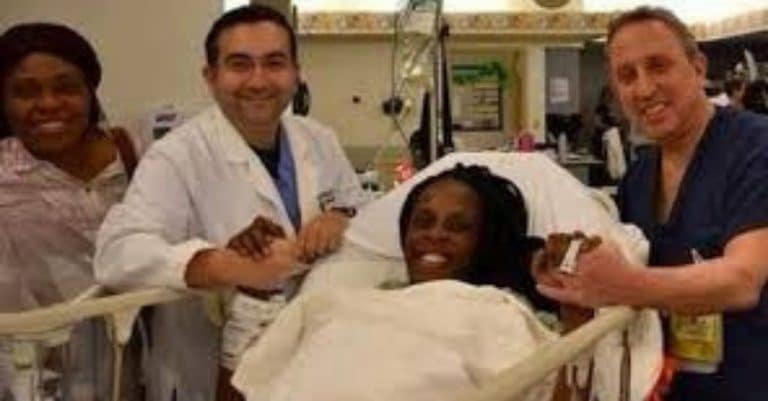 A world record has been officially set in Morocco by a mother hailing from Mali. Last year, she had one infant daughter. But just a few months ago, Halima Cisse gave birth to nine children at once, a group known as nonuplets.
The pregnancy was conceived without aid from fertility treatment, donations, or the like. But there was still plenty of work to be done because Cisse's stomach alone ended up weighing 65 pounds carrying all those babies. Now, she's discussing the historic pregnancy and birth.
Halima Cisse and Kader Arby receive the first of many surprises
26-year-old Halima Cisse from Mali, West Africa set a new world record after successfully birthing nine babies.

The previous record was held by "Octomom" who birthed eight babies in 2009. pic.twitter.com/wI82Sotbpc

— InformOverload (@InformOverload) July 30, 2021
When they saw doctors in Mali, Cisse and her husband Kader Arby were told they would be having seven babies. Sadly, doctors also warned that the chance of all seven babies surviving was about 50%. So, the couple went to Morocco where they sought expert medical care to give them and their unborn children stronger odds.
RELATED: Mom Miraculously Gives Birth To 14.5 Lb. Baby Completely Naturally
The delivery date loomed closer and arrived at last on May 5. Just minutes before, though, the couple was in for a bigger surprise: they were having nine babies, nonuplets. "It was a total shock when I found out that I was having nine babies because I thought it was going to be seven," Cisse shared.
These nonuplets made history and defied the odds
Doctor shares what it was like to deliver first set of 9 living babieshttps://t.co/W0zh3F5uxO

— TODAY (@TODAYshow) August 2, 2021
So far, mother and all children are doing well since the eventful birthday. That makes Cisse's case the first ever time when all nonuplets survived. Previously, a woman gave birth to nine children in 1971 in Australia, but sadly, all babies died within a week. Similarly, another set of nonuplets was born in Malaysia in 1999, but all offspring died the day of delivery.
Fas'ta 5 Mayıs tarihinde 9 bebek doğuran Halima Cisse, günde en az 100 bez kullandığını, bebeklerin 6 litreye yakın süt tükettiğini söylüyor. https://t.co/AB57vco3RS

— ÇapaMag (@CapaMag) July 28, 2021
The Guinness World Records has yet to verify and officially enter in this historic moment, and a representative says they hold the children and mother's health as top priority. So far, for Cisse and the babies, that has meant she was admitted into the hospital when she was at 25 weeks of gestation and the medical staff was able to delay delivery to 30 weeks. A team of ten doctors and 25 paramedics oversaw the five-week premature delivery. As for the siblings, they include sisters Hawa, Adama, Fatouma, Oumou, and Kadidia, as well as brothers Mohammed, Bah, El Hadji, and Oumar. They join two-year-old Souda, the firstborn. Congratulations to the family!