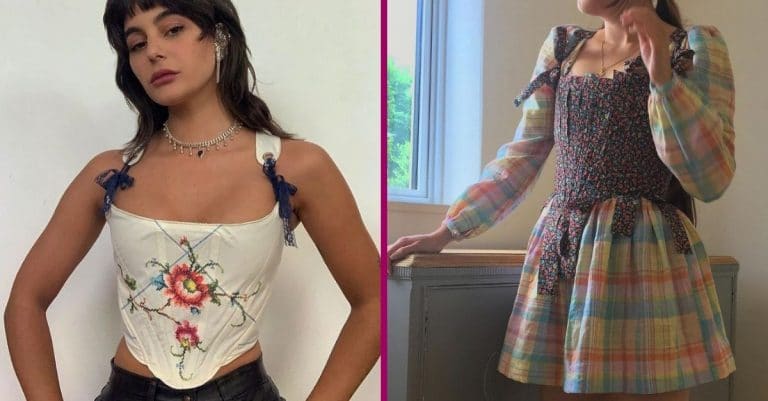 Period dramas, without fail, awaken some genetic intrigue in viewers that taps into trends from years past with so much zeal those fashion choices might as well have been in full swing yesterday. Bridgerton recently rekindled a trendy fascination with corsets, and one young designer has just the way for everyone to get in on the fashion revolution using just tablecloths, tea towels, and the like.
Rosie Evans, resident of Wales, was actually ahead of her time – figuratively speaking. Evans redirected her initial dreams of becoming a costume designer, instead channeling that energy into making costume-like looks for people to wear every day.
Evans is a master of making fantasy-inspired corsets from simple items

View this post on Instagram
To say Evans has been at this for a while would be an understatement; she's been making the corset cool for years now, using nothing but items around the house to bring this fantasy, regal attire to life for anyone. In fact, her very first corset was made using old sofa upholstery fabric.
View this post on Instagram
RELATED: Old-School Fashion Trends That Are Making A Serious Comeback
From there, Evans became part of a mini fashion revolution herself. "I made that one, [posted it,] and people began to message me," she recalled of the budding trend. She pushes a high fantasy look, easily achieved using fancy towels and tablecloths, already bearing their own whimsical, fantastical designs.
Whimsy rooted in reality
View this post on Instagram
In keeping with the historical fantasy theme, Evans derives inspiration from both fairytales and real figures and the garments they wore. Besides tablecloths and doilies, Evans has used pillowcases, clothing labels, and the like.
View this post on Instagram
For guidance, she looks these days to period dramas like The Tudors, observing the dress worn by Natalie Dormer as Anne Boleyn  herself. However, Evans uproots herself from reality when it comes to comfort and price; she's big on both, altering the designs to actually be comfortable to wear, and keeping prices for her products at around $165 to $219. Yahoo! Life notes that corsets from bigger names can cost over $1,000, in contrast. Would you wear one and help bring the corset back?