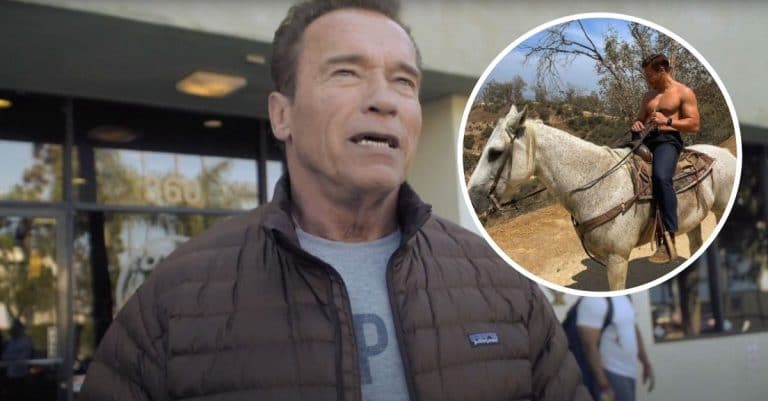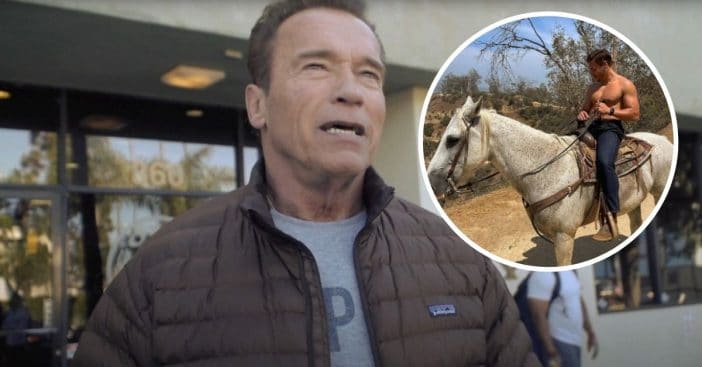 Arnold Schwarzenegger's son Joseph Baena appears to be following in his dad's footsteps. Joseph is a bodybuilder as well and trains at Gold's Gym in Venice Beach. The father-son duo has trained a lot together and it looks like it is paying off!
Joseph shared a photo of himself, shirtless while riding a horse. It gives a glimpse at his impressive body and fans were loving it. Joseph captioned the photo, "Headed to the Salty Spitoon – want anything?"
Joseph Baena shows off his muscles while riding a horse
View this post on Instagram
While Joseph loves to train at the gym with his father, he is also working on becoming a realtor and an actor. The 23-year-old recently joined the cast for a web series called Scam Squad, where he plays a con artist named Nico.
RELATED: Arnold Schwarzenegger's Son, Joseph Baena, Celebrates 22nd Birthday While Showing Off His Muscles
View this post on Instagram
In addition, Joseph loves to recreate some of Arnold's iconic poses from back in the day. You can definitely see the resemblance! He has also shared that there is no cheating when training with his dad and that he is the "best training partner in the world."
View this post on Instagram
What do you think about Joseph's photos?