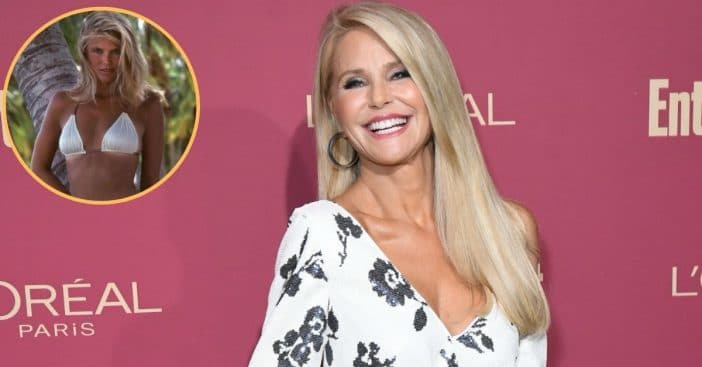 Christie Brinkley has shared some stunning swimsuit photos in honor of International Bikini Day. The photos are from her Sports Illustrated career, showcasing some of the different looks the 67-year-old has sported in the past. "Happy #internationalbikiniday ‼️👙 I'm celebrating those 3 tiny bits of fabric that have kept my career a float for some 47 years," she writes in the caption. 
"They have strung me along to some of the most beautiful beaches and places in the world. From the #seychellesislands off the coast of #madagascar to #brazil , #mexico #kenya #thebahamas , #westindies #virginislands to the #turksandcaicos. I've travelled with wonderful people and had fun adventures along the way so I'm raising a glass of my zero sugar bikini friendly @bellissimaprosecco sparkling Rosé in hopes of tying one on in a gorgeous place again soon… I'm referring to the swimsuit ‼️😂🤣😎"
Christie Brinkley celebrates International Bikini Day with some breathtaking throwbacks
View this post on Instagram
Scroll through the photos in the Instagram post above to see all pictures!
As such, she received a lot of positive feedback and compliments from her following. "👙👙👙👙👙 no one wore it better," someone writes. Another says, "Insane the perfect hourglass body that has not changed you're still an icon." Many other followers left the fire emoji in Brinkley's comment section.
RELATED: Christie Brinkley Turns 67, Shares If She'll Pose For 'Sports Illustrated Swimsuit' Again
View this post on Instagram
Brinkley is no stranger to sharing bikini throwback pictures. She posted a throwback photo on the 4th of July, where she sported a patriotic American flag one-piece suit. "Happy 7th of July Everybody! Let's keep counting Happy days! 💙🌻❤️" she wrote, since she posted the photo a few days late.
View this post on Instagram
We're glad to see this bombshell is doing well!