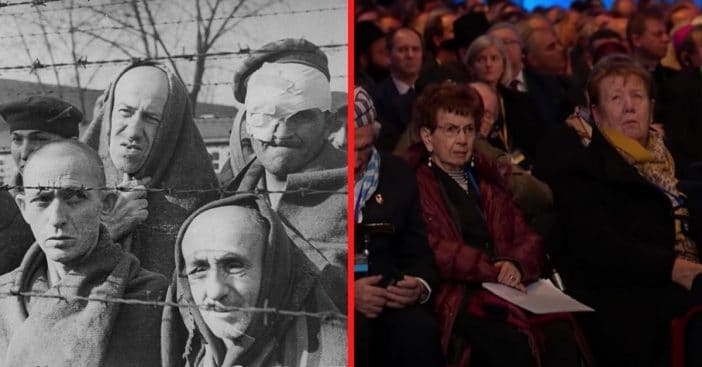 Dozens of NY Holocaust survivors celebrated at a concert together after COVID isolation. The concert was held by popular Jewish Orthodox singer Yaakov Shwekey and organized by the Nachas Health and Family Network, in addition to other groups who help more than 35,000 Holocaust survivors who live in the area.
"It's extremely good for the soul, for the heart, to see people coming out once again and socializing," says Dolly Rabinowitz, who sat right in front at the concert alongside many other Holocaust survivors. Most of the survivors are now in their 80s and 90s who suffered unspeakable horrors at concentration camps.
Holocaust survivors reunite at concert following COVID quarantine
During the past year, many of them (like everyone else) stayed isolated in their homes due to COVID-19 and being high-risk for their age group. "To be out once again is like reviving ourselves. To sit among our children and grandchildren is heartwarming. It really is like vitamin to us," Dolly adds. Dolly was just 13 when the Nazis invaded Germany.
RELATED: 97-Year-Old Holocaust Survivor Receives Anti-Semitic Hate Online
Nany of the survivors arrived at the concert in a yellow bus, to which survivor Henry Rosenberg said, "This feels like going back to school!" As the survivors walked into the Yeshivah of Flatbush Joel Braverman High School, some students greeted them and helped out those with mobility issues to make sure they got to their seats okay.
Their stories are still so important today
Many of the survivors held hands and choked back tears as they sang one of the songs performed, "Ani maa'min," Hebrew for, "I believe." This was sung by many Jews who were herded into cattle cars on their way to concentration camps. It was certainly an emotional time for them – many of them still tell their stories today in order to educate younger generations on the horrors of what exactly happened during that time.
"It's the unfortunate reality that some time from now, we're not going to have these Holocaust survivors to tell their story, so it's so crucial and critical for us to be with them, to get their stories and cherish them," says Michael Oved, who recently graduated from the high school. Oved added that the lesson for other generations "is to keep going. These people have suffered through hell and back, yet they're here standing. And during the pandemic, they were just as strong as they ever were. So their message to us should be: always, always persevere and never give up."
See photos from the celebration concert here.