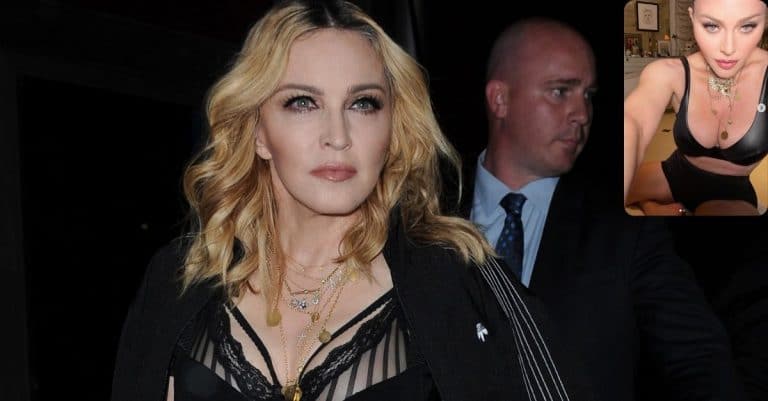 Madonna recently posted a photo of herself in her underwear to celebrate some big and exciting news. The mother of six typically lives in Portugal with her children, but is now back in The Big Apple to start working on a new project, so it seems.
"New Life, New York. Re-Invention," she writes in the caption with a film camera emoji and black heart emoji. Re-Invention was the title of her 2004 tour, but fans are speculating that this could be the title of Madonna's biopic that she is directing herself.
Madonna poses in her underwear to mark the beginnings of a new project
View this post on Instagram
While fans were excited by the update, most of them were excited to see her back in NYC and posing in her bathroom. "Gorgeous. I've missed seeing you in that NY bathroom!!" one person writes. Another adds, "Those friggin bathrooms! I hate all my bathrooms because of her!"
RELATED: Madonna Fires Back At Photoshop Accusations With Revealing Lingerie Photos
View this post on Instagram
Another reason the family returned back to America was to celebrate Madonna's father's 90th birthday. Her father, Silvio Ciccone, treated them all to a lovely day at his vineyard. Madonna paid tribute to the day by sharing a tour clip, which shows Madonna, her crew, and her father backstage with Ciccone leading a prayer.
"Heavenly Father (Dad) Thank you for giving me life… And all other Blessings you've bestowed upon me. Happy 90th Birthday! You are the O.G. #happybirthday #dad #prayer #reinventiontour," she captions the clip on Instagram.
View this post on Instagram
All of Madonna's children were present at the vineyard for their grandfather's birthday. Madonna made sure to share some beautiful family photos as well.