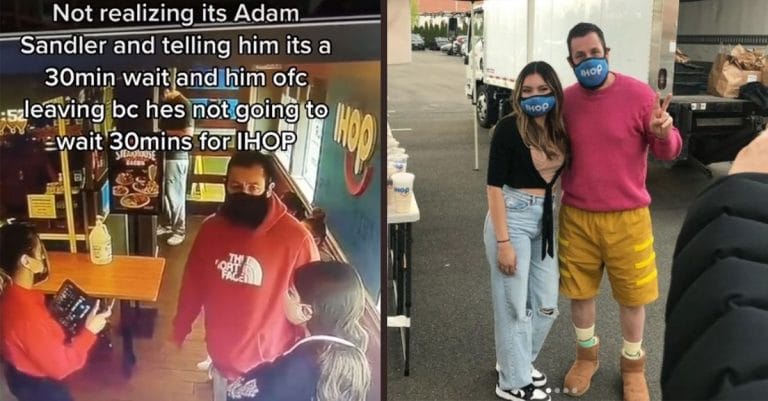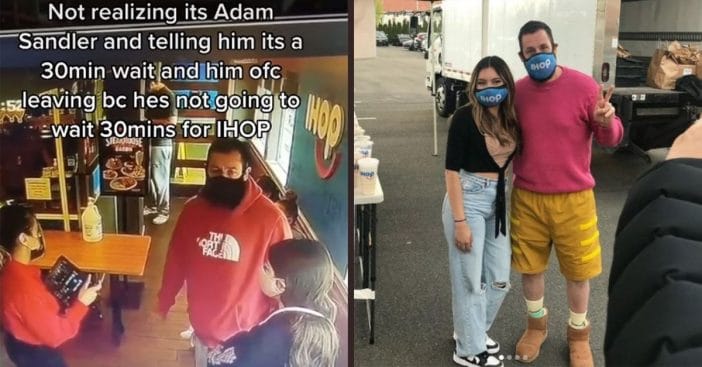 A hostess from IHOP recently went viral after a video was posted to TikTok, showing the hostess turning Adam Sandler away and not even knowing it was him! The restaurant apparently had a 30-minute wait and Sandler decided to book it. However, after the video went totally viral, the two were reunited and the awkward situation turned into a sweet ending.
Dayanna Rodas, the hostess in question from IHOP, followed up with another TikTok featuring photos of the two together. "Couldn't have been more excited!! Thank you Adam Sandler!" Rodas captioned her slideshow video.
This IHOP hostess had no idea Adam Sandler had walked in
It was last month when Rodas posted a clip of herself with a clown filter on, admitting that she didn't recognize Sandler with his face mask on when he came into the restaurant. After realizing it was him, she posted on social media for him to "Pleaseee come back." Of course, this whole situation caught the eye of the actor and he jokingly responded to the video saying the only reason he left was because the restaurant didn't have all-you-can-drink milkshakes.
RELATED: IHOP Closing About 100 Locations Due To The Pandemic
View this post on Instagram
Of course, IHOP took notice of this, and started a new venture called a "Milkshake Monday," where that day only specifically at Long Island IHOPs (including that location) you can have bottomless milkshakes.
Thank u IHOP for Milkshake Monday pic.twitter.com/SsTEK0W0XK

— Adam Sandler (@AdamSandler) May 11, 2021
Sandler gladly returned to the restaurant and enjoyed his bottomless milkshakes. In addition to the new venture, IHOP pledged to donate up to $1 per milkshake sold (up to $50,000) to the Comedy Gives Back organization, an organization that Sandler supported during the peak of the COVID-19 pandemic.