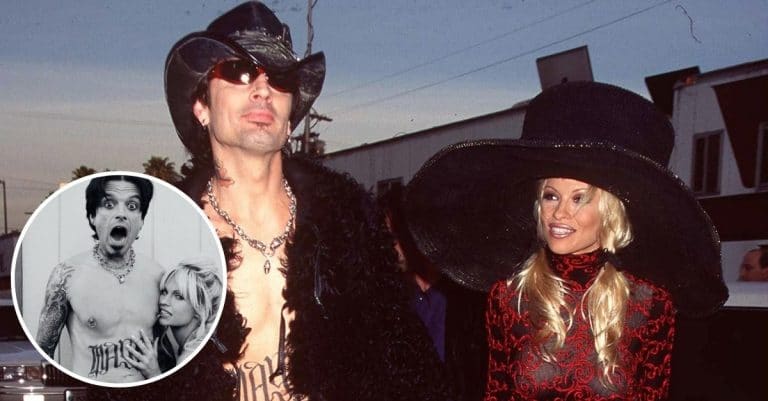 The streaming service Hulu is working on a limited series called Pam and Tommy. The show will reportedly follow Pamela Anderson and Tommy Lee's marriage from 1995 to 1998 and the story behind the release of their sex tape. Actress Lily James will play Pamela while Sebastian Stan will play Tommy.
Nick Offerman, Taylor Schilling, Andrew Dice Clay, and Seth Rogen will also star in the series. Seth will play Rand Gauthier, the man who stole their sex tape. Many of the actors have shared photos of their incredible transformations for the series.
Lily James looks exactly like Pamela Anderson in new photos
View this post on Instagram
Lily looks exactly like Pamela in a photo she shared on social media. She even took inspiration from Pamela for the caption. She wrote, "'It's great to be blonde. With low expectations it's very easy to surprise people' – Pamela Anderson. Pam & Tommy, coming to @Hulu. #PamAndTommy @pamandtommyonhulu"
RELATED: Pamela Anderson and Tommy Lee's Sons Are All Grown Up And Working As Professional Models
View this post on Instagram
Sebastian also shared a photo of himself and Lily, dressed as Pamela and Tommy. He simple wrote, "Love bites #pamandtommy #hulu" Tommy Lee is best known as being the drummer of Mötley Crüe, while Pamela is an actress best known for her role on Baywatch. They have both been married multiple times. As of now, Pamela is married to Dan Hayhurst while Tommy is married to Brittany Furlan, who is just about a decade older than Tommy's two children.
My co-stars, Sebastian and Lily, are a lot cooler than I am. #PamandTommy pic.twitter.com/r8YWh1eBuJ

— Seth Rogen (@Sethrogen) May 7, 2021
What do you think of a series about Pamela Anderson and Tommy Lee? Reports show that they were not involved in the series. The premiere date has not yet been released.