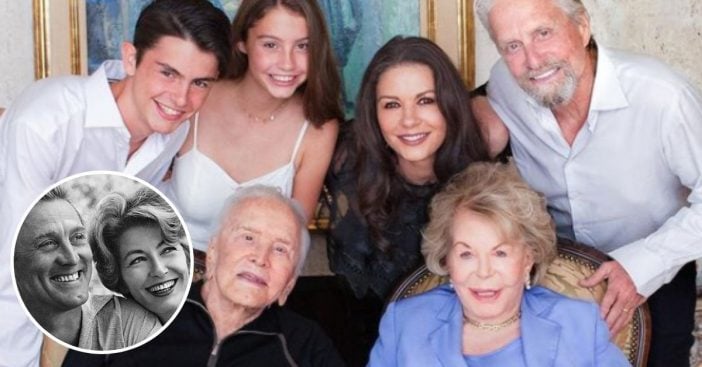 Anne Buydens Douglas recently passed away at the age of 102. She was the widow of actor Kirk Douglas who passed away last year. Michael Douglas and his wife Catherine Zeta-Jones paid tribute to the special lady. Anne was Michael's stepmother for many years.
Michael shared a beautiful black and white photo of his father Kirk and Anne. He wrote, "Anne was more than a stepmother, and never "wicked". She brought out the best in all of us, especially our father. Catherine and I and our children adored her; she will always be in our hearts. RIP Anne Douglas" So sweet!
Michael Douglas and Catherine Zeta-Jones mourn the loss of stepmother Anne Douglas
View this post on Instagram
Catherine took a different approach and shared a selfie of herself and Anne as well as a lovely family photo. She wrote, "Sleep tight Oma. Our loving matriarch Anne Douglas is now in the arms of her beloved husband Kirk. 102 formidable years old. I love you with all my heart Oma🙏🏻"
RELATED: Kirk Douglas' Widow Anne Buydens Dies At 102
View this post on Instagram
The couple was flooded with comments sharing condolences. Just a week prior, Michael shared a recent family photo wishing Anne a happy birthday. He said, "Happy Birthday Anne Douglas! We love you! ❤️ Michael, Catherine, Carys, & Dylan"
View this post on Instagram
Anne and Kirk were married for over six decades. They were very involved in philanthropic efforts and there is even a place for homeless women called the Anne Douglas Center for Women.
She will be missed.