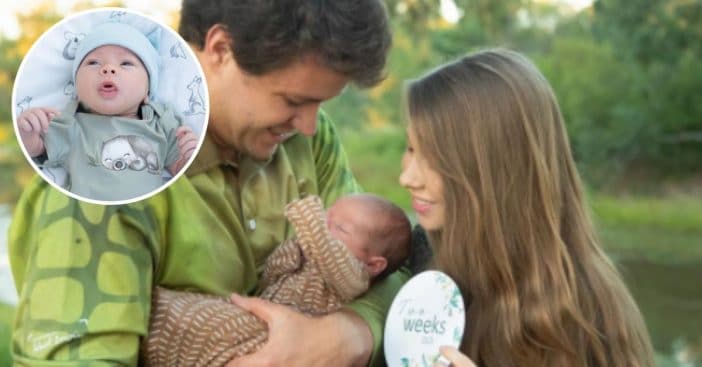 Baby Grace is likely going to love animals just as much as her family! Bindi Irwin has shared new adorable photos of her three-week-old daughter, Grace. In the photos, Grace is wearing a wombat onesie that they are selling through the Australia Zoo, where the Irwins work.
The Australia Zoo shared the photo with the caption, "Grace is already settling into life at #AustraliaZoo and she's doing it in style! How cute is her wombat onesie?! You can check out the entire Baby Wildlife Warrior range and support conservation by visiting shop.australiazoo.com.au 💕."
Baby Grace is already three weeks old in adorable onesie photo
View this post on Instagram
The zoo also shared a photo of Bindi, Chandler, Bindi's mom Terri, her brother Robert and Grace. They appear to be standing at the Australia Zoo in the 'Crocoseum.'
RELATED: Bindi Irwin Shares Photos Of One-Week-Old Daughter Amid News Of TV Special
View this post on Instagram
Bindi isn't the only one to keep sharing new photos. Her husband, Chandler Powell is one proud dad and has been sharing lots of new pictures of the baby girl. In one he wrote, "Two weeks of happiness with my girls. And yes, I'm already that Dad who shares baby photos with everyone and I'm proud of it!"
View this post on Instagram
Bindi commented that Chandler was "the greatest husband and father," and said, "You are our world. ❤️" Baby Grace is so adorable! We hope they keep sharing photos as she grows. Click here if you are interested in purchasing the wombat onesie.