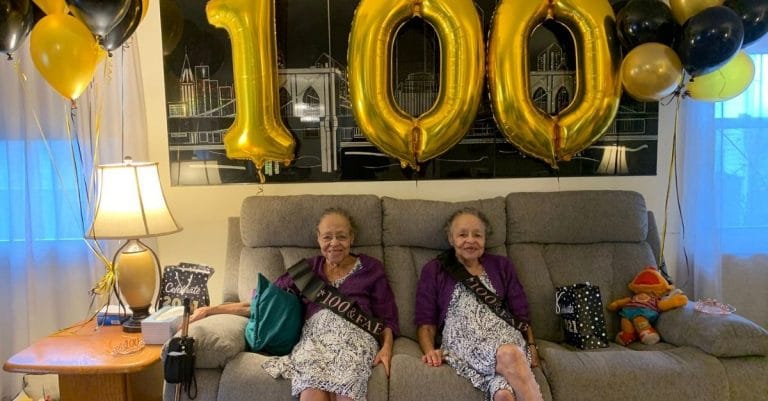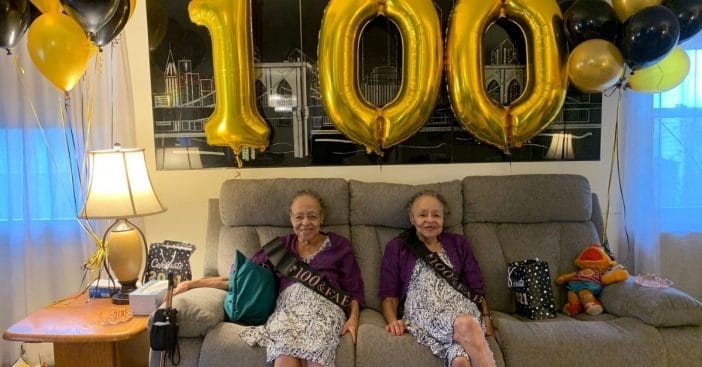 At 100 years old, twins Elaine Foster and Evelyn Lowe have seen some of the biggest revolutions in human history. From actual revolutions that unseated long-reigning monarchs, to technological leaps right onto the moon, their century on Earth was one full of wonders. Today, they're enjoying the perks of seeing humanity through such advancements, with lives full of great food and the convenience of iPhones.
Foster and Lowe reached this milestone birthday on March 31. The two shared their experiences living a life of comfort at this age. During their discussion, they expressed a spiritedness and eagerness for each new day unburdened by concerns about their age. They also addressed the question of just how they came to live so long with no sign of slowing down.
Twins Elaine Foster and Evelyn Lowe live the good life at 100 with plenty of good food and fun with the latest tech

"It's shocking. We really didn't know that people could live that long." Today is a big day for sisters Evelyn Lowe & Elaine Foster. The Bowie twins turned 100-years-YOUNG! The sisters had no longevity tips to offer but Elaine eats bacon and eggs on a regular basis! @fox5dc pic.twitter.com/N72qqFEwNE

— Ama Arthur-Asmah (@Ama_A_Asmah) April 1, 2021
A century of history during one of the most eventful hundred years of human advancement is a lot to keep up with. But twins Elain Foster and Evelyn Lowe did just that, determined to enjoy the best of what each new year had to offer. They've stayed up to date on all the latest technology and use it to their advantage frequently.
RELATED: 5 Secrets From People Who've Lived To Be 100 Years Old
For example, they pay their bills entirely online. On a more fun note, they play computer games and make full use of their iPhones. They do receive some help from great-grandson, Darvell Green, who lives with them to provide backup for medications, groceries, and cooking meals. In general, he also just watches over them in case they need help. But they have words about their advanced age as well, not just all the fun to be had with this new technology available.
The fountain of youth isn't what people expected

Bowie, Md., twins Evelyn Lowe and Elaine Foster celebrate their 100th birthday https://t.co/SNtKCv0y8n

— Charles T (@ChuckyT3) April 1, 2021
"If I live to be 100, I'd love to be in their state," said Green, 27. "I always ask (my great-grandmother) all the time: What do you do to stay so healthy and live so long? She never really goes into detail about anything, but she always says she drinks her wine."
Beyond that, when asked how they've lived so long, Foster only offers, "I haven't the slightest idea. I don't know how I happened to live as long as I have." Lowe expressed a similar sentiment with "I have not the vaguest idea." Enjoyment has been in no short supply, though. Foster enjoys a breakfast of bacon and eggs each morning, then a glass of wine that's "not too sweet and it's not bitter."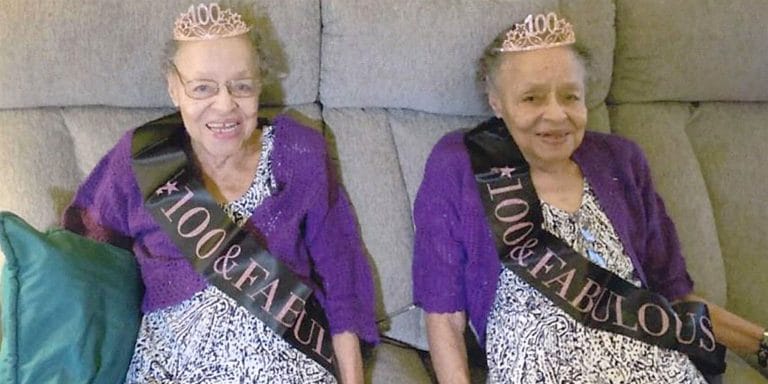 The two do endure arthritis. However, experts in genetics and aging attribute their longevity to just the right combination of genes that promotes slow aging and combats age-related negative conditions. Even though she defies aging, Foster does get an annual checkup at her doctor's office and adds, "I think everybody should." Do you know anyone who's defying the aging process?