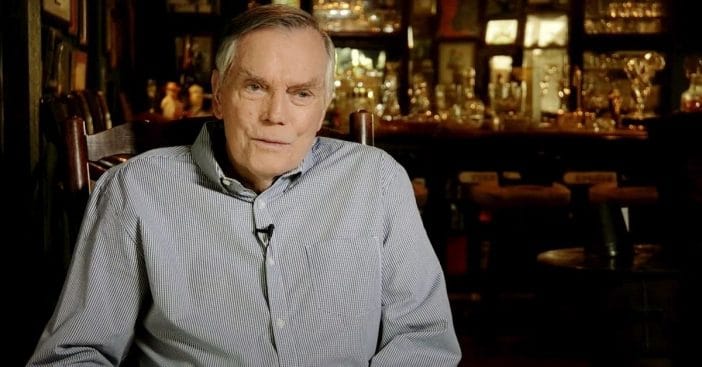 Both Peter Marshall and his wife Laurie tested positive for COVID-19 in January. Marshall had hosted the show Hollywood Squares for fifteen years, asking celebrities questions to bring them closer to victory. No amount of prep could brace Marshall for his ordeal with the coronavirus, however.
In fact, Marshall, 95, at one point feared the worst. There was a point the former host felt he would not make it to the otherwise of that battle. In a statement released by his spouse, it's revealed that Marshall's condition started stable then deteriorated, almost for the worst.
Peter Marshall receives a COVID-19 diagnosis
Here's an interview Laurie and I did with Stephanie Nolasco of @Fox411 about my battle with COVID. Trust me, you don't want to get this.https://t.co/q6I2wkOnop

— Peter Marshall (@PeterMarshallHS) April 11, 2021
In a statement to Fox News, Peter Marshall shared just how his and his wife's battle with the coronavirus began. "In mid-January, my wife started feeling dizzy so she went and got tested," he outlined. January 12 would yield positive results…with less than positive results. "While we were waiting the 48 hours for her results to come back, I knew that we both had it because I realized I felt dizzy too. I took both the rapid test and the 48-hour test. The rapid test said I didn't have it so we were very relieved, but the 48-hour test came back positive," he went on.
RELATED: WATCH: Lionel Richie Brought Back "We Are The World" For The Coronavirus Crisis
The two stayed separated for two weeks, communicating only via telephone. Then, Laurie could see the former host. But by then, she shared, "it was clear the diagnosis was grim." Though his condition had worsened, Laurie noted the hospital staff was "under such strain and resources were in short supply," they would try doing hospital and family a favor. They tried to keep Marshall home "rather than die alone in the hospital," away from his family and beloved pets. So, on February 12, he left the hospital, intending on receiving hospice service until the end of his life.
A break in the clouds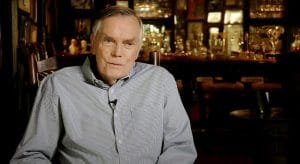 "From the time I went to the hospital, I worried I wouldn't make it because of how many people seemed to be dying from it," Marshall admitted. "And given my age, I knew I was at high risk for dying from it. Then in the hospital, I continued to decline. I knew I was dying in the hospital. Every time I spoke to my wife, I wondered if it was the last time we'd speak." Medical personnel continued to feel the strain of virus cases and Marshall shared, "At the hospital, I felt I was neglected." He further claimed, "I won't go into specifics, but I was clearly not properly care for."
A few of my favorite people Arte Johnson, Tom Poston and Suzanne Pleshette. The hardest part of living to 95 is losing so many friends. Laurie & I were so happy for Tom when he and Suzanne Pleshette reconnected and fell in love. #tv #classic pic.twitter.com/zss9YpjD0k

— Peter Marshall (@PeterMarshallHS) April 13, 2021
Marshall declined to name the specific facility he stayed at. However, he also stated, "The medical team my wife found for me once she brought me home is what saved my life. Mind you, I wasn't so sure that was a good thing. I was in very, very bad physical shape at that point, and didn't want to linger if I was leaving the world, which seemed to be the case." The family attributes Dr. Eric Mizrahi, who tended to Marshall from the makeshift intensive care unit that was their den. But, according to Laurie, even the doctor was sure Marshall would not come out of this. "Dr. Mizrahi wasn't convinced it was Peter's time to die," she shared. "And with the aid of around-the-clock nurses and surrounded by his family, he's turned a fatal diagnosis into a miraculous recovery."
Today would be @therealdorisday 99th birthday. This photo of my beautiful wife, Laurie, and I greeting her is from her 90th where I hosted & sang. Laurie refers to Doris as the Mother Teresa of animals. She was tireless in her advocacy for @DDAF_org & the four-leggers! #DorisDay pic.twitter.com/iQs42X0ZEm

— Peter Marshall (@PeterMarshallHS) April 3, 2021
Even as he clambered out of the woods, it turned out Marshall was still in a forest, as his weakened body then contracted pneumonia. That led into sepsis. That he survived all three at his age, Marshall calls "Miraculous, to say the least." To this day, however, he still experiences difficulty walking and requires an oxygen machine. Still, against even his own beliefs, Marshall was able to celebrate his 95th birthday on March 30. He celebrated over Zoom and had the birthday wish that anyone wanting to still celebrate with him donate to Actors and Others for Animals. His career encompasses over seven decades of work, and from 1966 to 1981, he hosted Hollywood Squares, where he presented some of Hollywood's brightest talents.