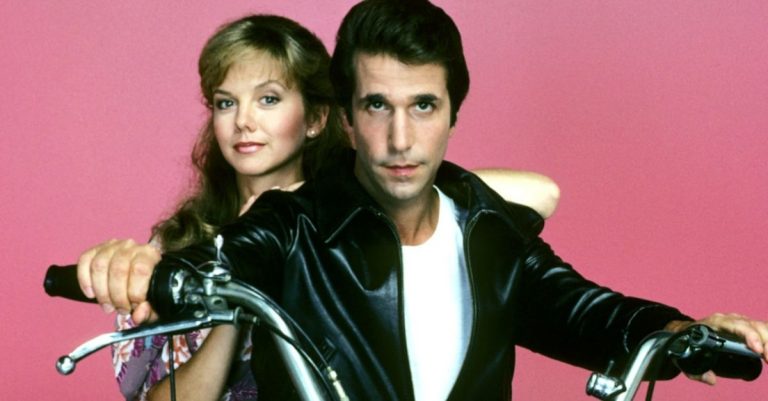 Monday, March 29 marks a day of nostalgia thanks to a virtual Happy Days table read. The event benefitted aspiring and growing artists through funding and resources. As an additional motivator, it also features Henry Winkler reprising his role as the shark-jumper himself, Arthur "Fonzie" Fonzarelli.
Those looking to watch had multiple platforms to choose from to revisit Happy Days. They could use Facebook, YouTube, Twitter, and the official apps and social media pages of People TV, which is the organization that hosted the event.
Henry Winkler returns as the Fonz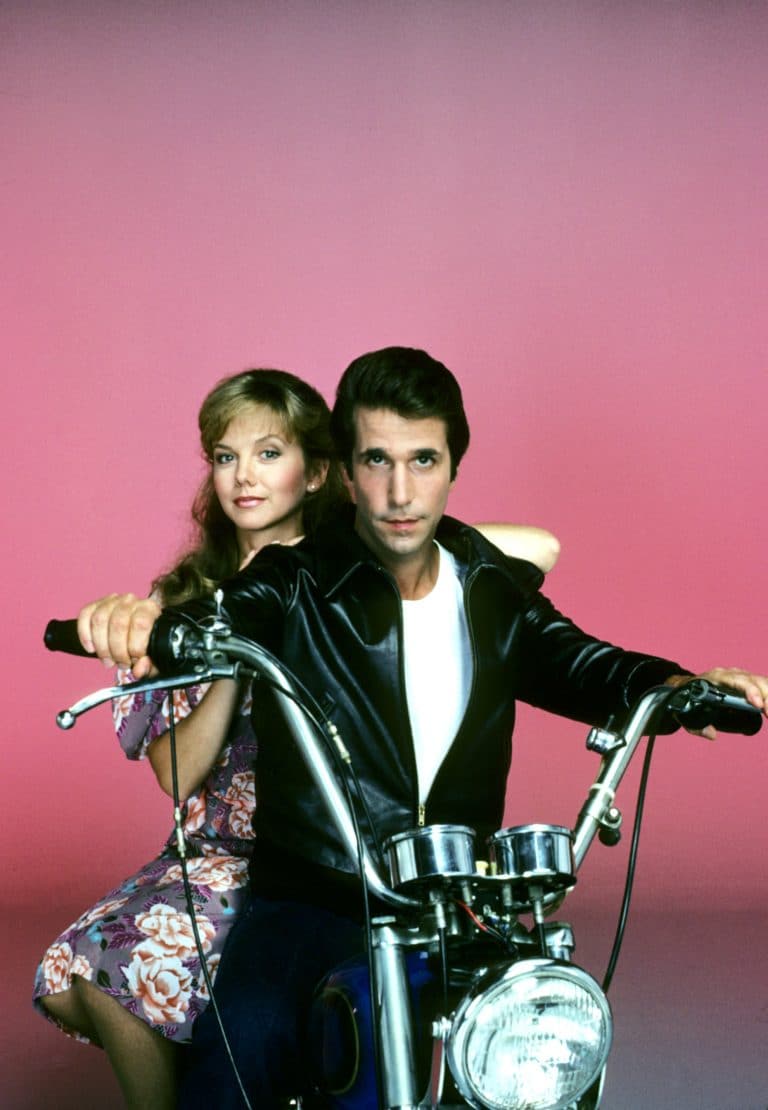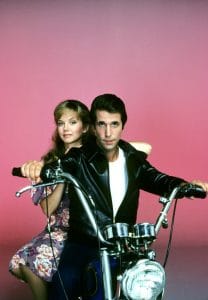 Happy Days first aired 47 years ago in 1974. It featured an iconic cast with Ron Howard, Anson Williams, Marion Ross, Tom Bosley, and of course Henry Winkler, just to name a few. This particular Happy Days virtual round table reading uses the episode "The Motorcycle." This particular episode aired in 1975 and featured Winkler prominently as the Fonz on a mission.
RELATED: The Cast Of 'Family Ties' Got Together For A Virtual Reunion
It also had the Cunninghams brainstorming and collaborating to keep Fonzie from accomplishing said mission. His motorbike had been destroyed, and he wanted revenge. While Winkler reprised his original Happy Days role, he was joined by an ensemble cast to fill in the gaps. SAG Award nominee Jamie Chung played Joanie Cunningham. Luke Newton was cast as Potsie Weber. Nicola Coughlan played a waitress at Al's diner, according to People.
How to watch and support the 'Happy Days' virtual table read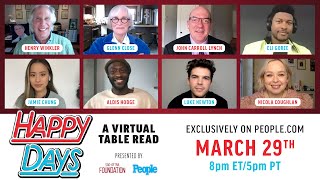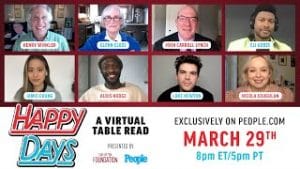 The stars converged – remotely – on Monday at 8 p.m. ET/5 p.m. PT. People collaborated with the SAG-AFTRA Foundation, using PeopleTV as part of a hosting platform for the event. As a result, all of People's social media pages (YouTube, Facebook, and Twitter), as well as the PeopleTV app, offered the exclusive Happy Days virtual table reading.
The goal of the event is to raise funds for medical, financial, and disaster emergency relief for SAG-AFTRA artists. It also provides a financial foundation for SAG-AFTRA scholarships. Funds go to SAG-AFTRA artists as well as their families. The event also supports the organization's children's literacy program Storyline Online, just one of its free educational programs available online. Will you be watching this blast from the past? It's unlikely the episode will just jump the shark, but only time will tell. Find out below.