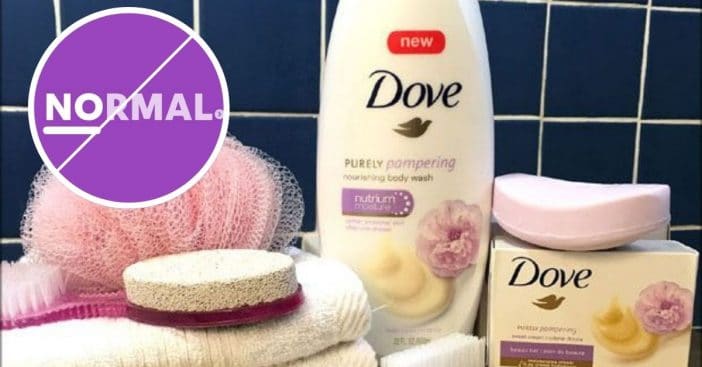 The London-based company Unilever owns Vaseline, Axe, Sunsilk, and Dove beauty soaps and lotions. From now on, none of those beauty products will contain the word "normal," as it makes people with diverse skin types feel excluded.
News broke on Tuesday that the company would remove the word from its Dove beauty products after it conducted a study that revealed these feelings of exclusion among customers. The company also expressed plans to have ads with more diverse people represented in them. Learn more about the full statement and plans here.
Unilever plans to diversify its Dove beauty products
View this post on Instagram
According to KIRO7, Dove commissioned a study across multiple countries. Territories include the U.S., the U.K., China, Brazil, India, Indonesia, Nigeria, South Africa, and Saudi Arabia. Around 10,000 people participated in the survey. About 56% of participants in the age range of 18 to 35 years old felt the beauty industry made people feel excluded.
RELATED: Pepe Le Pew Canceled From 'Space Jam' And All Future Looney Tunes Projects
Ateh Jewel, who serves as a beauty journalist and an advisory board member of the British Beauty Council, put emphasis on the diction beauty lines like Dove use, especially with standards like "normal." She explained, "Saying the word 'normal' has been used to set you apart. I am normal. My dark skin is normal. My juicy West African curvy body is normal. Everything about me is normal." Between this feedback, and the Black Lives Matter movements that gained renewed vigor in the summer of 2020, Dove decided to make a change. This coincides with its "Saying No to Normal" and #PositiveBeauty social media campaigns, which challenges norms dictating how others act and present themselves.
Being yourself makes you normal
Unilever made an official statement about its response to these findings and feedback from citizens around the world. It stated, "The decision to remove 'normal' is one of many steps that we are taking to challenge narrow beauty ideals, as we work towards helping to end discrimination and advocating for a more inclusive vision of beauty. It comes as global research into people's experiences of the beauty industry reveals that using 'normal' to describe hair or skin makes most people feel excluded."
Unilever's president of beauty and personal care, Sunny Jain, further explained the company's mission. Jain added, "With 1 billion people using our beauty and personal care products every day, and even more seeing our advertising, our brands have the power to make a real difference to people's lives. As part of this, we are committed to tackling harmful norms and stereotypes and shaping a broader, far more inclusive definition of beauty."
This will ultimately change packaging for over 200 Dove hair, skin, and beauty products. Some examples to look out for will be on lotion and shampoo packages reading "normal to oily skin." With so many skin and hair types out there, a concept of what "normal" means becomes elusive very quickly. Do you feel more included without the label?