Andy Gibb skyrocketed to solo success at just 19 years old. By 1979, Andy was riding high on a string of number one hits, but everything would come to a screeching halt by the end of that same year when he would be dropped by his record label and never fully bounce back.
Andy actually became interested in music at a very young age when he left school at just 13 years old and started recording his own music by 16. He was twelve years younger than his brothers, so it helped to have them around to write a song or two for him. His brother, Barry Gibb, actually wrote Andy's debut single "I Just Want To Be Your Everything" and also co-wrote "(Love Is) Thicker Than Water." Both of these hits topped the U.S. charts in the year 1977.
1979 was the last good year for Andy Gibb before everything went wrong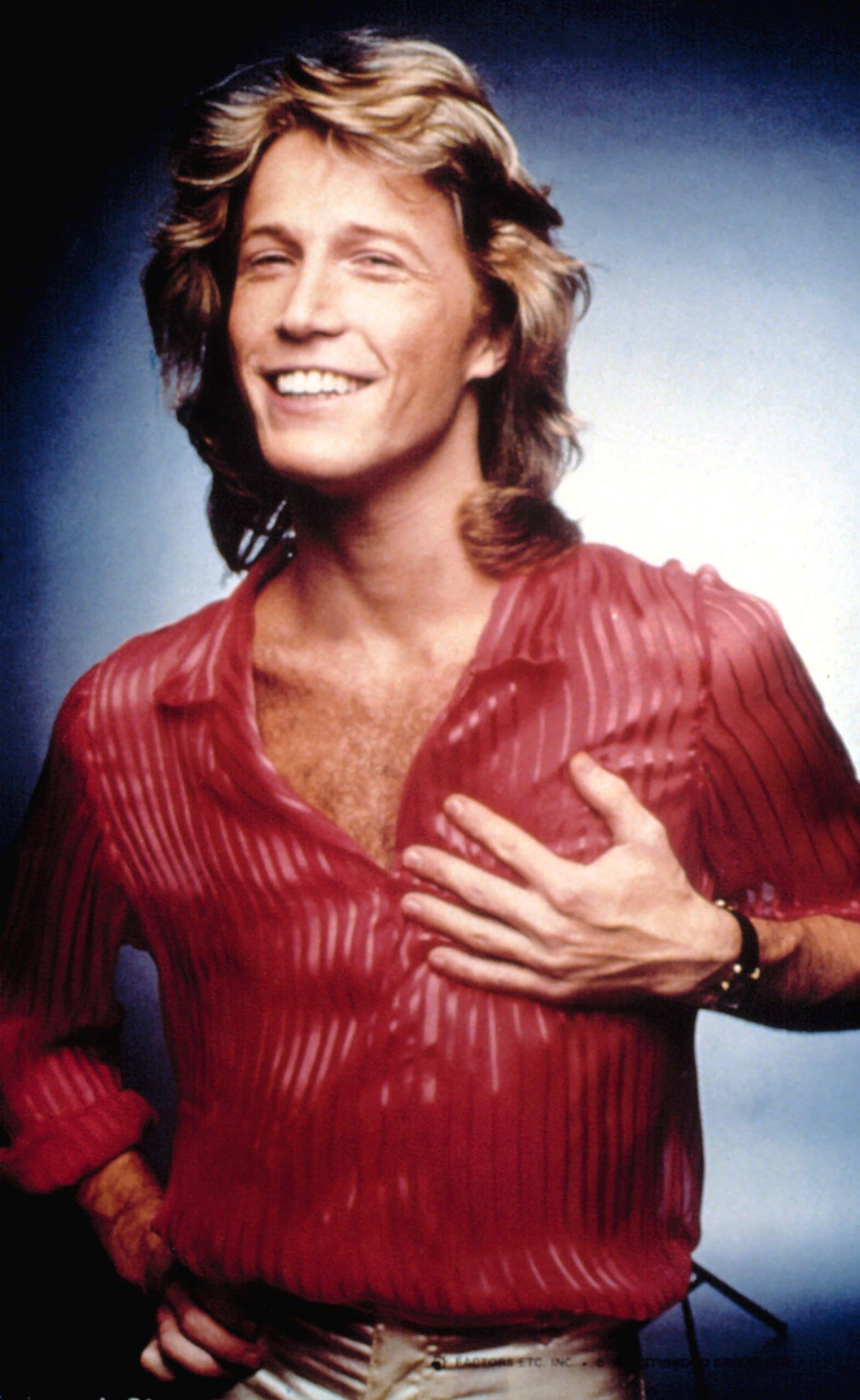 That following year, both Andy and his brothers in the Bee Gees were doing exponentially well. And at one point, Andy's single even replaced the Bee Gees' "Stayin' Alive" at the top of the U.S. charts! Both parties were at an all-time high, but Andy's career was about to steadily decline, and Barry himself regrets pushing Andy into a music career. "He would have been better off finding something else. He was a sweet person. We lost him too young."
RELATED: 'Punky Brewster' Star Soleil Moon Frye Remembers First Celeb Crush: Andy Gibb
From the early days of the limelight, Andy struggled with drugs. When he was still a teenager, he even married Aussie girlfriend Kim Reeder in July 1976. However, they separated the following year before Kim discovered she was pregnant. "Cocaine became his first love. He wasn't the man I married," Kim says of Andy at the time.
Drug addiction made his battle through depression even harder
By 1980, Andy began a relationship with Dallas star Victoria Principal and even began performing on Broadway – it seemed like things were really looking up for him, right? On the surface, things looked great, but behind the scenes, they were anything but.
While battling his drug addiction, Andy was generally seen as unreliable by the rest of the music industry. Broadway producer Zev Buffman said of Andy, "We'd lose him over long weekends. He'd come back on Tuesday, and he'd look beat. He was like a little puppy – so ashamed when he did something wrong. He was all heart, but he didn't have enough muscle to carry through."
He went downhill "so fast" according to his brother
Following the end of his relationship with Principal, Andy just downward spiraled from there. He would rarely work over those next few years. He would eventually publicly state that he had beaten an addiction that was costing him $1,000 a day, but then in 1985, he checked into rehab, then again in 1986 and 1987. "(Andy) just went downhill so fast… he was in a terrible state of depression," says brother Robin Gibb.
On March 7th, 1988, Andy was rushed to John Radcliffe Hospital in Oxford after experiencing chest pains. He would die just 3 days later of myocarditis, an inflammation of the heart muscle caused by his drug use. Barry calls that, "The saddest moment of my life."