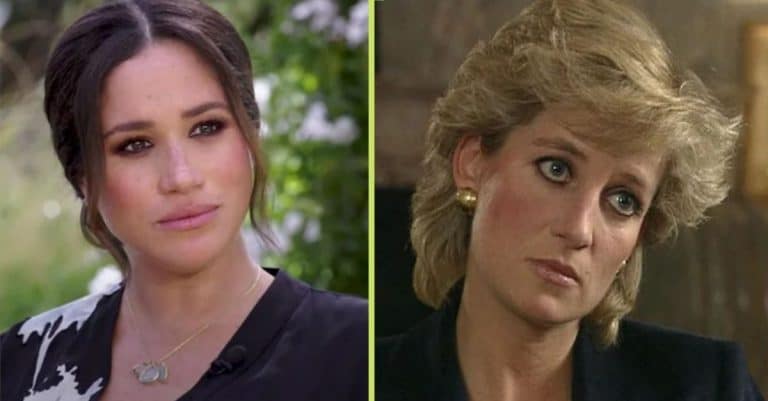 Meghan Markle and Prince Harry recently spilled a lot of details on what it's like being part of the Royal family after stepping away from their official duties. In the interview, they mentioned a lack of support and security within the family, attacks from the British press, struggling with depression and suicidal thoughts, and more.
Longtime Royal watchers may have found this interview to be similar to Princess Diana's explosive 1995 interview. At that time, Diana spoke to reporter Martin Bashir for the BBC program "Panorama" about the same issues.
Princess Diana's 1995 interview brought up very similar topics to Meghan and Harry's
View this post on Instagram
Markle revealed to interviewer Oprah Winfrey that she didn't know much about the Royals growing up, and definitely didn't know about Diana's similar interview. "It wasn't something that was part of conversation at home," she remembers. "It wasn't something that we followed. My mom even said to me a couple months ago, she said, 'Did Diana ever do an interview?' Now I can say, 'Yes, a very famous one.' But my mom doesn't even know that, right?"
RELATED: Prince Harry Believes His Mother Princess Diana Would Be Upset About Royal Family Drama
Markle admits that there was no training or learning course for her to learn how to really be a Royal. "There was no guidance as well… There were certain things that you couldn't do, but you know, unlike what you see in the movies, there's no class on how to speak, how to cross your legs, how to be royal."
Depression, isolation, and no support
View this post on Instagram
This wasn't offered to Diana either. "No one sat me down with a piece of paper and said, 'This is what is expected of you,'" the Princess said back in 1995. Similar to the Duchess of Sussex, Diana had to learn it all by herself. "Here was a situation which hadn't ever happened before in history, in the sense that the media were everywhere, and here was a fairy story that everybody wanted to work," Diana says.
"It was isolating," Diana adds. "I was the one who was always pitched out front, whether it was my clothes, what I said, what my hair was doing, everything …"
History repeating itself
devastated these two never got to met.#HarryandMeghanonOprah #PrinceHarry #MeghanMarkle pic.twitter.com/mf8HKpxPE1

— Meghan and Harry (@megandharryteam) March 8, 2021
Meghan and Diana also shared similar experiences with depression. "When no one listens to you, or you feel no one's listening to you, all sorts of things start to happen," Diana says at the time. "For instance, you have so much pain inside yourself that you try and hurt yourself on the outside because you want help, but it's the wrong help you're asking for. People see it as crying wolf or attention seeking."
The strain of Royal life brought Diana to the brink of suicidal tendencies, the same for Meghan. And there was zero assistance available for both of them. "I said that I needed to go somewhere to get help," Meghan says in her interview. "So that I've never felt this way before, and I need to go somewhere. And I was told that I couldn't, that it wouldn't be good for the institution." In the end, it just looks like history repeating itself with this 1995 interview.