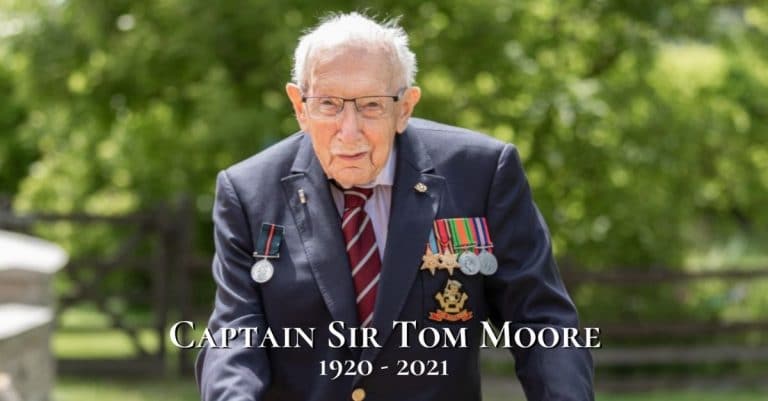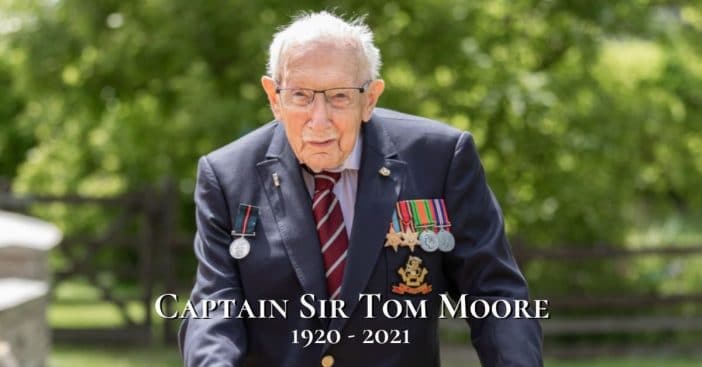 Capt. Tom Moore sadly dies at 100.
He had been hospitalized with COVID-19.
This was after raising millions for COVID-19 relief.
It has been reported that WWII UK veteran Captain Tom Moore, who raised millions for COVID-19 relief by doing 100 laps in his backyard, has died at the age of 100. He was hospitalized with COVID-19 himself and sadly succumbed to the virus. His family announced the very tragic news online.
"The last year of our father's life was nothing short of remarkable. He was rejuvenated and experienced things he'd only ever dreamed of," the family's statement says. "Whilst he'd been in so many hearts for just a short time, he was an incredible father and grandfather, and he will stay alive in our hearts forever."
Remembering Capt. Tom Moore
— Captain Tom Moore (@captaintommoore) February 2, 2021
Moore had originally set out to raise 1,000 pounds for Britain's National Health Service by walking 100 laps of his backyard. Well, his plan went viral and he was able to raise much more than that! Donations soon began pouring in from around the world, including people in the UK, the US, Japan, and more. He managed to raise some 33 million pounds, which equates to $40 million USD.
RELATED: 99-Year-Old WWII Veteran Raises More Than $18M With Birthday Walk
For three continuous weeks in April 2020, people were greeted with videos of Moore taking laps in his backyard garden with his walker. It was a tough time for many as the pandemic was at its peak point, but Moore was there to bring smiles to many people's faces. "Please always remember, tomorrow will be a good day," Moore said in an interview during his walk. He finished his 100th lap on April 16th and was later knighted by Queen Elizabeth II for his efforts. "I have been overwhelmed by the many honors I have received over the past weeks, but there is simply nothing that can compare to this,″ he said after the knighting ceremony. "I am overwhelmed with pride and joy."
"For all those people who are finding it difficult at the moment, the sun will shine on you again and the clouds will go away"
Whether it's cloudy or sunny where you are, join us for a walk today #WalkWithTom #TomorrowWillBeAGoodDay pic.twitter.com/j40CBxYLyz

— Captain Tom Moore (@captaintommoore) November 20, 2020
Rest in peace, Captain.