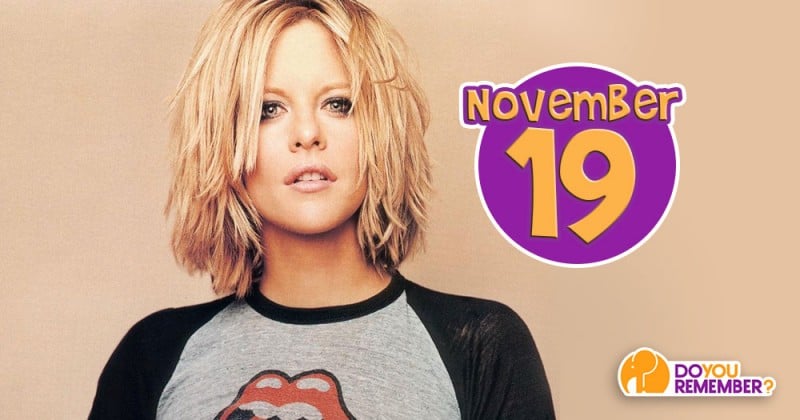 "Born Today"
Tyga (26)

Laura Osnes (30)

Adam Driver (32)

Daria Werbowy (32)

Lil' Mo (37)

Kerri Strug (38)

Jack Dorsey (39)

Billy Currington (42)

Savion Glover (42)

Sandrine Holt (43)

Erika Alexander (46)

Rocco DiSpirito (49)

Jason Scott Lee (49)

Terry Farrell (52)

Jodie Foster (54)
Meg Ryan (55) Featured Above

Matt Sorum (56)

Allison Janney (57)

Charlie Kaufman (58)

Ann Curry (60)

Kathleen Quinlan (62)

Ahmad Rashad (67)

Calvin Klein (74)

Dan Haggerty (75)

Ted Turner (78)

Dick Cavett (80)

Larry King (83)

Alan Young (97

James A. Garfield (RIP)
"Movies"
"Music"
1955 – Carl Perkins recorded 'Blue Suede Shoes' at Sun Studios in Memphis. The rock 'n' roll classic became a US No.2 & UK No.10 hit for Perkins in 1956, and has been covered by many acts including Elvis Presley and John Lennon.

1958 –  David Seville, who magically created the fictitious group the Chipmunks through amazing studio work, released the single "The Chipmunk Song".

1964 – The Supremes became the first all girl group to have a UK No.1 single when 'Baby Love' went to the top of the charts.
1966 – The Supremes started a two week run at No.1 on the US singles chart with 'You Keep Me Hanging On', the group's 7th US No.1. It made No.8 in the UK.

1966 – Eddie Floyd had the #1 R&B song with the original version of "Knock On Wood".

1966 – The Supremes achieved their eighth career #1 in their last 13 releases with one of their biggest hits–"You Keep Me Hangin' On".

1973 – Barbra Streisand released the single "The Way We Were"

1977 – Earth, Wind & Fire achieved a #1 song on the R&B chart with "Serpentine Fire".

1977 – Debby Boone had the new #1 on the Easy Listening chart–"You Light Up My Life".

1983 – Tina Turner made her first chart appearance in over ten years with her version of the Al Green hit 'Let's Stay Together'.
1988 – Bon Jovi started a two week run at No.1 on the US singles chart with lead single from the band's album New Jersey, 'Bad Medicine', which became the group's third US No.1, and a No.17 hit in the UK.
"TV/Radio"       
1989

– The

Perry Mason

TV movie "The Case of the All-Star Assassin" aired.

1999

– The 100th episode of "ER" aired on NBC.
"Other Important Events"
1928 –

"Time" magazine

presented its cover in color for the first time. The subject was Japanese Emperor Hirohito.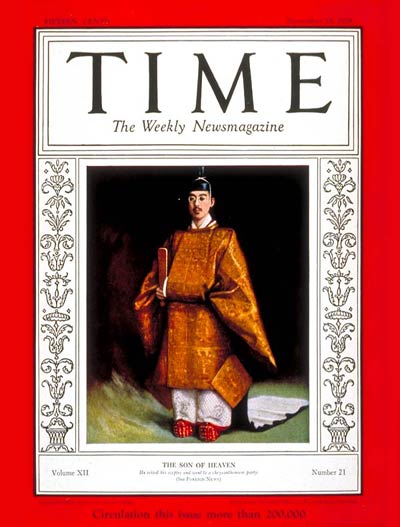 1954 –  Sammy Davis, Jr. was in a serious car accident in San Bernadino, California.  Three days later, Davis lost his ability to see with his left eye.

1959 – Ford Motor Co. announced it was ending the production of the unpopular Edsel.

1969 – Apollo 12 astronauts Charles Conrad and Alan Bean made man's second landing on the moon.

1984 – Dwight Gooden, 20-year-old, of the New York Mets, became the youngest major-league pitcher to be named Rookie of the Year in the National League. (

MLB

)

1990 – Milli Vanilli was forced to relinquish their Grammy Award for Best New Artist after it was discovered that other singers had in fact done the work on the album Girl You Know It's True.
1998 – The impeachment inquiry of

U.S. President Clinton

began.