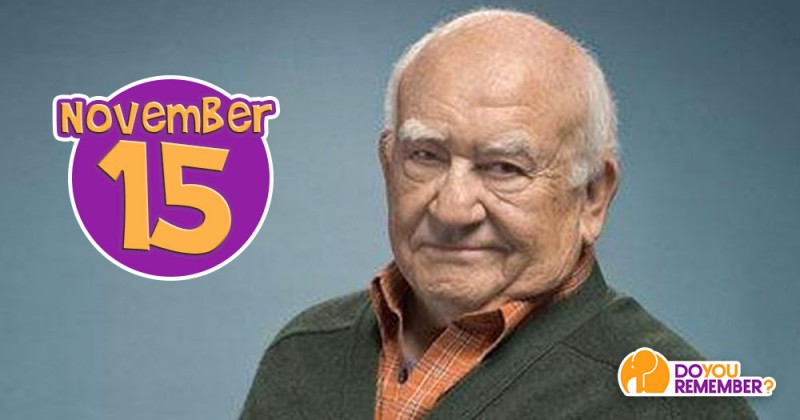 "Born Today"
Shailene Woodley (24)

B.o.B (27)

Jeffree Starr (28)

Lily Aldridge (30)

Yaya DaCosta (33)

Leslie Hall (34)

Ace Young (35)

Sean Murray (38)

Virginie Ledoyen (39)

Chad Kroeger (41)

Sydney Tamiia Poitier (42)

Jonny Lee Miller (43)

Rachel True (49)

Judy Gold (53)

Kevin Eubanks (58)

Alexander O'Neal (62)

Beverly D'Angelo (64)

Jimmy Choo (67)

Frida Lyngstad of Abba (70)

Bob Gunton (70)

Roberto Cavalli (75)

Sam Waterston (75)

Petula Clark (83)

Ed Asner (86) Featured Above

Judge Joseph Wapner (96)

Randy Savage (RIP)

Georgia O'Keeffe (RIP)

Squanto (RIP)
"Died Today"
"Movies"
"Music"
1966 – The Doors officially signed with Elektra Records in a deal for the band to produce seven albums.
1969 – The Carpenters released their debut album, Offering, (later re-named as Ticket To Ride) on A&M Records. It was a commercial failure and produced only one minor hit single, a ballad version of The Beatles song 'Ticket to Ride'.

1969 – We first heard of a new group called the Jackson 5 as their first single "I Want You Back" debuted on the chart.
1974 – The Doobie Brothers released the single "Black Water".

1975 – Silver Convention achieved a #1 song on the R&B chart with "Fly, Robin, Fly".

1977 – Debby Boone had the #1 Easy Listening song with "You Light Up My Life".
1980 – Kenny Rogers' 12th solo hit became his first career #1 as "Lady" moved into the coveted position

1986 – Pop history was made when the Top 5 UK singles were all by female vocalists; Corinne Drewery from Swing Out Sister, Mel and Kim, Susannah Hoffs from The Bangles, Kim Wilde and Terri Nunn from Berlin who were at No.1 with 'Take My Breath Away.'
1990 – Milli Vanilli producer Frank Farian held a press conference to confirm the rumours that the two members of the group Rob and Fab had not sung on any of their hit records.

1992 – Ozzy Osbourne announced his retirement from touring after a gig in California, saying "Who wants to be touring at 46."

1997 – Robyn had the highest-debuting song with "Show Me Love".
2000 – Michael Abram, the Liverpool man who stabbed George Harrison after breaking into his home, was awarded a not guilty verdict at Oxford's Crown Court. But the verdict was returned in view of Abrams mental history, and he was taken into care.
"TV/Radio"
1926 – The National Broadcasting Co. (NBC) debuted with a radio network of 24 stations. The first network radio broadcast was a four-hour "spectacular."
1964 –  Peter & Gordon appeared on The Ed Sullivan Show.

1965 – The Rolling Stones performed "Get Off Of My Cloud", which aired on Hullabaloo on NBC-TV on this date.

1975 –  ABBA were in the United States for the only time in their career, performing "S.O.S." and "I Do, I Do, I Do, I Do, I Do" on American Bandstand on ABC-TV.

1985

– The 200th episode of "Dallas" aired on CBS.
1987

– The

Perry Mason

TV movie "The Case of the Scandalous Scoundrel" aired.

1996

– The reunion movie "Dallas: J.R. Returns" aired on CBS.

1999

– The 50th episode of "Ally McBeal" aired.
"Other Important Events…"
1901 – Miller Reese patented an electrical hearing aid.

1965 – The Soviet probe,

Venera 3

, was launched from Baikonur, Kazakhstan. On March 1, 1966, it became the first unmanned spacecraft to reach the surface of another planet when it crashed on Venus.

1966 – The flight of

Gemini 12

ended successfully as astronauts James A. Lovell and Edwin "Buzz" Aldrin Jr. splashed down safely in the Atlantic Ocean.
1969 – In Washington, DC, a quarter of a million protesters staged a peaceful demonstration against the Vietnam War.

1992 – Richard Petty drove in the final race of his 35-year career.
1995 – Texaco agreed to pay $176 million to settle a race-discrimination lawsuit.

1999 – Representatives from China and the United States signed a major trade agreement that involved China's membership in the World Trade Organization (WTO).