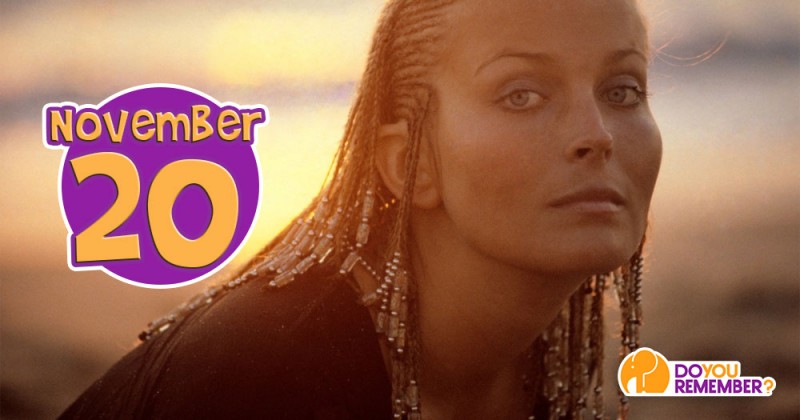 "Born Today"
Ashley Fink (29)

Jared Followill (29)

Dan Byrd (30)

Jeremy Jordan (31)

Future (32)

Kimberley Walsh (34)

Nadine Velazquez (37)

Josh Turner (38)

Dominique Dawes (39)

Dierks Bentley (40)

Davey Havok of

AFI

(40)

Joel McHale (44)

Callie Thorne (46)

Mike D (50)

Ming-Na (52)

Sean Young (56)

Bo Derek (59) Featured Above

Mark Gastineau (59)

Joe Walsh (68)

Joe Biden (73)

Norman Greenbaum (73)

Dick Smothers (77)

Estelle Parsons (88)

Kaye Ballard (90)

Mark Miller (90)

Richard Dawson (RIP)

Robert F. Kennedy (RIP)
"Died Today"
"Movies"
"Music"
1955 – "Rock Around The Clock" by Bill Haley & the Comets went to #1 in the U.K.
1956 – Fats Domino continued to own the #1 R&B song for a fourth week with "Blueberry Hill".

1965 – Fontella Bass held on to #1 on the R&B chart for a fourth week with "Rescue Me".
1965 – The Supremes moved to #1 with "I Hear A Symphony".

1971 – Isaac Hayes moved to #1 with the "Theme From 'Shaft'

1973 –  Elton John released the single "Crocodile Rock" in the United States.

1976 – The Captain & Tennille returned to the top with their fifth consecutive #1 Adult Contemporary song–"Muskrat Love".
1982 –  Lionel Richie reached #1 on the Adult Contemporary chart with his first solo single "Truly".

1983 – Tina Turner made her first chart appearance in over ten years with her version of the Al Green hit 'Let's Stay Together'.

1988 – Bon Jovi started a two week run at No.1 on the US singles chart with lead single from the band's album New Jersey, 'Bad Medicine', which became the group's third US No.1, and a No.17 hit in the UK.

1993 – Phil Collins had the top album in the U.K. with Both Sides.
"TV/Radio"
1929 – The radio program "The Rise of the Goldbergs," later known as "The Goldbergs," made its debut on the NBC Blue Network.

1955 – Bo Diddley appeared on

The Ed Sullivan Show

.  He was requested to perform "Sixteen Tons" but after he sang "Bo Diddley" instead, he was banned from future shows.

1968 – The 100th episode of "Green Acres" aired.

1976 – Paul Simon hosted

Saturday Night Live

on NBC-TV.

1980 – The 200th episode of "

M*A*S*H

" aired on CBS

1983 – An estimated 100 million people watched the controversial ABC-TV movie "The Day After." The movie depicted the outbreak of nuclear war.
1997 – Paul McCartney taped an appearance on

The Oprah Winfrey Show

in New York City.
"Other Important Events…"
1947 – Britain's Princess Elizabeth married Philip Mountbatten, Duke of Edinburgh in Westminster Abbey.

1962 – The Cuban Missile Crisis ended. The Soviet Union removed its missiles and bombers from Cuba and the

U.S.

ended its blockade of the island.
1962 – Mickey Mantle was named the

American League

Most Valuable Player for the third time.

1986 – Dr. Halfdan Maher, the director of the World Health Organization, announced the first coordinated global effort to fight the disease AIDS.

1984 – Michael Jackson earned a star on the Hollywood Walk of Fame in front of Mann's Chinese Theatre.

1986 – The one billionth

Little Golden Book

was printed. The title was

The Poky Little Puppy

.
1990 – The space shuttle

Atlantis

landed at Cape Canaveral,

FL

, after completing a secret military mission.

1997 – Kenny G earned a star on the Hollywood Walk of Fame in California.