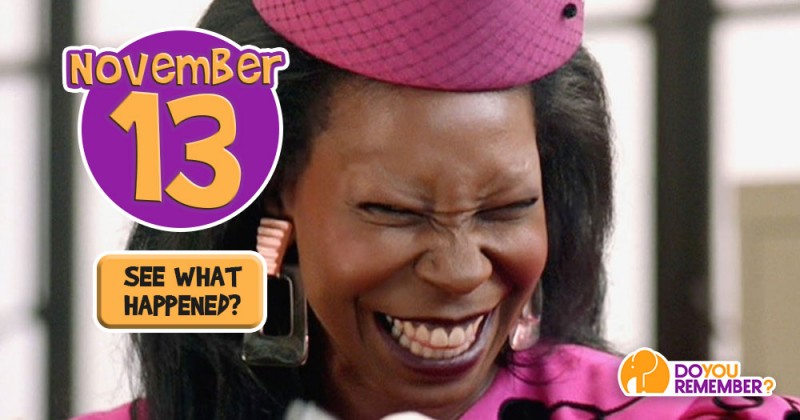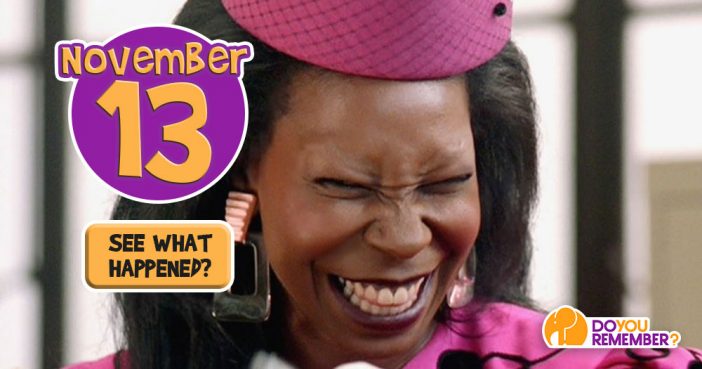 "Born Today"
Devon Bostick (25)

Kumi Koda (34)

Michael Copon (34)

Monique Coleman (36)

Metta World Peace (37)

Aisha Hinds (41)

Jordan Bridges (43)

Noah Hathaway (45)

Gerard Butler (47)

Stephen Full (47)

Steve Zahn (49)

Jimmy Kimmel (49)

Kelly Cutrone (51)

Neil Flynn (56)

Whoopi Goldberg (61)

Chris Noth (62)

Frances Conroy (63)

Tracy Scoggins (63)

Joe Mantegna (69)

Garry Marshall (RIP)
"Died Today"
Ol' Dirty Bastard aka

Russell Tyrone Jones

(Born: November 15, 1968 / Died: November 13, 2004)
"Movies"
"Music"
1961 – "Please Mr. Postman" delivered a #1 R&B song for the Marvelettes.

1964 – Decca Records released The Rolling Stones' 'Little Red Rooster'. The single was a No.1 hit in the UK and remains the only time a blues song has ever topped the UK pop chart.

1965 –  After 35 weeks, the Soundtrack to "The Sound of Music" reached #1 on the Album chart.

1968 – Hugo Montenegro was at No.1 in the UK singles chart with 'The Good The Bad And The Ugly', the soundtrack from a Clint Eastwood spaghetti western film. The first instrumental No.1 since 1963.
1976 – Rod Stewart started an 8 week run at No.1 on the US singles chart with 'Tonight's The Night'. It was Rod's second US No.1; it made No.5 in the UK after being banned by many radio stations due to song being about the seduction of a virgin.

1976 – Barry Manilow owned the new #1 Easy Listening song–"This One's For You".

1978 – The Bee Gees released the single "Too Much Heaven".  All proceeds from the song released at the height of their career were given to UNICEF.

1982 – For the second straight week, the great Joe Cocker & Jennifer Warnes song from An Officer and a Gentleman–"Up Where We Belong" topped the chart.
1999 – A report showed that The Spice Girls were the highest earners in pop during the 90's with their debut album 'Spice' selling over 20 million copies. Elton John was second with 14 million sales from 'The Lion King'.

1999 – It was announced that Cliff Richard had signed up with Internet company Remotemusic.com, making him the first major artist to sign a deal with an online company.
"TV/Radio"
1963 – The Beatles recorded a television interview at Westward Television Studios in Plymouth, Devon, for a local teen program "Move Over, Dad"

2001 – The 200th episode of "Frasier" aired on NBC.
"Other Important Events…"
1931 – Maple Leaf Gardens opened in Toronto, Ontario, Canada. It was to be the new home of the Toronto Maple Leafs in the National Hockey League (NHL).

1933 – In Philadelphia, the first Sunday football game was played.
1946 – The first drive-up banking facility opened at the Exchange National Bank in Chicago,

IL

.

1954 – Ellis Island, the immigration station in New York Harbor, closed after processing more than 20 million immigrants since 1892.

1980 – The

U.S.

space probe

Voyager I

came within 77,000 miles of Saturn while transmitting data back to Earth.

1984 – Space shuttle astronauts Dale Gardner and Joe Allen snared the Palapa B-2 satellite in history's first space salvage.

1998 – Daimler-Benz completed a merger with Chrysler to form Daimler-Chrysler AG