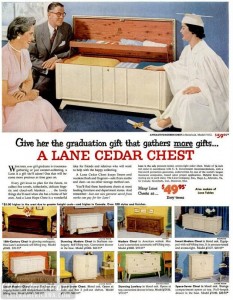 I first learned about Hope Chests when my Nana presented me with a beautiful tea set she had purchased at a sale, asked my opinion of it, then responded with a smile: "I'll put it in your Hope Chest."
Now, I was living on my own at the time and happened to love tea cups. And given that she had already purchased this set and was presenting it to me, I assumed I would be walking out with the set then and there, maybe sipping some Oolong from it when I got home. But she happily packed the set away in this thing called my Hope Chest, and I didn't question it because I didn't want to be rude.
The next time my Hope Chest was brought up, my Nana had a homemade quilt. My Nana is no small talent in knitting and quilting. It was stunning. She asked what I thought and I gave my praises up and down. "I think I'll put it in your Hope Chest." I thought about the coffee stain sitting on the quilt on my bed back home. I couldn't help myself this time, "Nana, what is a Hope Chest?"
That's when I learned that a Hope Chest is an actual chest filled with "things for my future." Naively, I wondered aloud, what date in the future?
"I'll give it to you when you get married." I looked through the contents already hopefully packed away for my future nuptials. There were things in there that had been passed down to my Nana and Papa on their wedding day, as well as a picture frame that my Nana found and thought I would like. It was a nice moment, looking through the chest, and my Nana nostalgically sharing the contents and telling me about her own Hope Chest from her mother. It was really sweet.
"But, Nana," I said, "What happens if I don't get married?"
Well, I still don't have my Hope Chest, but I've noticed my Nana has put less in there and started to pass these items on to me directly, and sharing their meaning with me.