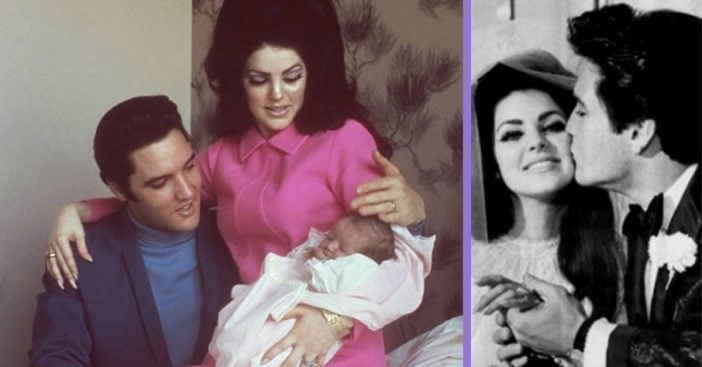 From 1967 to 1973 Elvis was married to his one and only wife Priscilla Presley. Although their relationship is sometimes painted as a perfect love story, the truth is far from that. Priscilla was very young when the two first met. For most of her life with Elvis, everything revolved around him and his celebrity status.
Even after the pair separated, it was clear that Elvis couldn't let Priscilla go. Both had their share of infidelity during their marriage. Elvis, however, threatened to kill one of Priscilla's partners after she told him she was leaving him. And then, of course, there were the endless phone calls Elvis made to Priscilla.
Phone Calls To Priscilla
Of course, it was normal for Priscilla and Elvis to still have some contact after their divorce. They were, after all, jointly parenting their daughter Lisa Marie. But Elvis was obviously jealous and intrusive. He called Priscilla at all hours of the day, even though he was dating Ginger Alden during the final months of his life. Despite Elvis' claims that he had proposed to Ginger, his relationship with her was often dismissed as another fling. Long-time Graceland cook Mary Jenkins stated, "It really surprised me. He told me that he would never marry again unless it was to Priscilla."
Regardless of Elvis' relationship with Ginger, he continued to interfere with Priscilla's love life. Author and friend of Elvis and Priscilla Chris Hitchens spoke to one of Priscilla's past boyfriends, Terry O'Neill. Hitchens said of their relationship, "Their love-making was frequently interrupted by phone calls from Elvis who, although they had been divorced for two years, still rang her at all hours of the day and night." Priscilla could not get free from him.
Fantasy Life
Perhaps Elvis' inability to let go of Priscilla stemmed from a fantasy of having the perfect family. Hitchens remembered that one night while backstage with Elvis, he had proudly shown photos of his baby daughter. The King stated, "Mama would be so proud if she could see me now, a married man with a baby." But Elvis's habits with drinking, drugs, and womanizing didn't go away with marriage or the birth of his child, and his family unit was far from perfect.
Priscilla eventually made the choice to end their unhealthy relationship. Hitchens stated that "The last time Elvis spoke to his ex-wife was by telephone on the night he died." There was hope in that conversation of things between the two reaching better terms. Unfortunately, it was too late. The King collapsed and died of a heart attack that night, with his daughter in the next room. 
FAQs
Why Elvis couldn't make love with Priscilla?
Elvis told Priscilla that he was no longer able to have sex with her due to difficulties sleeping with women who had children. This was disclosed in the memoir, Elvis and Me.
Was Elvis still in love with Priscilla when he died?
Reports say that Elvis and Priscilla always had love for one another until he died in 1977, despite separating. To this day, Priscilla still calls Elvis her ultimate love.
Did Elvis kiss people in front of Priscilla?
Elvis did kiss people in front of Priscilla. In fact, in his first show in Las Vegas at the International Hotel, Elvis kissed a woman right in front of her.