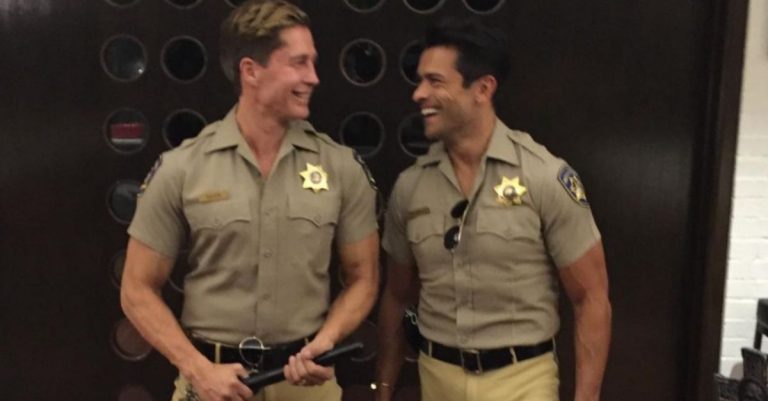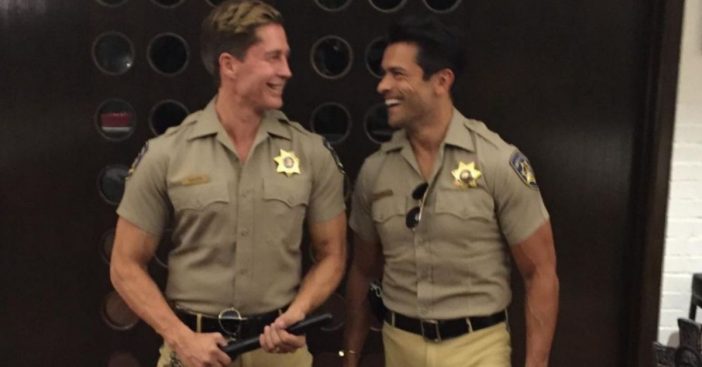 Fans have one question; is Mark Consuelos stuffing his pants? Kelly Ripa and Mark Consuelos are without a doubt completely unapologetic when it comes to… more intimate details of their relationship. So much that it has actually grossed out their daughter Lola one time or another. In an Instagram post, Kelly shared some photos of their family Halloween costumes throughout the years.
One of them caught the eyes of every fan looking on. It was a CHiPs-inspired costume, and fans are wondering if Mark was stuffing his pants to create the look of a bulging private area. People were quick to comment, saying, "Mark is packing a gun in his cop uniform." Another adds, "Your husband stuffed his pants."
Mark stuffing his pants for a Halloween photo? Maybe? Maybe not…
Of course, 49-year-old Mark couldn't help but respond in the comments. "Full disclosure, I believe that's definitely a shadow that's causing that bulging effect," he says. Then Ripa chimes in with her own response, "Ummmmm baby are you seeing shadows?" Then Mark replies, "Pretty sure."
RELATED: Kelly Ripa And Mark Consuelos' Kids Look Exactly Like Their Famous Parents
It's very clear to see that the two do not shy away on social media. 19-year-old daughter Lola has recently talked about how she tries to ignore her mom's "thirst trap" photos of her dad. She teases her mom saying the photos are "disgusting."
Just a few weeks ago, Ripa shared a screenshot of a text message thread with Lola, with the caption "Conversations with my daughter." The screenshot showed Ripa sending an article link to her daughter about Gwyneth Paltrow posting a nude photo on Instagram for her birthday. Ripa tells her daughter, "You've been warned." 
View this post on Instagram

Hilariously, Lola responds, "Do what you want, just know that I have a birthday also, and an Instagram." Only time will tell how this turns out!
RELATED: Kelly Ripa's Daughter, Lola, Stuns In Bikini-Clad Photo, Then Deletes Entire Instagram Feed