Throughout the '70s, The Waltons introduced viewers to a complex, lovable family. Several members contributed to the interesting, relatable dynamics. Each cast member had to bring something special to breathe life into their character. One such member included Will Geer, who played Grandpa Walton. What did he do after the show?
Born on March 9, 1902, Geer witnessed and participated in a lot of history. He came from humble beginnings, especially after his father left the family when Geer was just 11. As a result, Geer drew a lot of paternal inspiration from his grandfather. This influence was to such an extent, Geer almost became a botanist after his grandfather taught him all about plants. Other influencers took his life in a very different direction, however, which got him involved in civil rights, gay activism, and the Hollywood Blacklist.
The birth of Grandpa Zebulon Walton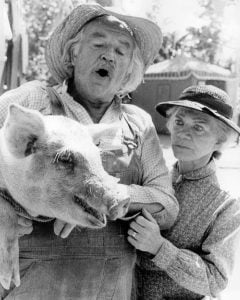 Life took the actor's life in many different directions before and during The Waltons. His educational career began with botany but soon utilized his charisma on riverboat tours and in tent shows. Pursuing acting in earnest, Geer met gay rights activist Harry Hay and began a relationship. Their romance also took them to major protests and demonstrations.
RELATED: 'The Waltons' Cast Then And Now 2020
His interests expanded to rights and benefits for any underserved demographic overall. But between supporting labor parties, he developed a career first through Broadway then on the big screen. By the time 1972 arrived, he was cast as Grandpa Zebulon Walton, earned a Tony nomination for 110 in the Shade (1964), maintained a personal garden called the Geer-Gore Gardens in Connecticut, and created as second "Shakespeare Garden" for the local theater. He also became blacklisted during the second Red Scare for his strong union views. This put him among the ranks of revolutionary comedian Lucille Ball herself.
Is Will Geer still alive?
In a bit over seven-and-a-half decades, Will Geer lived quite the lifetime. He penetrated into acting from a unique origin of inspiration Then he engaged in activism alongside his career. As Zeb, Geer played a patriarch's patriarch, the head of the family. Grandparents always have a special place in their grandkids' hearts; in fact, grandparents are very important for young souls. Perhaps he channeled his own when playing Zeb Walton, a character viewers got to enjoy until April 22, 1978.
In his 76 years of life, Geer established a powerful legacy. He had three kids: Kate, Thad and Ellen. Kate went onto marry M*A*S*H star Larry Linville and Ellen actually appeared in The Waltons too. In one episode, Geer imparts a powerful message about being true to one's self. When he passed, The Waltons was in its sixth season. Season seven's first episode, "The Nest," dealt with Zeb's death in acknowledgement of Geer's. Meanwhile, Geer's family sang "This Land Is Your Land" at his funeral.