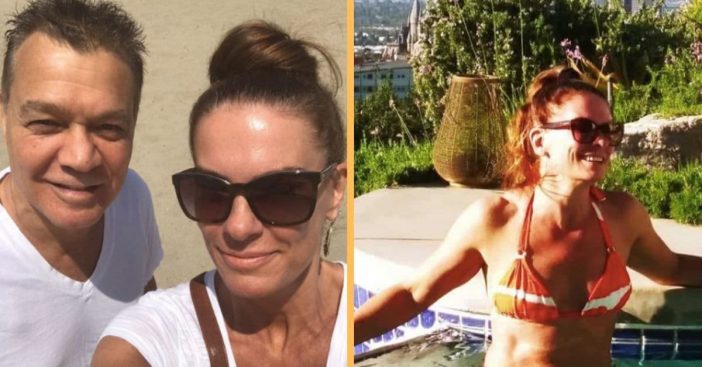 UPDATE 10/6/2020
Eddie Van Halen's wife, Janie Liszewski, is living the summer life as she posted a photo in a red bikini. Her location on the photo shows that she's in Hollywood Hills, basking in the summer sun in her pool. "#poolday #justwhatineeded #grateful" she posts for hashtags in the caption. Janie looked gorgeous as ever and fans took to the comment section to show their appreciation for her beauty!
"I'm so jealous right now. I want a pool so badly. I've been discussed recently doing some sort of recreational pond DIY method. I have the perfect property at home for a pool but not quite the perfect bank account," one follower writes.
Janie Liszewski soaks up the summer sun in red bikini photo
https://www.instagram.com/p/CBbqrnhHO1G/?utm_source=ig_embed
Another fan
writes
, "Do those Pool King guys on TV owe anyone any favors that I can cash in? Seriously though, that's a great view from a pool!"
Eddie Van Halen was recently reported dead after a long-term battle with throat cancer. He died at the age of 65. Diagnosed back in 2000 with tongue cancer, he had been out and about quite a bit, a positive sign. However, doctors noted that his health had deteriorated quickly in his last 72 hours. Back in January 2020, a
report
showed the rocker going about his daily life routine. For the last several years, Eddie had been traveling to and from Germany for
treatment for throat cancer
.
How Eddie is doing with his cancer
The rocker believed that the cancer may have come on from the metal picks he would hold in his mouth for years during performances. However, it's more likely from something else. It's important to note that Eddie had a lifelong smoking habit, telling Billboard that he
began smoking cigarettes
at 12 years old. He also tells all about his alcohol addiction and how he'd get drunk before showing up to high school. Eddie additionally says that he doesn't attribute cancer to smoking because his "lungs are totally clear."