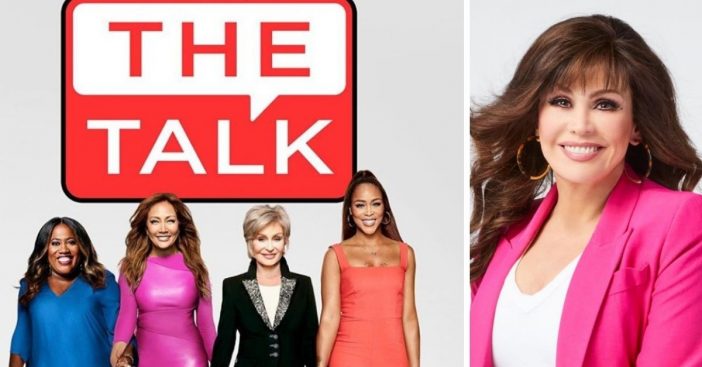 After the alleged firing of Marie Osmond from The Talk, many viewers are calling for the show to be restructured or even canceled. Marie was only on one season of The Talk and it has not been confirmed if she quit or was fired from the show. However, sources say she just did not mesh well with the other women due to differing views.
Now, many fans are reaching out to the show on Facebook. One wrote, "I am done with this show!! It's gone downhill fast and the firing of Marie is so unfair." Another said, "If the show was canceled it wouldn't bother me."
Some viewers want 'The Talk' canceled after Marie Osmond left
https://www.instagram.com/p/CFZkVD2nlhJ/
Many also commented on how the ratings are sinking and the show seems cold these days. As of right now, Sharon Osbourne, Sheryl Underwood, Eve, and Carrie Ann Inaba are hosts of the show. The Talk has not yet revealed Marie's replacement.
RELATED: Sharon Osbourne Hopes Marie Osmond Will Come Back To 'The Talk'
Many fans of Marie have also requested the firing of Sharon Osbourne. While the two claim they are friends and there was no feuding, some fans noticed the tension on set. One wrote on The Talk's Facebook page, "She [Sharon] was very rude to Marie she should get axed for being rude not Marie." Another said, "When Sharon gets booted off… I'll watch again."
Others want Sharon Osbourne fired
https://www.instagram.com/p/CFa3xAKpeo1/
When Marie left The Talk, she shared this message on Instagram: "One of the highlights of my year at #TheTalk was working with my dear friend John Redmann (former EP and showrunner) and I'm excited to continue our working relationship on several projects we are developing. Also, my husband and I just dropped our last two kids off at college, we looked at each other, laughed, and remembered we hadn't been this alone together since 1982!! So, at this stage of my life, I'm looking forward to spending more time with him and visiting all the kids/grandkids. ♥️"
https://www.instagram.com/p/CEqHaWFsO9s/?utm_source=ig_embed
Former co-host Sharon commented, "Marie, I really enjoyed getting to know you over the last year. Your contribution to The Talk was very special and you will be missed. Wishing you much love and happiness. Always, Sharon "
As the first episode of the season aired, Marie reportedly did not watch it. She was off on a road trip with her husband Stephen Craig after they dropped her daughter off at college. What's your take on The Talk? Should it be canceled?