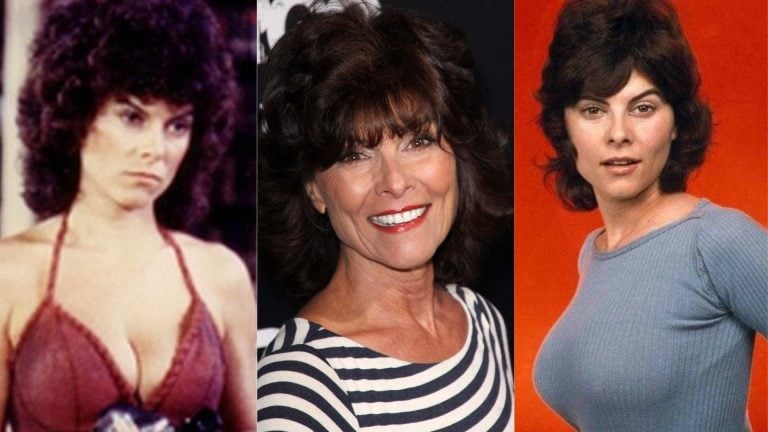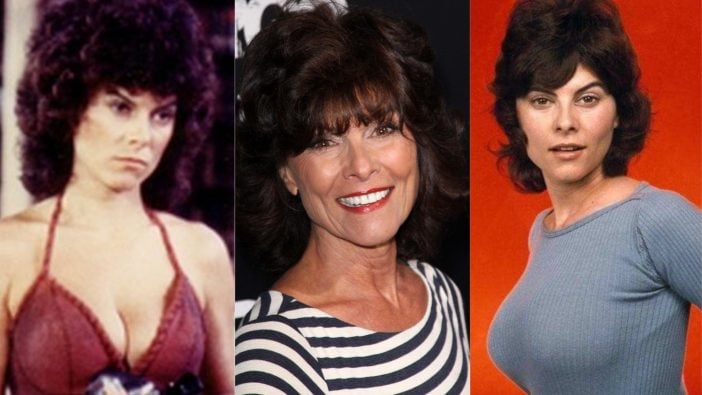 UPDATED 2/6/2023
When you describe somebody as having an amazing, incredible, or beautiful life, how much of it is usually a throwaway line and how much of it is true? Well, in the case of actress Adrienne Barbeau, we'd say it has been pretty beautiful given that she's lived the life of a working actress for the past 55 years. It started with the original Broadway run of Fiddler on the Roof which led to the 1970s hit TV series Maude. And it has continued to this day with such recent films as Big Legend and For the Love of Jessee, as well as guest-starring on television series like Swamp Thing, Creepshow, and AJ and the Queen. Yep, sounds pretty beautiful to us.
She was born Adrienne Jo Barbeau on June 11, 1945, in Sacramento, California, and it was there, according to what she wrote in her autobiography, that she first became intrigued with the idea of performing. It seems that she traveled with the San Jose Civic Light Opera to Army bases throughout Southeast Asia to perform for the troops and that that was the thing that would ultimately bring her to New York in the mid-1960s.
Once in New York, she worked as a go-go dancer and by 1968 had made her way into Fiddler on the Roof, first as a part of the chorus and then as a replacement for the characters of Hodel and Brielle. In 1971 she played Cookie Kovac in the off-Broadway "nudie musical" Stag Movie, for which she was apparently able to strip away her inhibitions for.
What many may have forgotten at this point is the fact that in 1972 Adrienne was back on Broadway, only this time originating the part of Betty Rizzo in the original production of Grease (the part Stockard Channing would play in the movie version six years later). She would return again in 2006 playing Judy Garland in off-Broadway's The Property Known as Garland and in 2014 as part of the national touring company of Pippin. In total, she's been able to do about 25 musicals and plays.
And Then There's 'Maude'
Satisfied with what she'd accomplished on stage, she decided to give television a shot and ended up cast in Maude, an acclaimed, though controversial, series. And while she enjoyed the material, it gradually occurred to her that the attributes being focused on weren't necessarily her acting talents. "What I didn't know," she writes in the aforementioned autobiography, There Are Worse Thing I Could Do, "is that when I said my lines I was usually walking down a flight of stairs and no one was even listening to me. They were just watching my breasts precede me."
Thanks to her success on Maude, Adrienne found herself making guest star appearances on many different shows throughout her career, and starring in a little over two dozen made-for-TV movies. She made the leap to the big screen in the 1980 horror film The Fog and found that that was a genre she would dip in and out of for years to come. Subsequent roles would alternate from horror to more comic, dramatic, science-fiction, thrillers, and more. She would even provide her voice for automated devices in movies like Sylvester Stallone's Demolition Man (1993) and Judge Dredd (1995).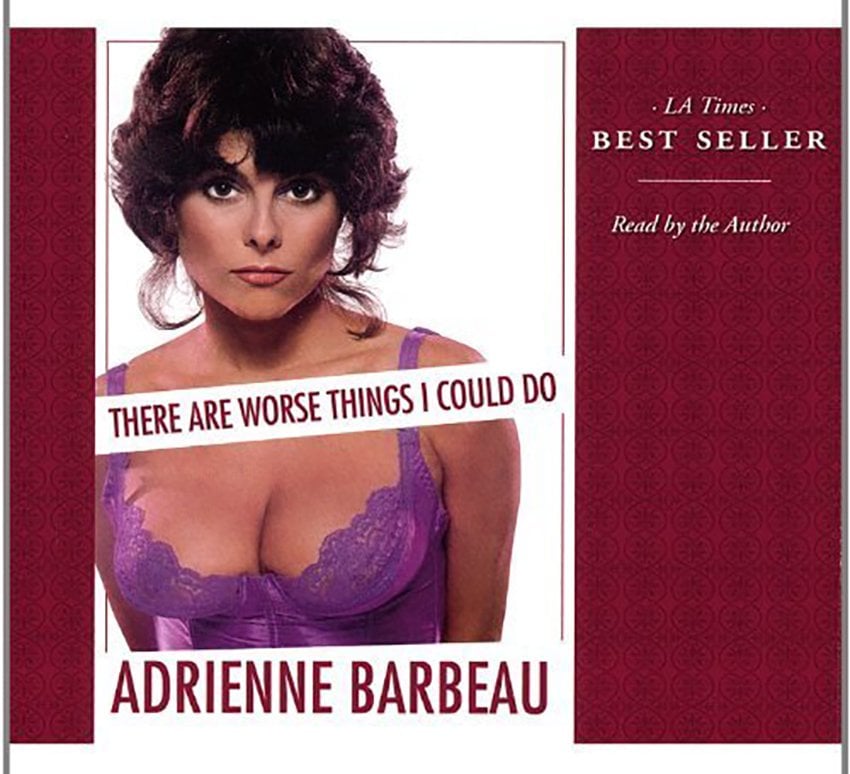 Is Adrienne Barbeau Still Married?
One has to give Adrienne credit for keeping her career diversified. She's worked as a talk show host and a weekly book reviewer for Los Angeles talk radio station KABC,  recorded an album as a folk singer, has played different characters in video games from 1999's Descent 3 to 2018's Fallout 76, and she's written a trilogy of mystery horror novels under the umbrella title Vampyres of Hollywood. In her personal life, she was married to director John Carpenter from 1979 to 1984 (they had a son, John Howard "Cody" Carpenter). In 1992, she married producer/playwright/actor Bill Van Zandt, who was 12 years younger than she was, and the two of them were together until 2018. At age 51 in 1997, she gave birth to their twin sons, Walker Steven and William Dalton Van Zandt.
All of which reinforces our firm belief that life of Adrienne Barbeau, 77, has been pretty beautiful, and to celebrate it you can check out the following illustrated guide to her career.
1 of 42. 'Maude' (1972 to 1978)
Long before she played Dorothy on The Golden Girls, Bea Arthur first caught the audience's attention as Maude Findley, a character introduced as Edith Bunker's cousin on All in the Family. This series — created by Norman Lear and Bud Yorkin — was born out of the women's liberation movement of the era and was the democratic counterbalance to Archie Bunker's conservatism. Adrienne is Maude's daughter, Carol Traynor, a single mother who fully embraces her sexuality and is like her mother in a lot of ways, though the two of them do end up butting heads a lot. Also starring is Bill Macy as Maude's fourth husband, Walter Findlay. Portraying the next-door neighbors are Conrad Bain (he to be of Diff'rent Strokes) and Rue McClanahan, who would, of course, join Bea on The Golden Girls. Interesting bit of trivia, in the world of spin-offs, Maude's housekeeper was Esther Rolle as Florida Evans, who would move on up (oh, wait, that was The Jeffersons) to her own show, Good Times.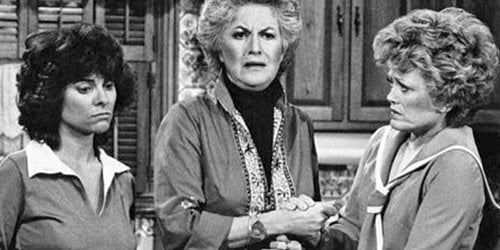 2 of 42. 'The Great Houdini' (1976 TV Movie)
A dramatic look at the life of escape artist Harry Houdini (played by Starsky and Hutch's Paul Michael Glaser). Adrienne is Daisy White, and her co-stars include Sally Struthers, Bill Bixby and Vivian Vance (Ethel Mertz from I Love Lucy). That same year, Adrienne appeared in the TV movie Julie, Farr, M.D., which inspired two sequels and a short-lived TV series. And then, in 1977 she starred in the Have I Got a Christmas for You TV movie.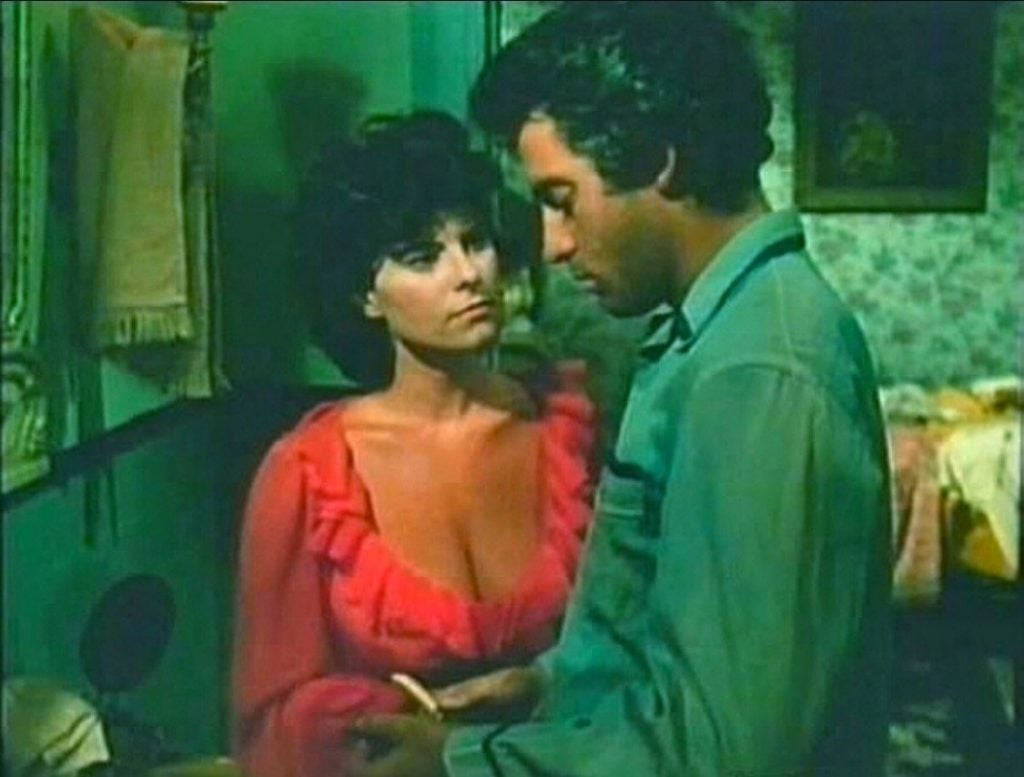 3 of 42. 'The Fighting Nightingales' (1978 TV Movie)
This one has kind of gotten lost in time given that the only spin-offs we think of as having come out of M*A*S*H are AfterMASH and Trapper John, M.D. (though there's no way we believe that Wayne Rogers grew up to be Pernell Roberts — no way!). Well, color us stoopid, because Adrienne was featured as Major Kate Steele, one of a number of nurses in an all-female unit assigned to the Korean War in this TV movie pilot. Also in 1978, she was featured in the TV movies Crash and Someone's Watching Me (which is where she met first husband, director John Carpenter), and, in 1979, The Darker Side of Terror. 
4 of 42. 'The Fog' (1980)
A century after a ship sank in the water off a small coastal town, a deadly fog of supernatural origins begins attacking the locals. How on Earth do you fight a fog? That's what the cast (including Adrienne as Stevie Wayne and Jamie Lee Curtis as Elizabeth Solley) has to figure out. John Carpenter writes and directs. In the same year, Adrienne appeared in the TV movies Top of the Hill, Valentine Magic on Love Island, and Tourist. 
5 of 42. 'Escape from New York' (1981)
In the (then) not-so-distant future of 1997, Manhattan Island has been turned into a maximum-security prison, which just happens to be the place the President of the United States' plane crashes. Kurt Russell as criminal Snake Plissken is sent him to rescue him and has to fight his way through various inmates. One of the people helping him to do is Adrienne's Maggie, who's armed with guns and some serious attitude — almost feels like the time to make some sort of crack about Maude, Carol, and hormones, but that would be insensitive, rude, and sexist and we'd like to think we're more enlightened than that.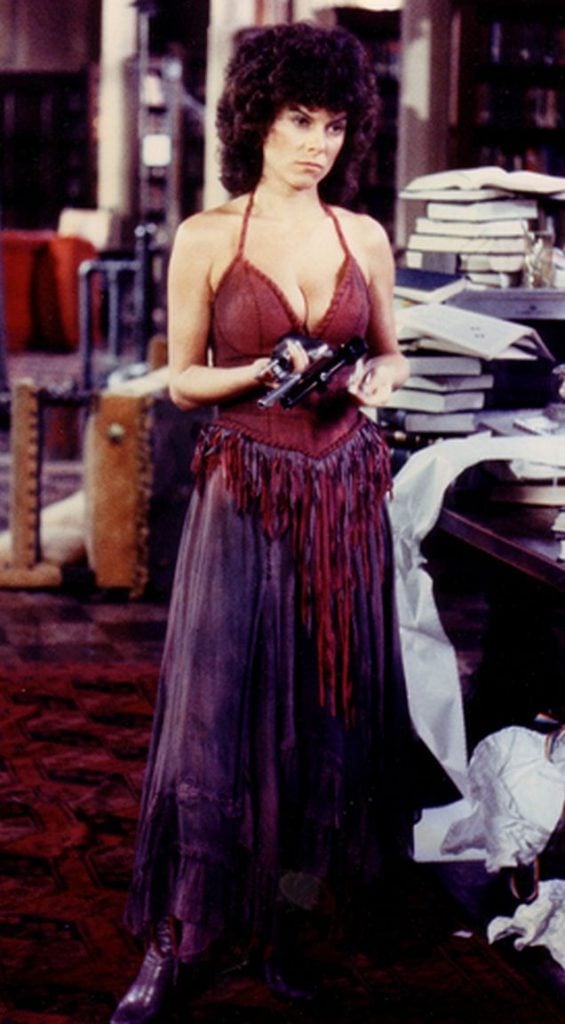 6 of 42. 'The Cannonball Run' (1981)
Admittedly this is Burt Reynolds' movie, but Adrienne does manage her moment to shine as Marcie, one of a group of participants in an illegal cross-country race who are pretty much willing to do anything they have to in order to win. In some ways, you can think of it as a live-action version of the old Saturday morning cartoon Wacky Races. Co-stars include Farrah Fawcett, Dom Deluise, Sammy Davis, Jr., and that era's James Bond, Sir Roger Moore (before he was a "Sir").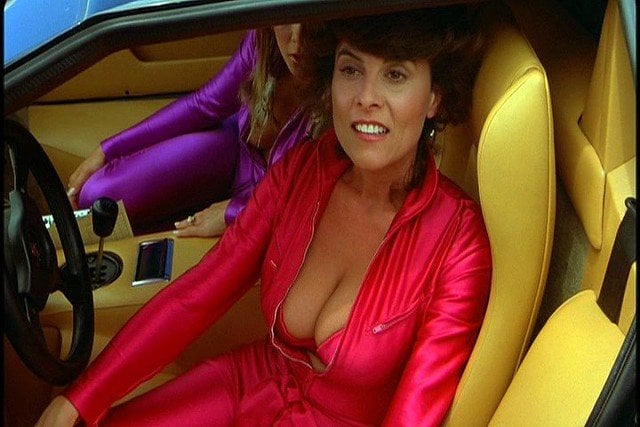 7 of 42. 'Swamp Thing' (1982)
Based on the DC Comics character of the same name, the film focuses on scientist Alec Holland (played by Ray Wise), who, due to sabotage in his laboratory, suffers through a terrible accident and is transformed into Swampy (our name, not theirs). Adrienne is Alice Cable, a government replacement at Alec's lab who gets involved in a romantic relationship with him before things go to hell.
8 of 42. 'Creepshow' (1982)
Best described as a horror-comedy, this is an anthology of five stories, all written by Stephen King and directed by George A. Romero. In 'The Crate,' Adrienne plays Wilma "Billie" Northup, whose husband (Hal Holbrook) manipulates things so that she's eaten by an ape-like creature freed from a mysterious … wait for it … crate. Looking forward to a peaceful future, the indication is that the husband — Henry Northup — is destined to join Billie in the creature's stomach. It's why the word "horror" is in the description, 'cause that sounds pretty horrible.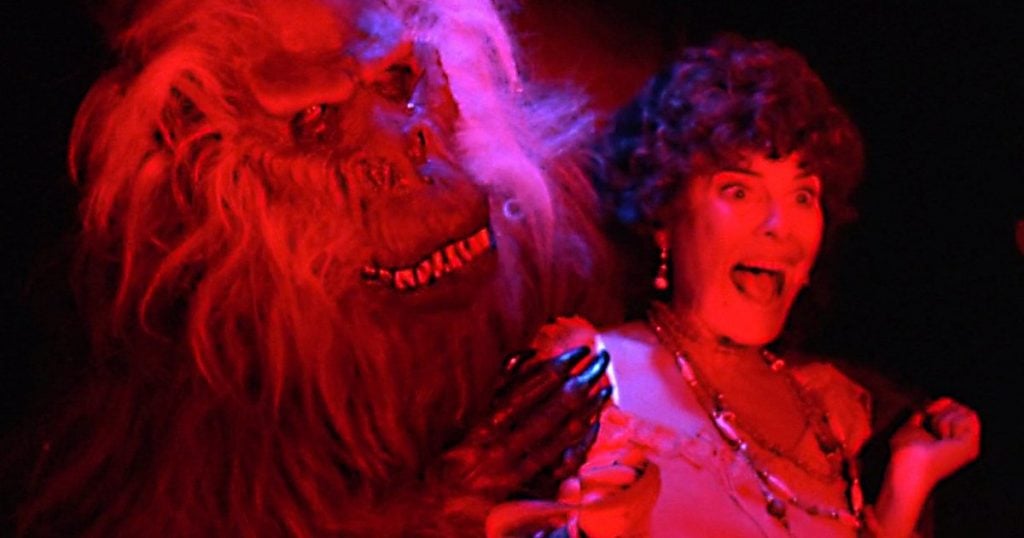 9 of 42. 'Bridge Across Time,' aka 'Terror at London Bridge' (1985 TV Movie)
When the last original stone is put into place on a rebuilt London Bridge, a series of murders take place that policeman Don Gregory (David Hasselhoff) is convinced is the work of a resurrected Jack the Ripper. Adrienne is a character named Lynn Chandler while Stepfanie Kramer (who was starring on Hunter at the time) is Angie. Yeah, we're not really familiar with this one either. In the same year, Adrienne appeared in the TV movie Seduced, playing a supporting role to Gregory Harrison and Cybill Shepherd.
10 of 42. 'Back to School' (1986)
This is really a Rodney Dangerfield vehicle as he plays Thornton Melon, who thinks attending his son's college will help them bond. The concept sounds contrived, but it's really funny and Adrienne is particularly shrewish as Thornton's wife Vanessa, who's affairing herself right out of the marriage.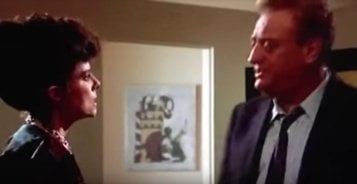 11 of 42. 'Open House' (1987)
Adrienne is real estate agent Lisa Grant, whose life is in danger when her boyfriend, psychologist Doctor David Kelley (Joseph Bottoms) agrees to help the police track down a serial killer (played by Darwyn Swalve).
12 of 42. 'Cannibal Women in the Avocado Jungle of Death' (1989)
C'mon, do you really care what this one is about? Aren't you just drawn in by the title? It's the sort of thing where you've got to see what it is even though every fiber of your being is telling you not to. Wikipedia actually describes it this way: "The film sends up many pop culture motifs and societal trends, including feminism, B movies, celebrities, writers and political figures, centered around a spoof of Joseph Conrad's 1899 novel Heart of Darkness" (which, incidentally was modernized in 1979 as Apocalypse Now). Adrienne is Dr. Kurtz, who is captured by the "Piranha Women" and made their empress. She's got to be rescued or something.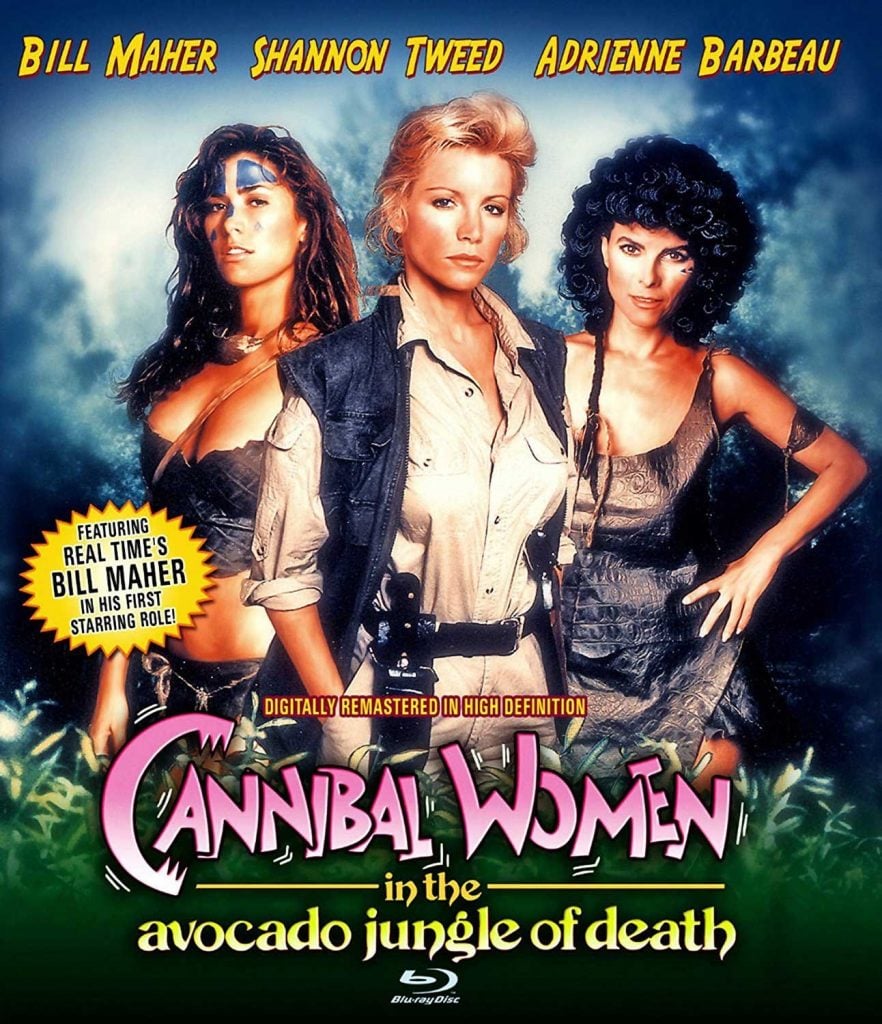 13 of 42. 'Two Evil Eyes' (1990)
Adrienne heads back into horror anthology territory along with filmmakers George A. Romero and Dario Argento. Her story is titled "The Facts in the Case of M. Valdemar," which is based on the short story by Edgar Allen Poe and she is playing Jessica Valdemar, who, after cheating on her husband, is served supernatural comeuppance. In 1991 Adrienne also starred in the CBS TV movie Blood River, HBO's Doublecrossed, and the ABC miniseries The Burden of Proof — quite the busy year.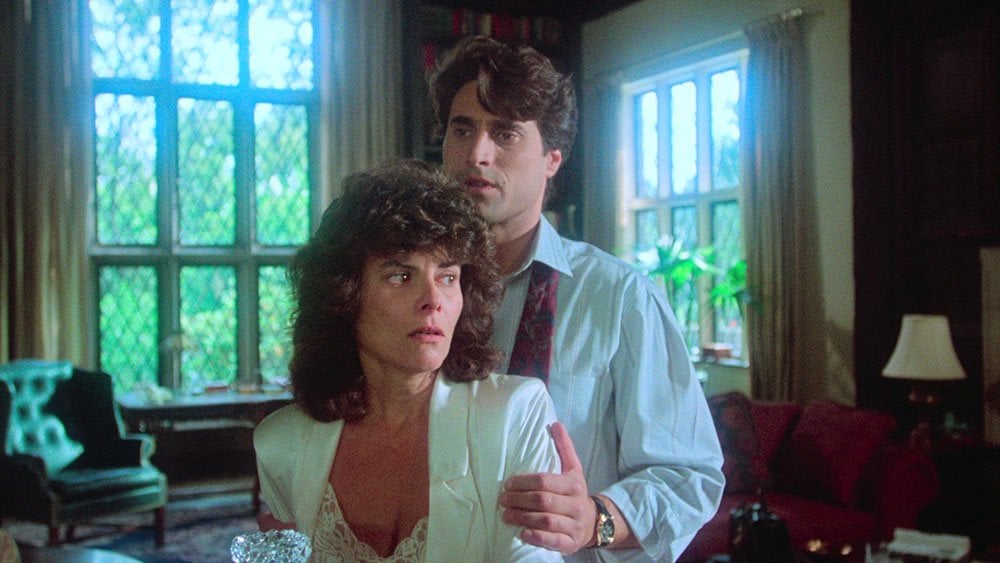 14 of 42. 'Batman: The Animated Series' / 'Gotham Girls' (1992-1995, 2000 to 2002)
Adrienne voiced the character of Selina Kyle, who was really Catwoman, in eight episodes of Batman: The Animated Series and 19 episodes of Gotham Girls. In 1993 she also appeared in the film Father Hood alongside Patrick Swayze.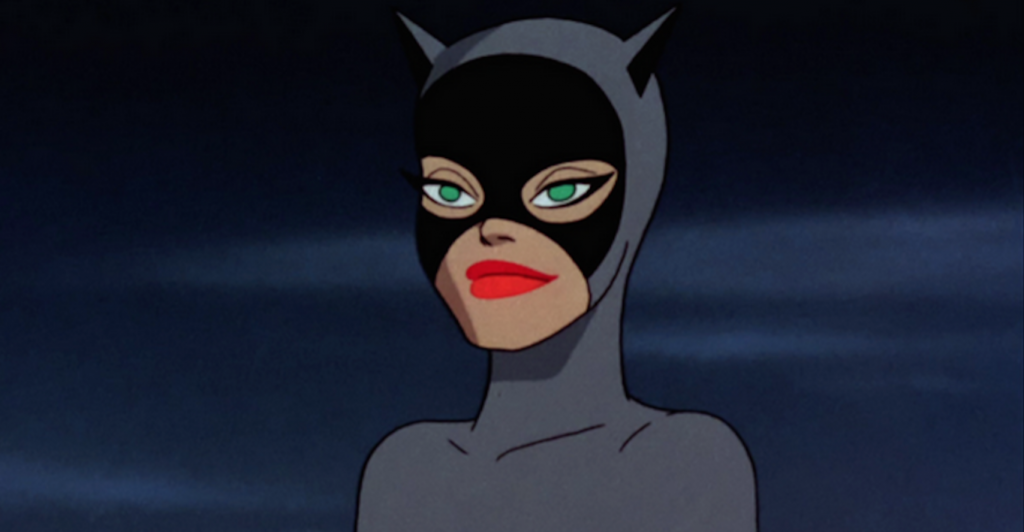 15 of 42. 'Jailbreakers' (1994)
Set in the 1950s, Shannen Doherty is teenager Angel Norton whose boyfriend (played by Antonio Sabato, Jr.) is bad news and ends up in jail. For a fresh start, her parents (Adrienne and Vince Edwards) decide to move her away from there, but then Tony breaks out of jail, grabs Angel and they head to Mexico. Will they make it?If we told you that, we'd take the thrill out of this thriller.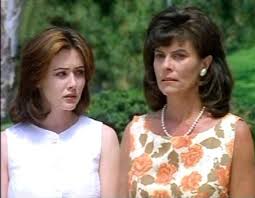 16 of 42. 'Scooby-Doo on Zombie Island' (1998)
Adrienne provided her voice for villainess Simone Lenoir, who threatens Scooby and the gang in this animated made-for-video movie. In the same year, she starred in the TV movie A Champion's Fight.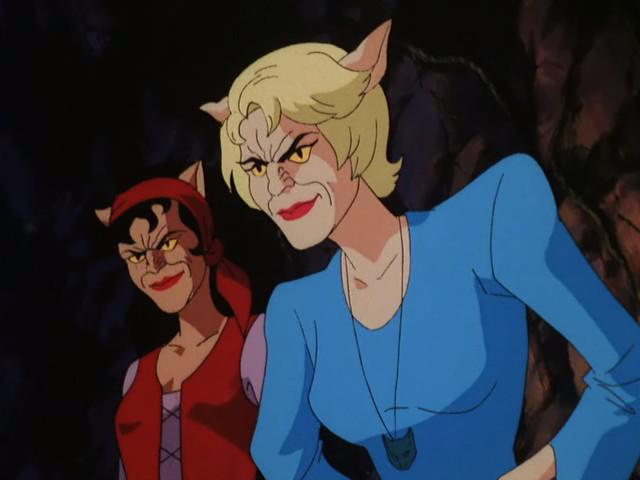 17 of 42. 'A Wake in Providence' (1999)
Ah, there's nothing like a funeral to bring out the funny in people — at least as far as Hollywood is concerned. In this case, it kicks off with Anthony bringing his black girlfriend Alissa to meet his family at his grandfather's funeral. What results is everyone confronting each other and confessing secrets, while the couple is trying to get away from the situation so they can get married and start their life together. Adding to the fun is Adrienne as "Aunt Lidia."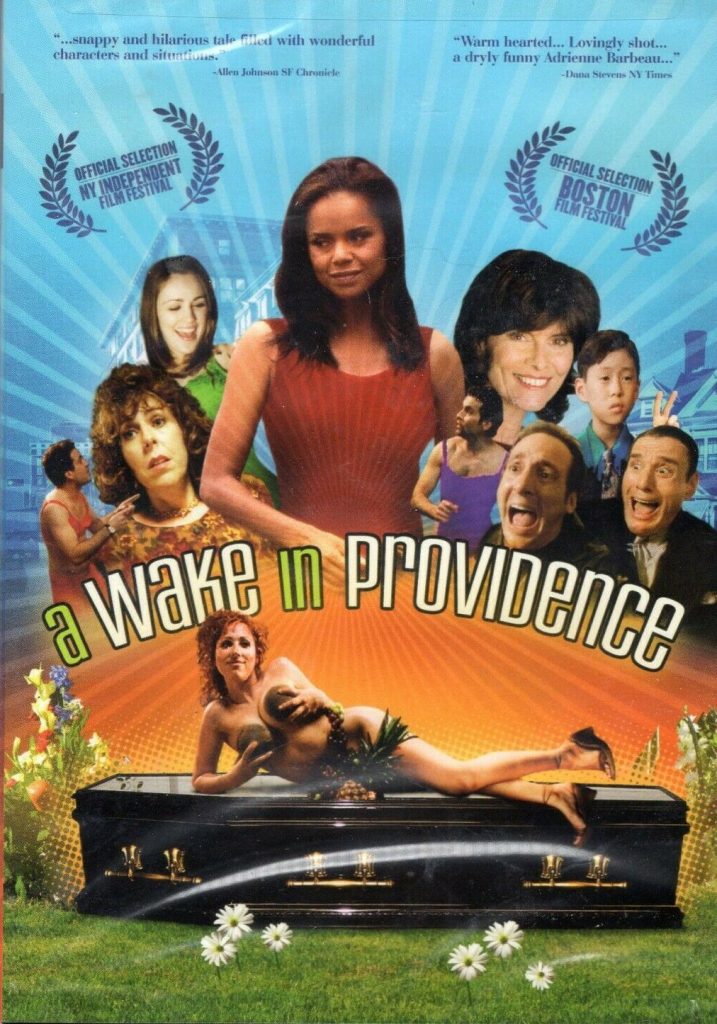 18 of 42. 'Across the Line' (2000)
In very much a supporting role, Adrienne is Mrs. Randall in this story about a small-town sheriff (Brad Johnson) who falls in love with an illegal alien (Sigal Erez) who was witness to murder on the Texas border.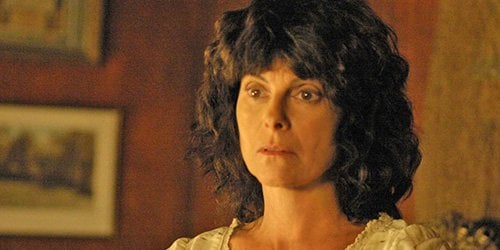 19 of 42. 'The Convent' (2000)
If you've even seen a smattering of horror films, then you instinctively know that it's simply not a good idea to break into an abandoned convent, but apparently, this group of college students never saw anything, because they do and, as a result, they set free demons who start trying to possess their bodies. Adrienne plays the adult version of a character named Christine, who, when she was much younger, killed all the nuns in the convent because they were possessed. See what we're saying? Christine probably saw horror movies and knew exactly what to do. Two years later, Adrienne starred in No Place Like Home and The Santa Trap.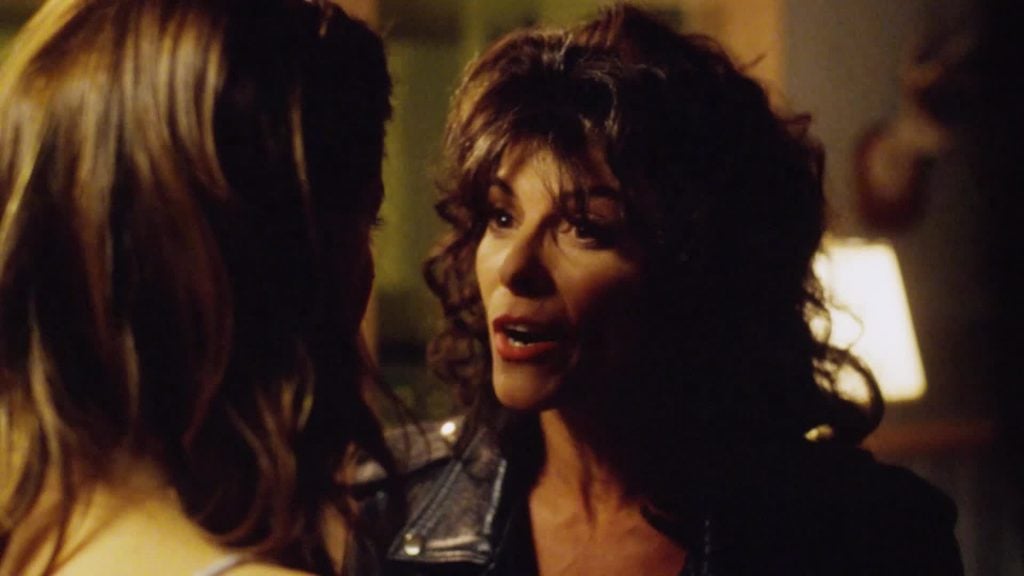 20 of 42. 'Ghost Rock' (2003)
Michael Worth is John Slaughter (now there's an action hero name!), who, in the late 1800s, witnessed his family being murdered. Twenty years later he returns to the town of Ghost Rock to try and put his personal demons to rest. Adrienne plays a character named Mattie Baker.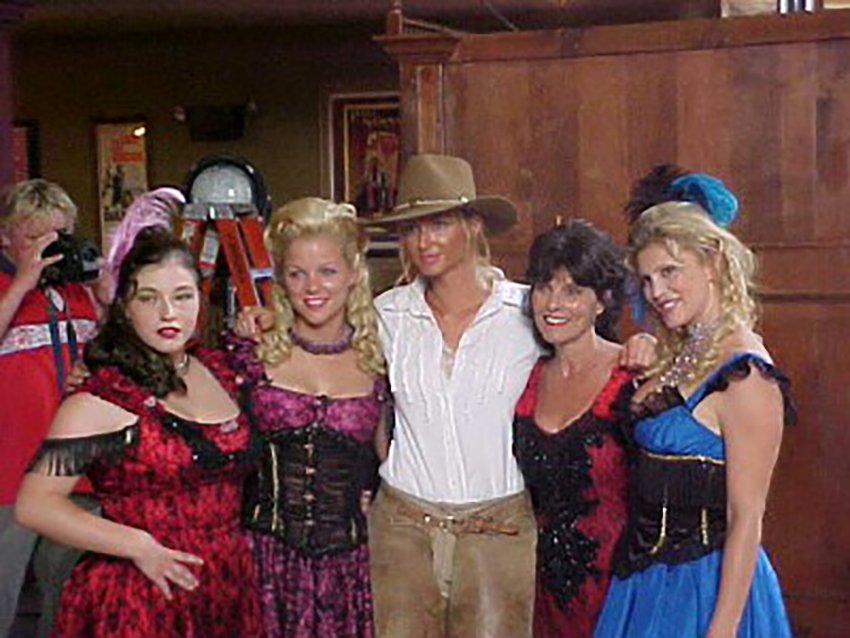 21 of 42. 'Carnivale' (2003 to 2005)
The struggle between good and evil is at the heart of this HBO series about the people who are part of a traveling carnival, all with a supernatural vibe. While the producers were not looking for actors who had "baggage" in terms of their resumes, an exception was made for Adrienne, who was cast as Ruthie, the resident snake charmer.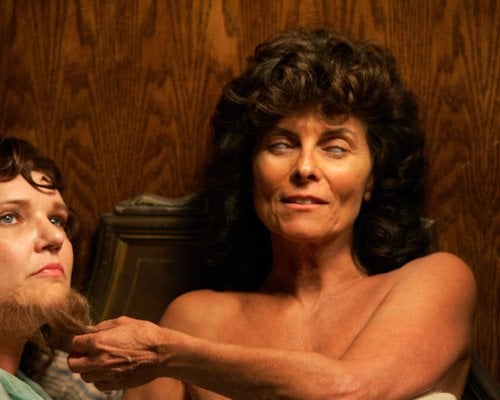 22 of 42. 'Ring of Darkness' (2004 TV Movie)
Adrienne fully embraces her horror roots again with this film about a boy band that murders their lead singer, holds an audition to replace him, and then, when the winner finds out what the band truly is, he wants out. They disagree. Adrienne gets top billing as Alex.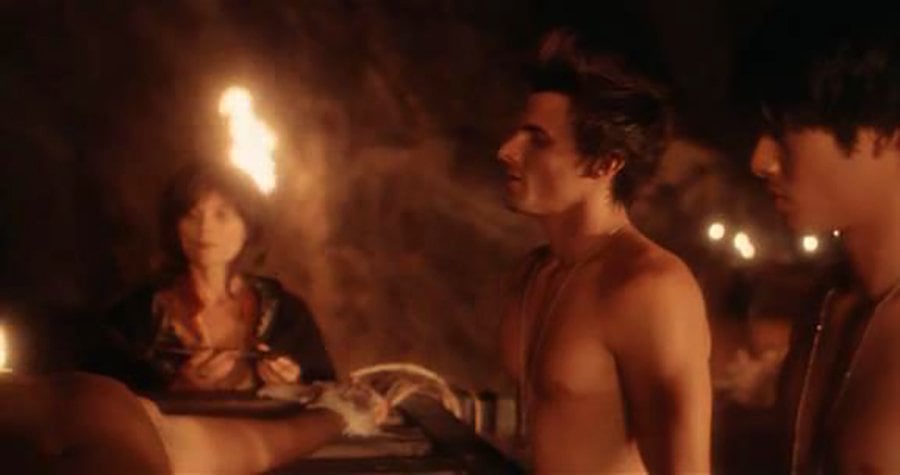 23 of 42. 'Christmas Do-Over' (2006)
Think of this one as Groundhog Day for the holidays, when young Ben (Logan Grove) wishes that every day would be Christmas in the hopes that it will get his parents (played by Jay Mohr and Daphne Zuniga) back together. Adrienne plays Trudi. In 2006 she also appeared in the TV movie thriller Deceit, playing Kathleen Darrow.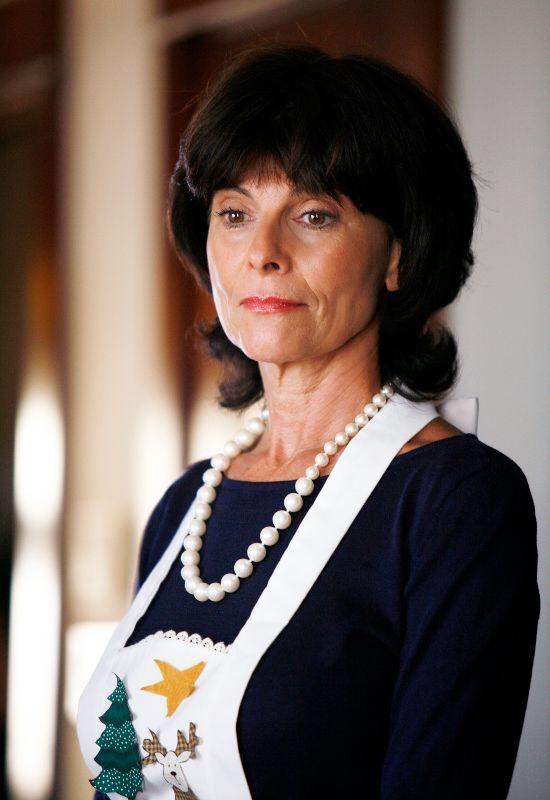 24 of 42. 'Halloween' (2007)
They take a stab (yeah, we went there) at resurrecting this franchise that helped put the slasher genre on the map back in the 1970s. Writer/director Rob Zombie creates a film that is both an origin story and a remake. Tyler Mane plays killer supreme Michael Myers, while Adrienne, who shot scenes for the film, didn't appear in the theatrical cut, but she was in the director's cut (we can't stop ourselves) on the DVD Special Edition.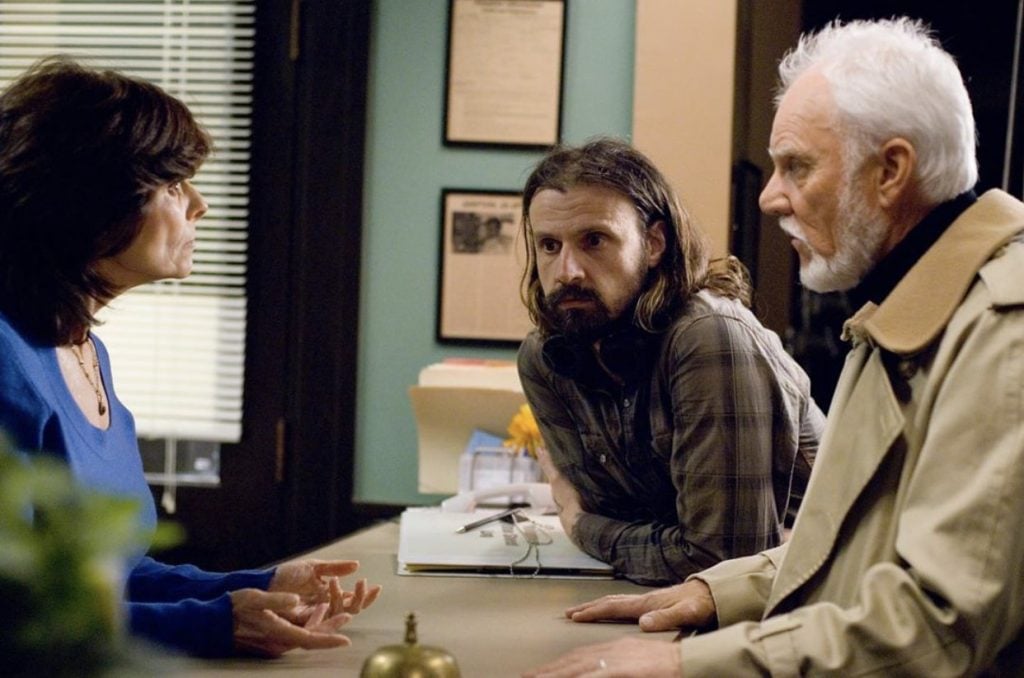 25 of 42. 'Unholy' (2007)
Adrienne is back in the center seat as Martha, a mother whose daughter committed suicide and, in her search for the truth while trying to protect the rest of her family, uncovers a mystery involving a witch, the U.S. government and Nazi occultists. Damn Nazis!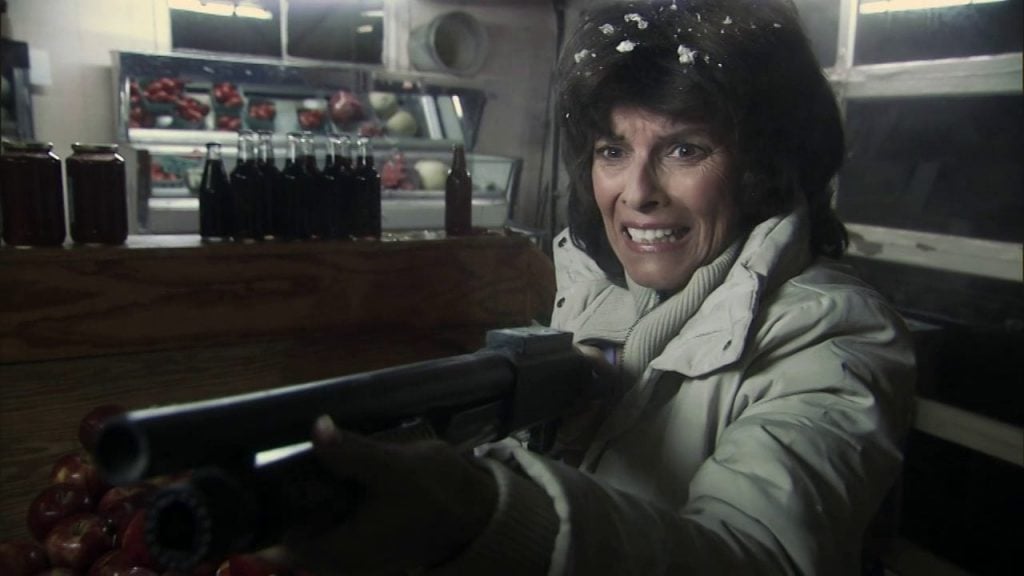 26 of 42. Reach for Me (2008)
Offers the film's official description, "Dying is hell, and Alvin's going to make sure everyone knows it." Seymour Cassel is Alvin, with Adrienne as Valerie and other co-stars including Lacey Chabert, Alfre Woodard, and LeVar Burton.
27 of 42. 'Alice Jacobs is Dead' (2009 Short Film)
In this 21-minute long film, Dr. Ben Jacobs (John Lazar) has saved humanity with a cure to the Z-virus, which had turned most of them into zombies. (Damn zombies — honestly, between Nazis and zombies, Adrienne is hanging out with the wrong crowd, but we digress.) But in Lazar's attempt to cure the last victim of the disease, something goes terribly wrong.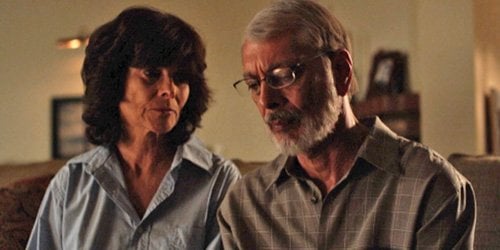 28 of 42. 'War Wolves' (2009)
A group of soldiers on a mission in the Middle East are ambushed. Returning home, they discover something has happened to them and they are transforming into werewolf-like beings. One of them (Michael Worth's Jake Gabriel) attempts to hold on to his humanity, but the others disagree with his plan. Adrienne is Gail, a woman who helps Jake through his "challenges."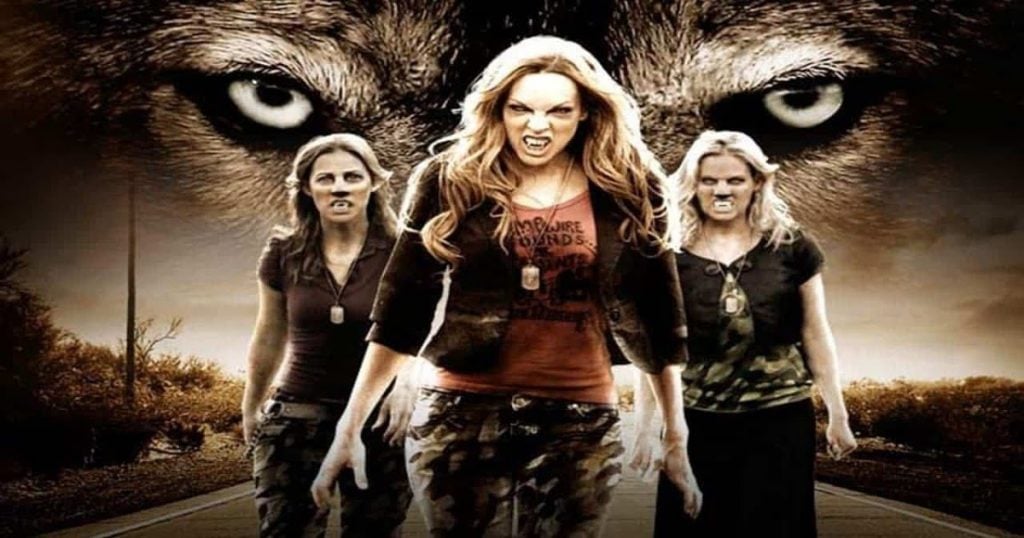 29 of 42. 'The Dog Who Saved Christmas Vacation' (2010 TV Movie)
Mario Lopez narrates as former K-9 police hero dog Zeus, who travels with the Bannister family to a Rocky Mountain resort for the Christmas holidays. Adrienne plays a character named Mildred in this sequel to 2009's The Dog Who Saved Christmas.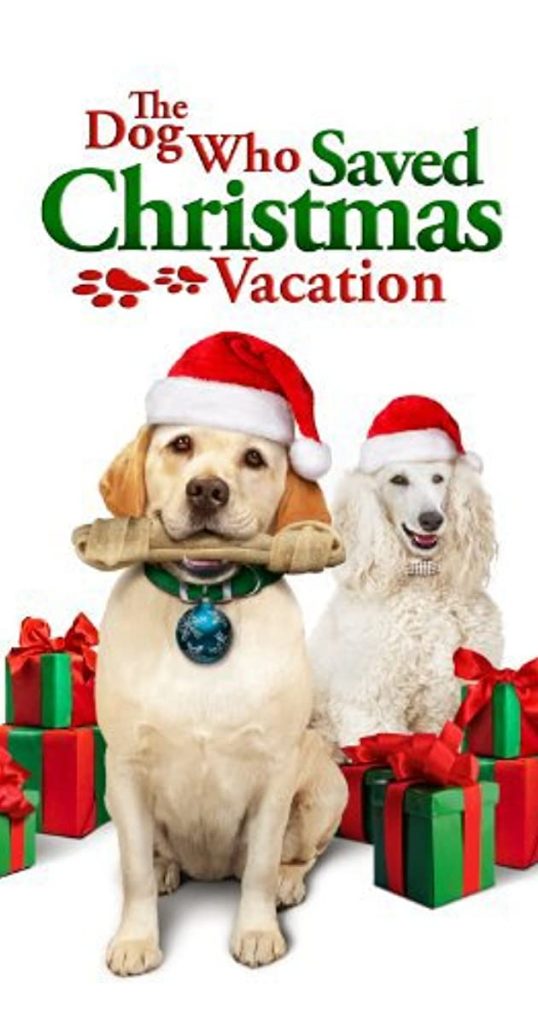 30 of 42. 'General Hospital' (2010 to 2011)
For a year Adrienne was a part of the daytime soap opera General Hospital, playing the character Suzanne Stanwyck. Of her casting, TV Guide's Michael Logan commented, "If you can hold your own against Maude, those monsters in Port Charles should be a cinch."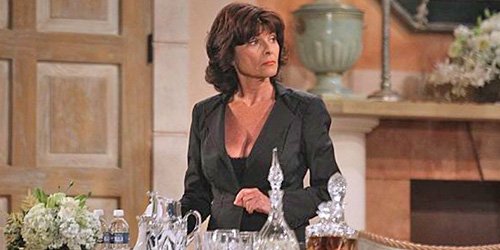 31 of 42. 'Complacent' (2012)
Back in a strong supporting role, Adrienne is Judy Sanderson in this story about two sisters who are trying to cope with challenges in their lives, particularly the older sister who is dealing with a mentally abusive marriage.
32 of 42. 'Argo' (2012)
Ben Affleck is CIA agent Tony Mendez, who pretends to be the producer of a new science fiction film in the hopes of rescuing six Americans who have been captured in Tehran during the Iran hostage crisis of 1979. Adrienne is Nina, who is "playing" Serksi the Gallactic Witch.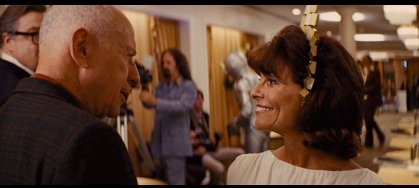 33 of 42. 'Divine Access' (2015)
The production offers this description of the film: "Jack Harriman (Billy Burke) becomes a spiritual celebrity after debunking Reverend Guy Roy Davis (Gary Cole) on a public-access TV show. While on the road spreading his brand of truth, forces natural and supernatural lead him to question whether he has a deeper calling." Adrienne portrays a character named Catherine.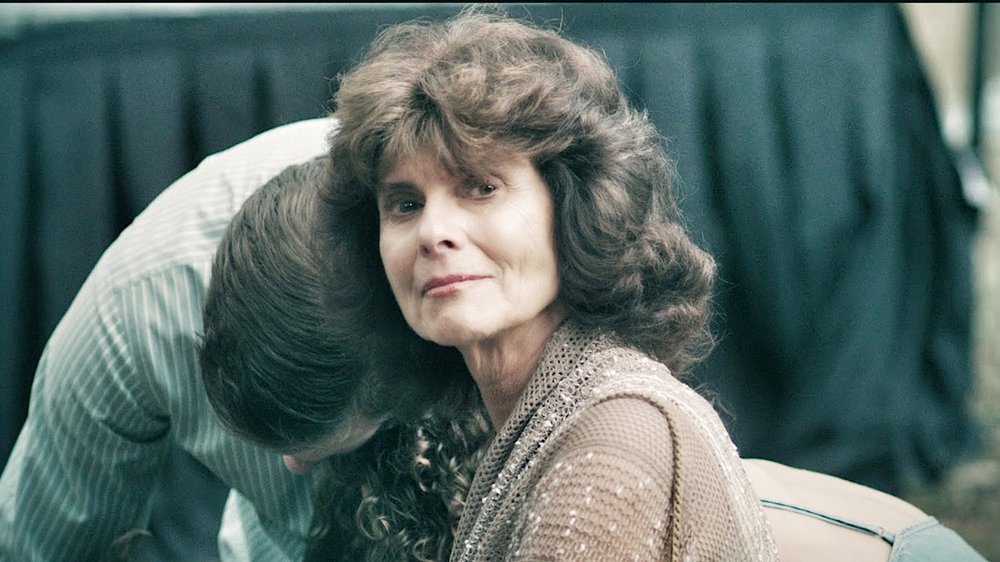 34 of 42. 'ISRA 88' (2016)
In this sci-fi adventure, a scientist and a pilot (respectively Sean Maher as Dr. Abe Anderson and Caper Van Dien at Lieutenant Colonel Harold Richards) take a vessel to the end of the universe and enter completely unknown territory 13 years later. Must have been some journey. "Look, it's space!" "Over there, more space!" "You know what we're going to see tomorrow?" "Even more space?" Adrienne is Dr. Withersford.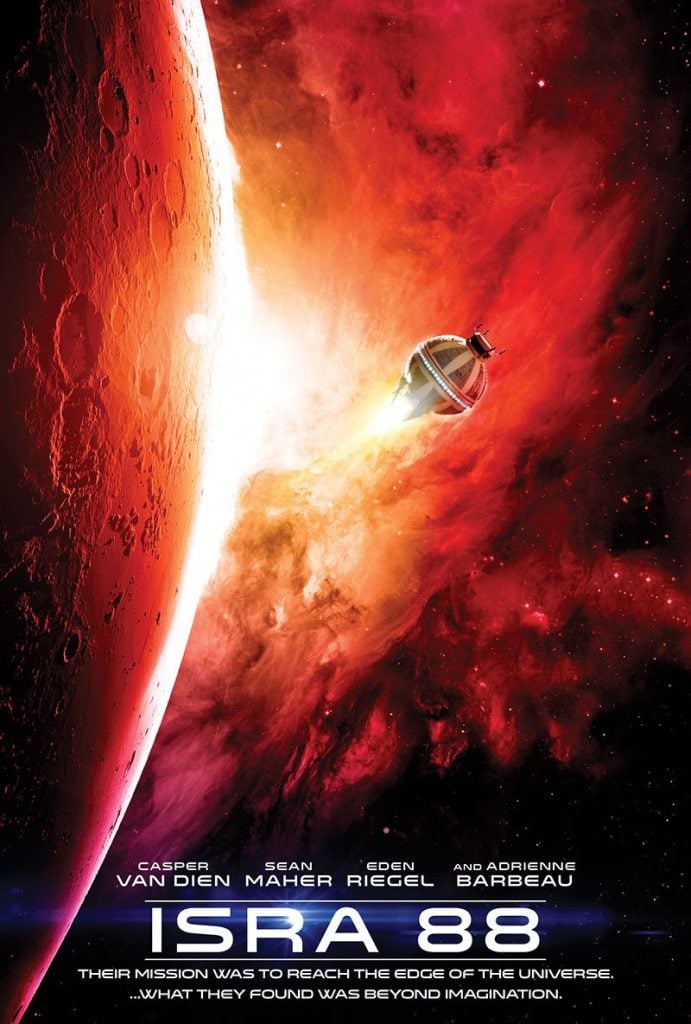 35 of 42. 'Big Legend' (2018)
Army veteran Tyler Laird (Kevin Makely) is driven to the edge of madness when his fiance, Natalie (Summer Spiro), is abducted by a creature in the woods during a camping trip. After spending a year in the psych ward, Tyler is freed and immediately plans to go after Natalie. His mother, Rita (Adrienne), provides him with all the police evidence that had been gathered in the case.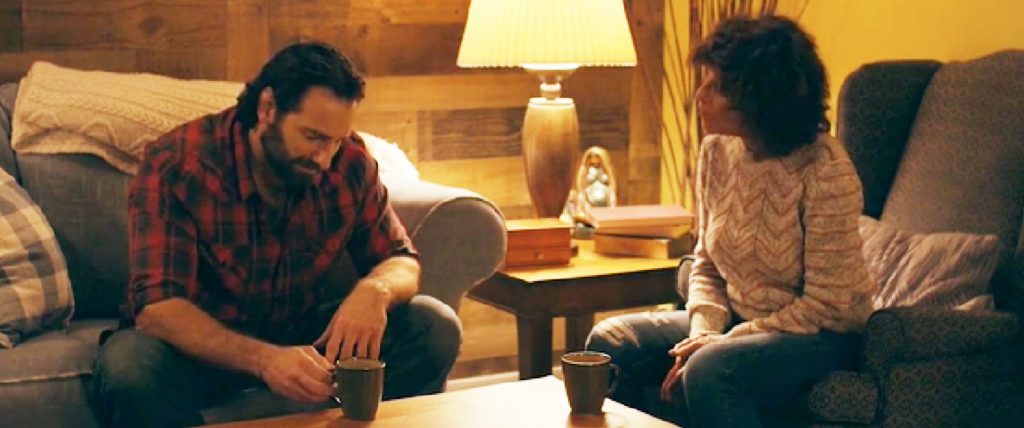 36 of 42. 'Malevolence 3: Killer' (2018)
Returning to the home he was kidnapped from a decade earlier, Martin Bristol (Jay Cohen) seemingly wants to immerse himself in a life of normalcy. But, given all the years of torture he underwent, the boy has been transformed into a monster, and the Martin who shows up embarks on a serial killing spree. Adrienne is his mother, Meredith.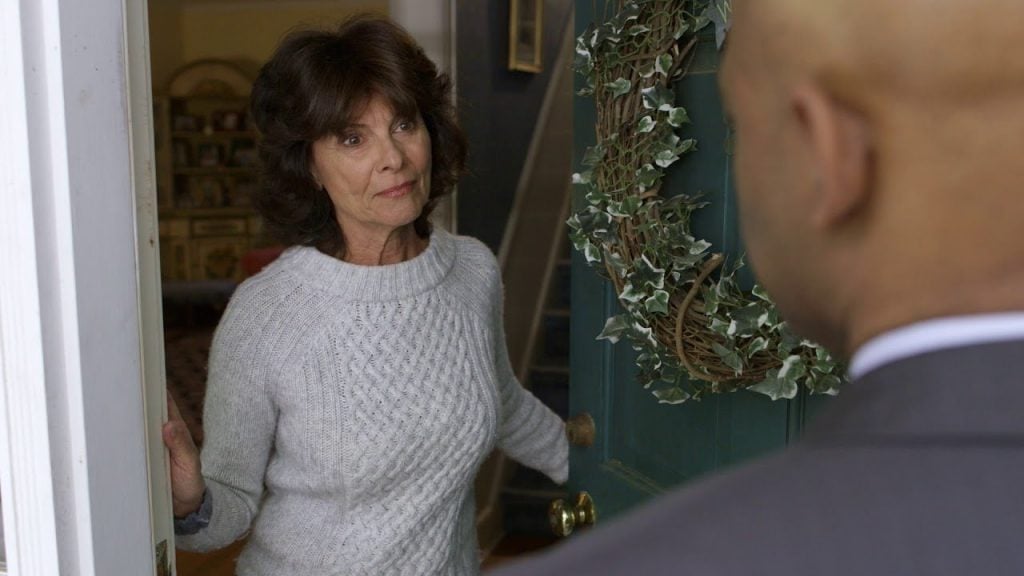 37 of 42. 'Creepshow' (2019)
Never moving too far from her horror roots, Adrienne played the character of Dixie Parmalee in the episode "Gray Matter" of this anthology based on the 1982 Stephen King/George Romero film version of Creepshow (in which she costarred).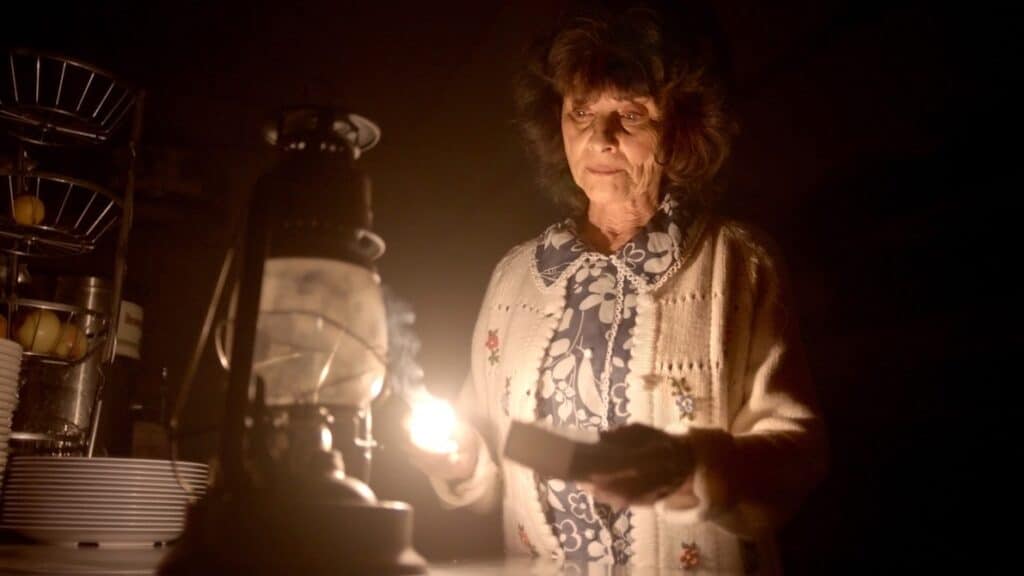 38 of 42. 'For the Love of Jessee' (2020)
Losing his wife as she gives birth to their child, Doctor Luke Matthew (Randy Wayne) feels as though his entire world is falling apart as he retreats within himself. Hiring nanny Sage Smith (Mandahla Rose), she gradually gets him to recognize that he has to start pushing forward in life for himself and his child. Adrienne plays a character named Katharyn. In 2020 she was also seen the TV series AJ and the Queen, and voiced a character in the animated TV movie Curious George: Go West, Go Wild.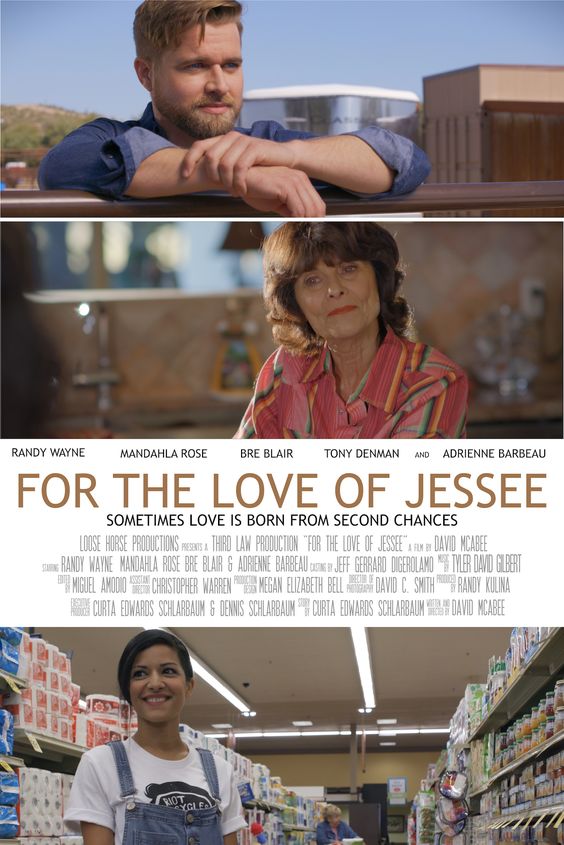 39 of 42. 'Unearth' (2020)
Adrienne and Marc Bluas portray the respective heads of two neighboring farm families in the rural United States. When one of the families leases their land to a natural gas company, the resulting fracking releases a force that threatens the lives of both families

40 of 42. 'American Horror Story' (2021)
Famous for pushing the horror envelope, AMC's American Horror Story featured Adrienne in the episode "Drive In," which aired on July 22, 2021. Over the course of its run, the show also featured such veteran actresses as Jessica Lange and Kathy Bates.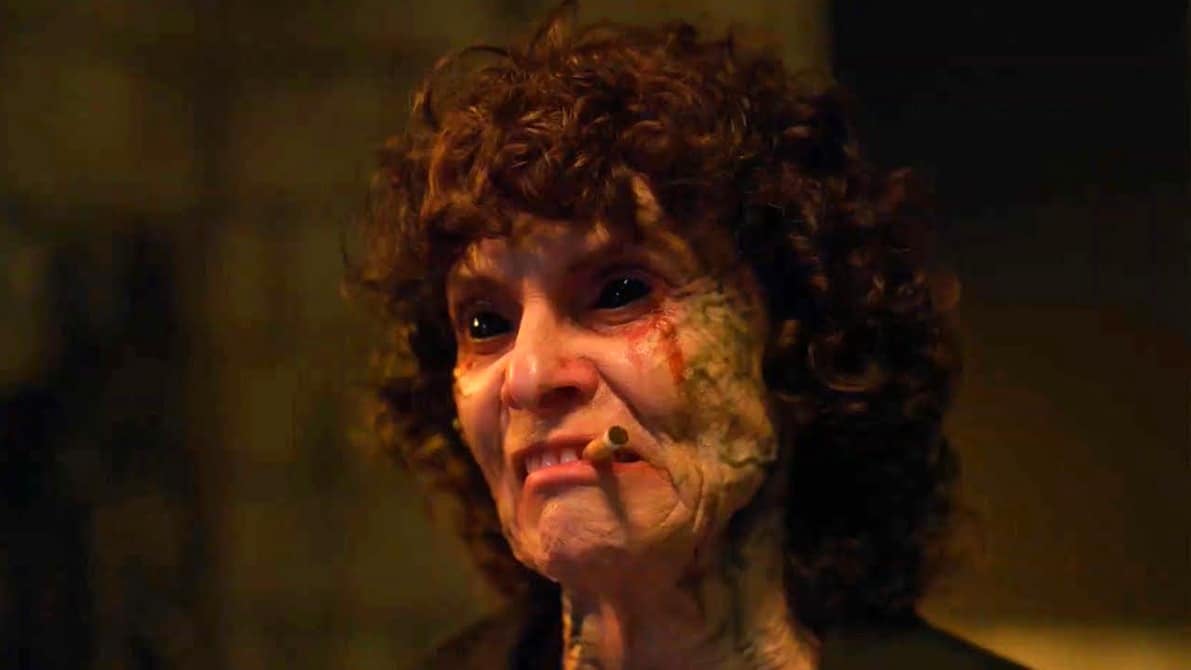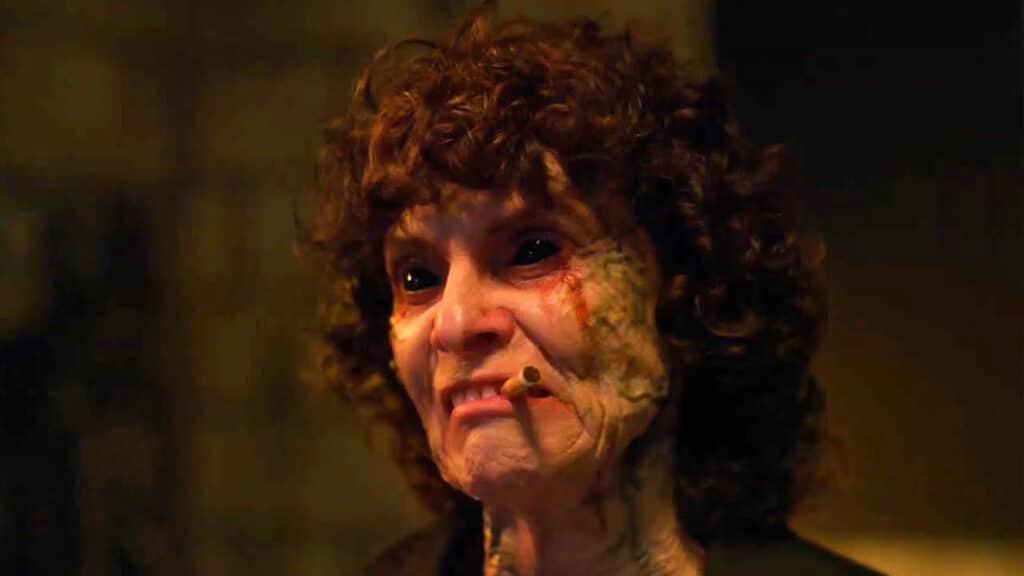 41 of 42. 'Cowboy Bebop' (2021)
Adrienne is cast as Maria Murdock, the leader of an eco-terrorist organization known as the Callisto Liberation Front in this live action version of a popular anime, which Netflix describes as follows: "Long on style and perpetually short on cash, bounty hunters Spike, Jet and Faye trawl the solar system looking for jobs. But can they outrun Spike's past?"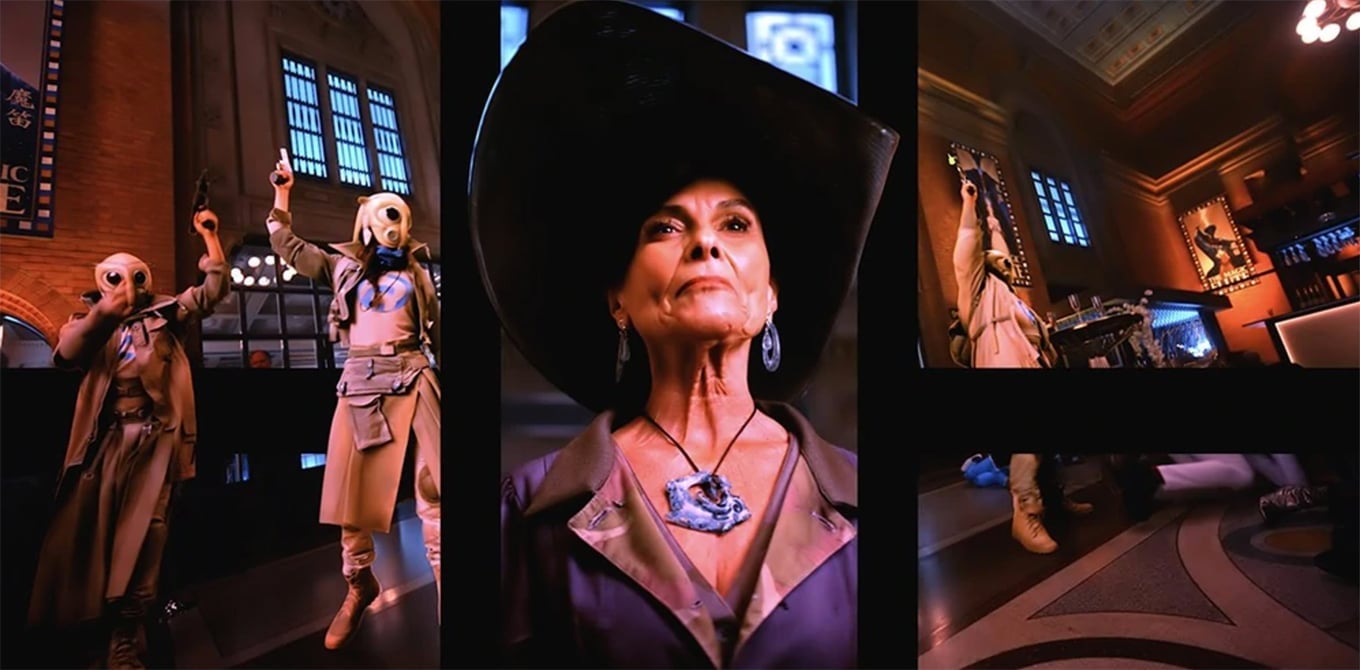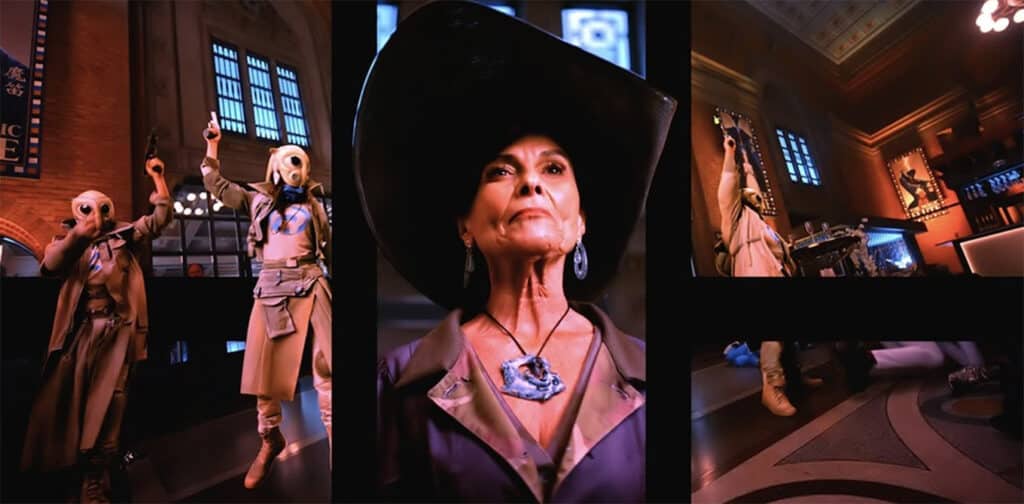 42 of 42. 'Hellblazers' (2022)
Set in the late 1980s, a satanic cult has a singular focus of unleashing hell on Earth. With the help of an ancient incantation, they conjure a demon, and its members are tasked with feeding it the populous of a nearby small southwestern town. In addition to Adrienne, the film stars Bruce Dern, Billy Zane, Tony Todd, John Kassir and Meg Foster.
At 76 years old, we're glad to see her still doing what she does best! Enjoy our video Deep Dive into this fabulous actress:
For more of these throwback videos, check out our YouTube Channel!