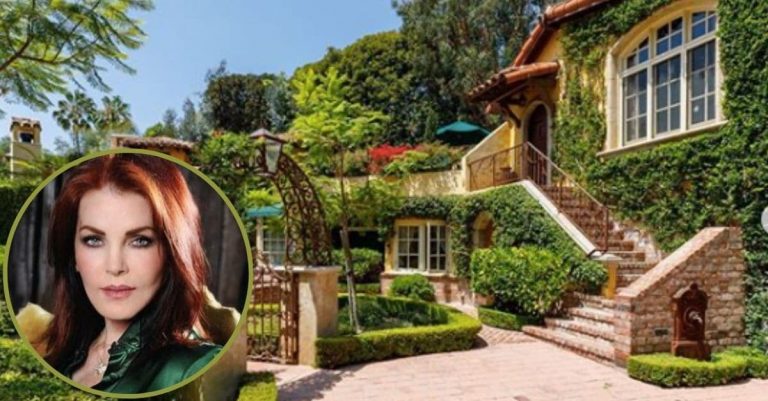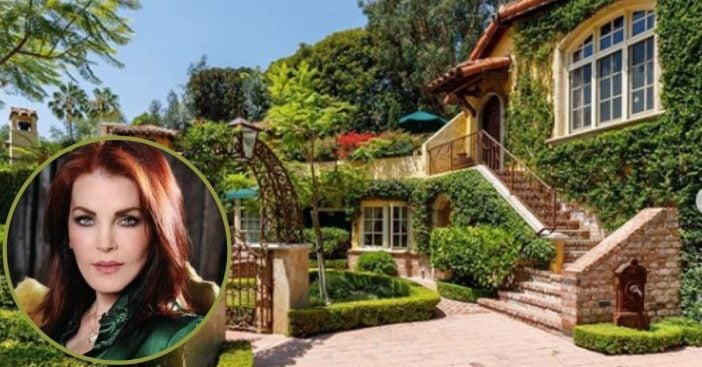 Priscilla Presley has a net worth of more than $50 million, so it's no secret that she is able to afford the best of the best when it comes to homes. However, she recently put her Beverly Hills home on the market for $16 million, marking the first time this home has been put up for sale in more than four decades.
When Priscilla first met Elvis, he had already owned Graceland from back in 1957, which she now oversees. Together, they bought a number of California homes. The first home they purchased after getting married was on "Billionaire's Row," a home worth $400,000.
Use the arrow to scroll through photos of Priscilla's Beverly Hills home…
Check out Priscilla Presley's gorgeous Beverly Hills home
View this post on Instagram
The Hilton Hyland Instagram account posted photos of the property to promote the selling of the home. "Summit Dr – Available for the first time in over 45 years, this private enclave is nestled on over 1 acre of verdant grounds within the city limits of Beverly Hills," they say in the caption alongside the photos.
RELATED: Elvis Presley's Step Brother Is 'Appalled' By The BLM Graffiti At Graceland
The photos showcase a stunning, private interior and exterior, including a gorgeous pool. The interior of the home is almost rustic-looking, a popular interior design of this year. The property also features seven bedrooms, nine bathrooms, a pool, and a tennis court.
View this post on Instagram
The home was originally built in 1951, also featuring a library, separate guest suite, and maid's quarters. In 1976, Priscilla also purchased a Brentwood home for her parents, Ann Lillian Wagner-Beaulieu and Paul Beaulieu. Architectural Digest reports that she paid $170,000 for the one-story, three-bedroom home. It was kept in the family for more than 40 years before she sold it for a whopping $3.8 million.
Changes in the Presley family
View this post on Instagram
It's no doubt that the Presley family has been looking to make some changes in their lives as they adjust to a tragic loss. A few months ago, the world learned the news that Lisa Marie Presley's son, Benjamin Keough, had sadly passed away. "These are some of the darkest days of my family's life. The shock of losing Ben has been devastating," Priscilla says in a statement on Facebook.
"Trying to put all the pieces together of all the possible whys has penetrated my soul. Each day I wake up I pray it will get better. Then, I think of my daughter and the pain she is going through as she was a doting mother. Ben's father, Danny, who is completely lost, as Ben was his only son. Riley, so loving and so close to him; Harper and Finley, who absolutely adored Ben. Navarone, who struggles deeply with loss and death. Rest In Peace Ben, you were loved."