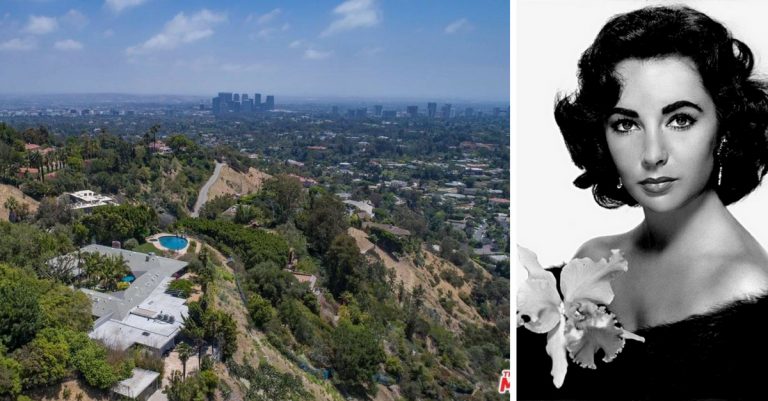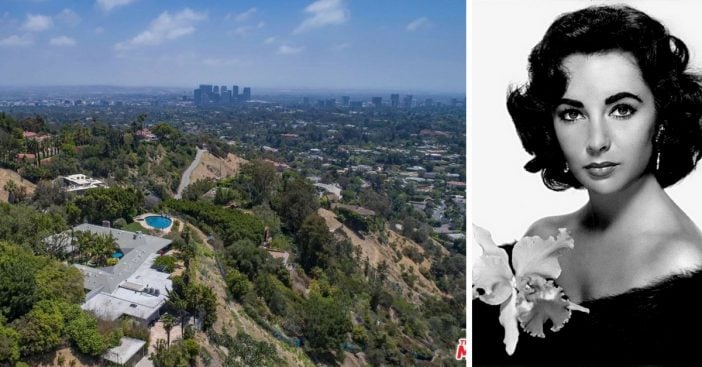 Elizabeth Taylor's former home is up for sale. She lived in the sprawling Beverly Hills estate from 1954 to 1957 with her second husband, Michael Wilding. They reportedly purchased the home after they climbed the fence and trespassed to view it. They raised their two young children, Michael and Christopher, here until their divorce in 1957.
It just hit the market again after being unavailable for 21 years. The listing price is $15.9 million. Wow!
The current owners purchased the home for $2 million. They hired an architect to the stars, Budd Holden, to update the entire home including adding floor-to-ceiling windows, new appliances, geometric bedrooms and much more.
The home was built in 1953 and has six bedrooms and seven baths. It is a very private estate and offers amazing views of downtown Los Angeles, the valley, and the ocean. The entire estate is 52,919 square feet and has a gorgeous pool and spa.
It also boasts a large driveway and garage, patio, fountain courtyard, art studio, office, four fireplaces, atrium and guest room/maid quarters. Certainly, fit for a queen of Hollywood.
It was reported that MGM, Elizabeth Taylor's studio, loaned Elizabeth and Michael the money to buy the home because they loved it so much. This was at the height of Elizabeth's career.
Elizabeth Taylor is known for such films as Cat on a Hot Tin Roof, Cleopatra, A Place in the Sun, Giant, and many more. She is also famous for being married eight times. She has four children.
It is said that Ingrid Bergman, another famous actress in the 1950s, also toured the home and considered buying it in the past.
Can you imagine living in such a grand home? What do you think of Elizabeth Taylor's former house?
If you enjoyed this article, please SHARE with a friend!