The 2020 Atlantic Hurricane Season has been interesting so far as it's off to a record start, and this is just the beginning. The season's traditional peak begins very soon and the NOAA (National Oceanic and Atmospheric Administration) has confirmed it will be quite an active season for us! They have confirmed we will likely have up to 25 more named storms this season, with six of them being major hurricanes.
The peak of the season will run through October, but Hurricane Season typically ends on November 30th. Even before August 1st this year, nine named storms had formed, which is  "the most ever recorded since the satellite era began in 1966," according to the NOAA.
NOAA announces an 'extremely active' Hurricane Season for the Atlantic
Gerry Bell, lead seasonal hurricane forecaster at NOAA's Climate Prediction Center, weighs in on the 2020 season. He says that we will likely have 19 to 25 named storms, including the nine storms already named. "We've never forecast up to 25 storms," he says in a telephone briefing. "So this is the first time."
RELATED: Where Do Hurricanes Get Their Names From?
The last time we had a record this high was back in 2005, with a maximum of 21 named storms. This became a record-setting hurricane season for the U.S. but it looks like this one may top that.
Those who live on the coasts will be most impacted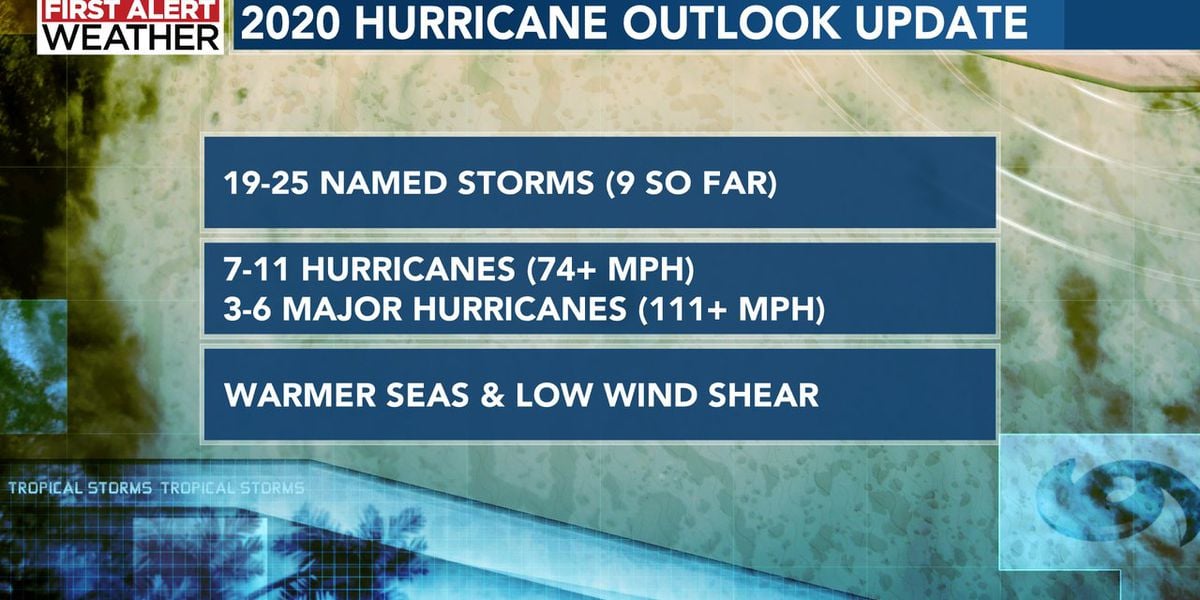 To get an idea for what the average is, by early August, we usually have two named storms. We've had our ninth storm already, Hurricane Isaias, which usually doesn't form until October. So, we are way ahead of the game, making for a record-breaking and historic Hurricane Season in the Atlantic.
NOAA believes that at least 7 to 11 of the named storms this year will become hurricanes. Forecasters predict 3 to 6 of those storms will become major hurricanes. Major hurricanes are categorized by winds of 111 mph or more. National Weather Service Director Louis Uccellini says people who live on the coasts should stay alert and aware of what's heading their way.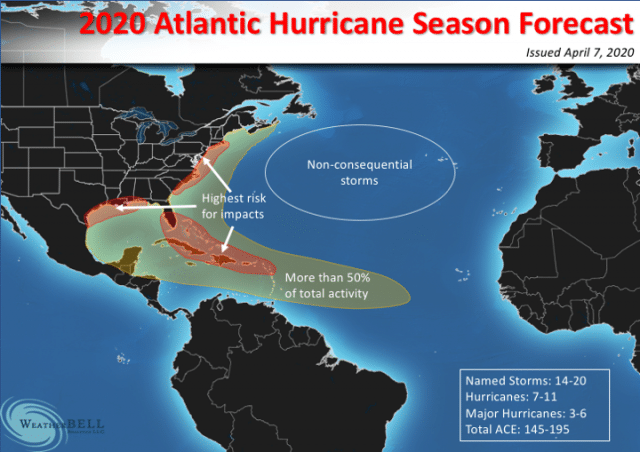 "This season is shaping up to be one of the more active seasons on record," says Uccellini. With an 85% chance of an above-normal season, he notes that NOAA's initial outlook in May only had a 60% chance. That has clearly changed.