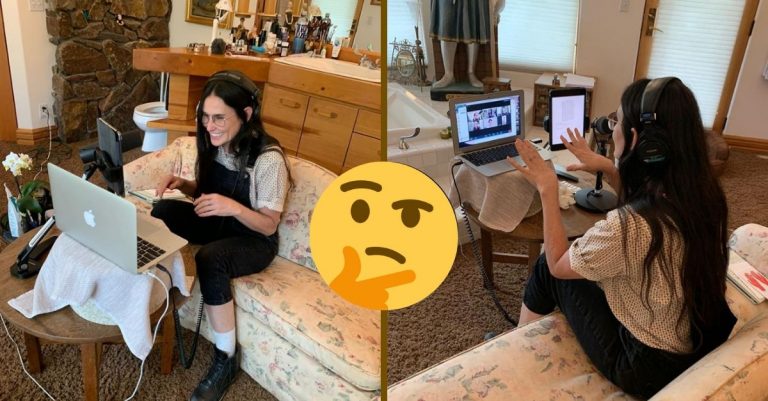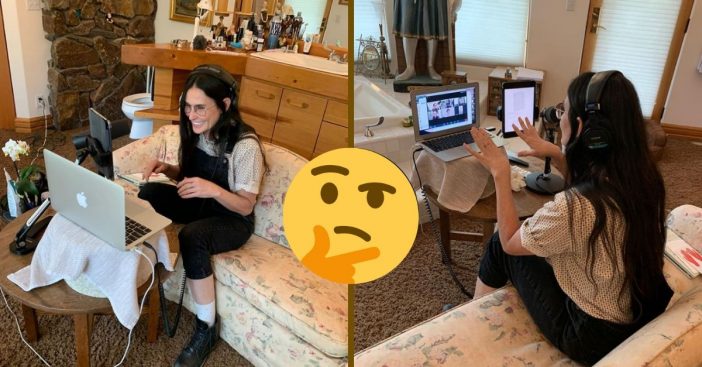 Celebrities often live in lavish houses. Their paycheck allows them to call some pretty decadent places home. Usually, images of such a place spark awe and inspiration; wouldn't it be nice to live in something like that? But Demi Moore's latest picture – set in her bathroom – has fans more baffled than envious.
The problem stems from the fact that it's not immediately evident she's in a bathroom. This mixup, in turn, comes from some features people really would not expect in an environment prone to dampness. See the picture that has everyone stunned below.
Is this Demi Moore's bathroom, living room, or something else?
View this post on Instagram
When Demi Moore shared a picture to Instagram for an exciting announcement, everything seemed to be in order – but not in a bathroom, certainly. In the picture, Moore sits on a thick, floral-print couch with her shoe-clad feet resting on brown carpeting. Behind her stands an artful, minimalist counter with a spacious…sink?
RELATED: Interior Designers Share The Biggest Living Room Decorating Mistakes
And is that a toilet on the left? Does that same rug from the front of the picture go all the way to that toilet? Those with a keen eye might also notice a plush doll monkey wedged between some large stones near the toilet. He overlooks a white tile bathtub that has what appears to be a statue of Joan of Arc, national heroine of France and an officially canonized Roman Catholic saint.
Fans have questions, but not necessarily about Moore's announcement
Demi Moore set up this bathroom photoshoot to announce an upcoming project. "Excited to finally share what I've been working on! First episode of #DirtyDiana drops Monday, July 13. Trailer in bio," she announced, ending the statement with a heart. Wednesday thus brought the latest big news of Moore's upcoming audio drama. Dirty Jane tells the story of a struggling marriage between two fictional parties.

Fans had other details on their mind, though. One follower promised to devote part of their Slack – an app popular for workplace chat and coordination – to discuss the presence of a couch and carpet in Moore's bathroom. Another follower offered praise for having the sheer nerve to "not only have wall to wall carpet in your bathroom- but also be wearing shoes during a zoom call." This same individual declared this "icon behavior." However, another viewer was simply "trying to understand why" she was wearing boots in her possible-bathroom, on the carpet.