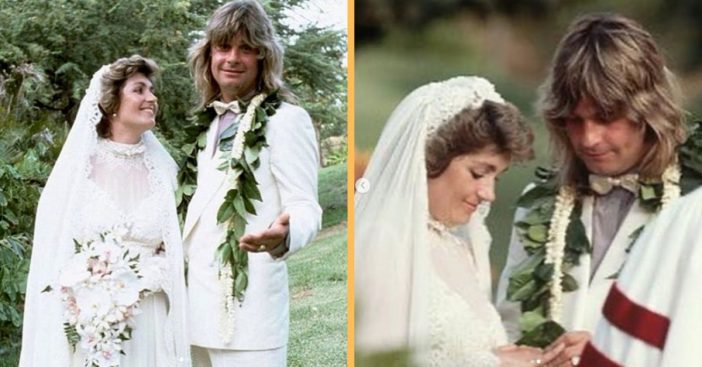 This past weekend, Ozzy and Sharon Osbourne celebrated their 38th wedding anniversary! To commemorate the milestone, they posted some adorable throwback photos. Ozzy kept things simple, posting two old photos from their wedding day on July 4, 1982. "Happy Anniversary My Love!" he writes in the caption.
Sharon, on the other hand, shared a sweet video. "40 years together, 38 years of marriage, why did it go so quickly? Wasn't it yesterday our kids were babies, we were young and thought we knew everything," she writes in her post.
These throwback photos truly show how much they love each other
View this post on Instagram
"Your love makes me feel safe and brave, you are a part of me, you're in my soul forever my darling. Always, your Sharon ❤️" Sharon ends her sweet caption for her husband. The milestone for their marriage likely means even more to them now as Ozzy continues to battle Parkinson's disease. He was diagnosed back in February 2019 and would reveal the news to the world in January 2020.
RELATED: Biopic About Ozzy Osbourne's Solo Career And Early Days With Wife Sharon In The Works
What they have been up to recently
View this post on Instagram
Fans have been wishing the two a happy anniversary with tons of love and support. "The definition of love ♥️ hope you two have a wonderful day! lots of kisses, happy anniversary! 💋" someone writes. Another fan says, "You two are the epitome of couple goals! An always honest reminder that every relationship takes work, and isn't going to always be easy, pretty, or fun! But if you truly love your partner, it's worth working through it all! Sometimes you have to forgive, sometimes you have to ask for forgiveness, but always do so with honesty and love! Happy anniversary!"
In the midst of the coronavirus pandemic, the two have been quarantining at home together. Several weeks ago on Mother's Day, Sharon posted a photo of the two cuddled up in bed with their eight dogs. Sounds like a good way to quarantine! Wishing a very happy anniversary to these two and many more.