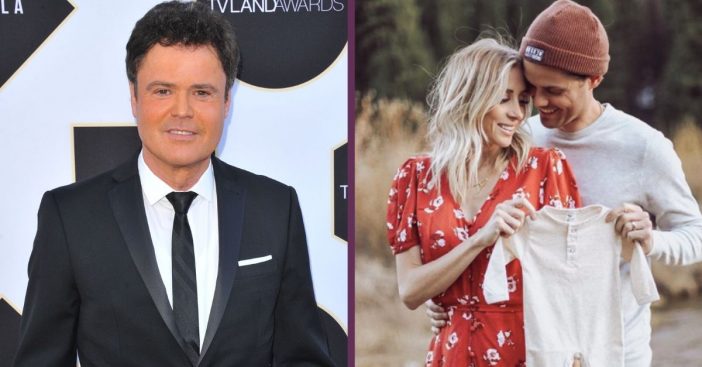 Donny Osmond announces to social media that his son, Chris, and his wife, Alta, are having a baby girl!

Osmond and his wife, Debbie, did the gender reveal and the reaction is priceless.

Congratulations!
Donny Osmond has revealed that his son, Chris, and his wife are expecting a baby girl! The news was posted following a gender reveal party. "The Donny and Debbie family is growing! After one sweet granddaughter and nine wonderful grandsons, the exciting day for the gender of grandbaby is finally revealed," Donny writes on his Instagram next to the gender reveal video.
"Congratulations to our sweet kids Chris and Alta. We love all three of you. Debbie and I are so happy. ❤️" In the video, the family counts down from ten until the poppers go off to reveal pink dust, signaling that they're having a baby girl! However, Donny and Debbie, the grandparents, were the ones setting off the poppers.
Donny Osmond's son, Chris, and wife, Alta, are welcoming a baby girl this November!
View this post on Instagram
Back in May, Chris and Alta also celebrated their second wedding anniversary, so this exciting news came at a great time! "I seriously lucked out with the most amazing wife/best friend in the world. You ask anyone and they'll say Alta is the most loyal person out there," Chris says back on May 11th. The two tied the knot back in 2017 at the same place that Donny met his wife, Debbie. The Sundance Mountain Resort!
RELATED: Watch Donny Osmond And Grandkids Sing A Classic Disney Song Together
The Osmond family continues to grow and fans/followers have been congratulating Donny on becoming a grandfather soon (again). "Lovely news..a new granddaughter too! You and Debbies reaction is priceless! Congratulations Chris and Alta!" one fan writes. Another says, "I thought it was a girl with them having the grandparents do the reveal! How wonderful!🙏😊"
We're so excited for the Osmond family to continue growing! Congratulations to both Donny and Debbie, and Chris and Alta, on this new bundle of joy coming in November.