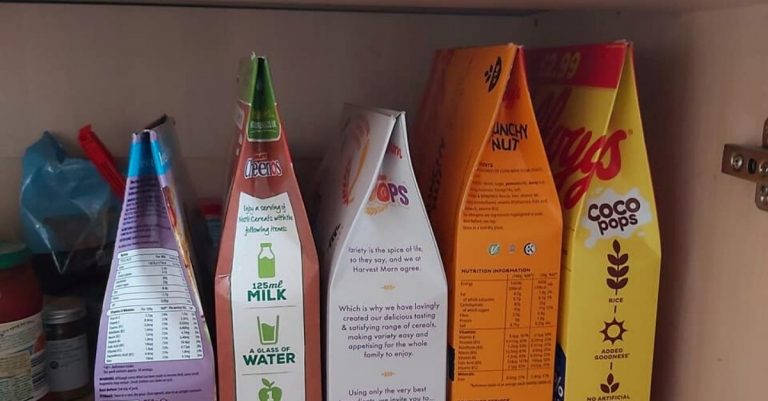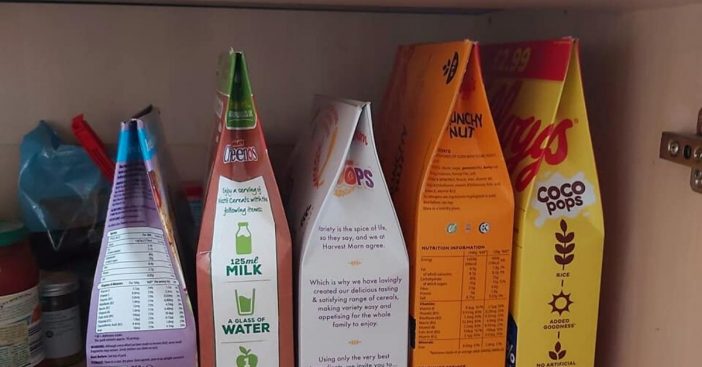 Let's face it, cereal boxes are so hard to close and keep closed! Many people opt for fancy plastic or glass containers to keep their cereal fresh. However, if that's not your thing, a viral hack is going around that helps you keep cardboard cereal boxes closed. A mother of two named Becky McGhee shared the trick on Facebook.
Becky said she got the idea after seeing a photo of a cereal box on a website. She realized there was a trick and decided to try to figure it out. She posted a few photos and then her friends were asking for a video tutorial! It went viral pretty quickly.
Mom gives us an incredible hack for cereal boxes
https://www.facebook.com/photo.php?fbid=10163890423935508&set=pcb.10163890423985508&type=1&theater
Here's what you have to do. Get a box of cereal or another cardboard box that doesn't like to stay closed. Grab the small flaps on the side and tuck them in.
RELATED: You Need This Glad Container Hack For Your Next Packed Lunch
https://www.facebook.com/photo.php?fbid=10163890423835508&set=pcb.10163890423985508&type=1&theater
Take one of the long flaps and tuck it into the box as well. Then, take the shorter sides and fold them into a "V" and push them in too. Lastly, take the other long flap into the box and you'll see results.
It might take a few tries, but you'll get the hang of it! Watch the video tutorial below:
https://www.facebook.com/843860507/videos/pcb.10163890423985508/10163890478025508/?__cft__%5B0%5D=AZWuhpiyXrSTO5Z4aS1HO5otr5ZKIy0ZO8fDbLWpiv1iz0L_wvJgV4TGP36zmT01Eo4fzzPueFjjax4UuhADIsdEFOAjN2Ltd1G3C45QilxyOtWXoHhIVZpmsBkbDVnIVVW0HIgBInQYX_1XyTJn8JM4&__tn__=*bH-R
And we couldn't mention cereal without adding some throwback cereal commercials! Which commercial was the best, let us know!