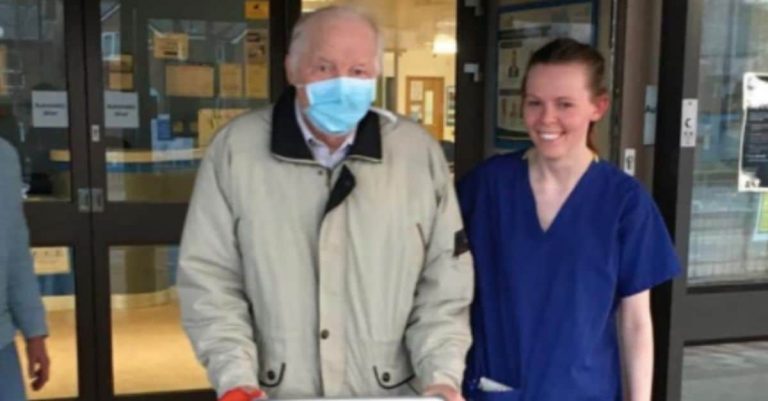 An 87-year-old elderly grandfather has finally been discharged and is home after he had been battling coronavirus for two weeks. He was pictured walking out of the hospital with a face mask and his walker. The image resonated with thousands across the Internet as a sign of hope that we'll come out of this eventually.
Sophie Edwards of the UK shares this story on her Facebook page. "This is my 87 year old Grandpa saying goodbye to staff at North Manchester Hospital where he's been for 2 weeks with Covid Positive Pneumonia. He's now finishing his recovery where he belongs, at home with my Grandma!" she writes.
This elderly grandfather is heading home after battling the coronavirus head-on
https://www.facebook.com/photo.php?fbid=10156818522466669&set=a.10151322055941669&type=3&theater
She continues in her post, "Thank you to everyone for all their kindness and support through a difficult time 🥰 and most of all…..thanks to the NHS!!"
RELATED: Social Security Benefits Will Not Be Impacted By The Coronavirus Outbreak
This post comes as a hopeful message to many as the elderly are part of the high-risk groups concerning the coronavirus. For someone of his age to come out of this alive is an incredible miracle story. So far, the post has 13k comments and nearly 100k shares.
Many people have been taking to the comments section to leave messages of positivity. "Praise God. What a witness to the human spirit to survive against all odds," one person says. Another adds, "What a fighter you are, Sir. We salute you. Brilliant news,"
"That's absolutely amazing. Thank you for sharing and giving us some hope," writes another Internet user. We hope this man continues to regain his health and strength and we pray that many others in the same situation pull through!