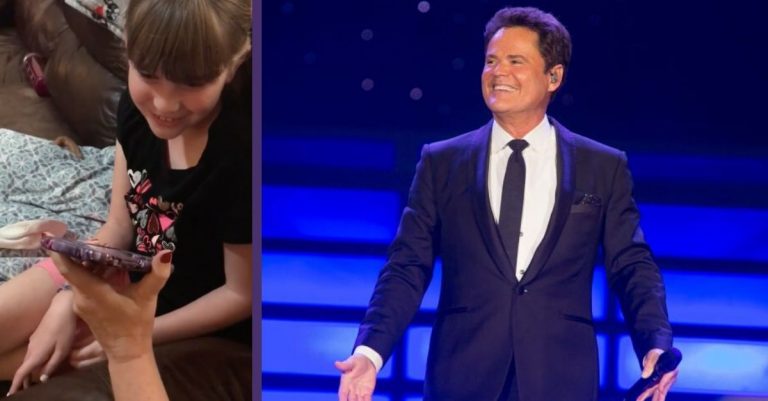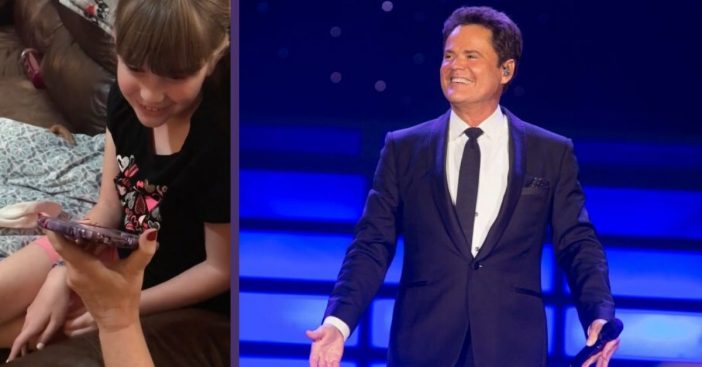 Donny Osmond just shared some pretty exciting news! A 10-year-old girl named Alexis won a contest and was able to duet the song "Close Every Door" with him. He posted about it on his Instagram feed alongside a video of the two singing the song together over the phone.
"I had so much fun chatting with my Valentine's Day contest winners. Michelle, one of the winners, sent me this video afterwards. It's too cute not to share! Her 10-year-old daughter, Alexis, wanted to sing "Close Every Door" over the phone together," he writes.
10-year-old Alexis wins contest to receive a phone call from Donny Osmond
https://www.instagram.com/tv/B9FqDW3nxSc/?igshid=oi9f9n0ffa5s
The video and contest, in general, was met with a lot of positivity. One person writes, "So sweet! The voice crack was awesome too. I liked how you both giggled about that." Another says, "What a wonderful memory you gave that little girl!! You truly have a great heart ❤"
RELATED: Donny Osmond's Youngest Son, Josh, Is Engaged!
Once the duet finishes, Alexis tells Donny that "this is like the happiest day of my life." On February 10th, the musician announced that he was going to give a phone call to one lucky winner for Valentine's Day. In the post he writes, "Here's how to enter to win the call: In a comment below, 1) tag someone you love and 2) tell me why you would love to win this call. This contest will close February 13 at noon EST."
Donny would continue the post, "Winners will be announced shortly thereafter, so stay tuned! Check out my Twitter and Facebook for another chance to win. Must be following @DonnyOsmond to be eligible to win." So nice to see him going out of his way to make a fan's entire day and probably year!
RELATED: Donny And Marie Osmond Are Taking On New Challenges Apart