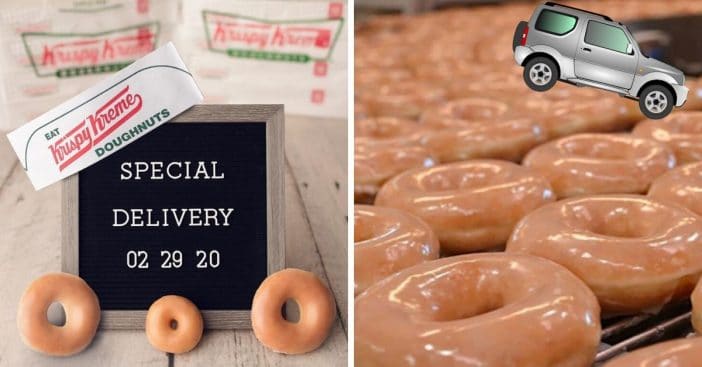 Krispy Kreme is rolling out donut delivery at all of its U.S. locations. 

The delivery starts on February 29, 2020. This is Leap Day. 

They are giving away free donuts to families of babies born on Leap Day to celebrate the new delivery service. 
Krispy Kreme has announced nationwide delivery for its customers. If you would love to order donuts to yourself or someone else and don't want to leave your couch, now you can! The program starts on February 29, 2020. This is Leap Day.
Some stores started online ordering and delivery in 2018, but now every single U.S. store will have delivery services. To celebrate, Krispy Kreme is offering a fun giveaway on Leap Day! If you or someone you know has a baby on Leap Day, you can get free donuts delivered to the hospital.
Krispy Kreme is now delivering your favorite donuts
To try to get five dozen free donuts, all you have to do is post on social media that a baby has been delivered. In the post, you need to name the hospital, tag @KrispyKreme and use #KrispyKremeSpecialDelivery. The hospital needs to be within 10 miles of a Krispy Kreme store.
RELATED: Krispy Kreme Is Selling Doughnuts Filled With Coffee-Flavored Cream
Krispy Kreme has around 350 locations in the United States. If you want donuts delivered to you anytime, you have to be within 10 miles from a shop. You can order on Krispy Kreme's app or website. There is a $5 for delivery, and likely the option to add a tip.
You can also order online and pickup in-store. Click here to order! Will you get donuts delivered?