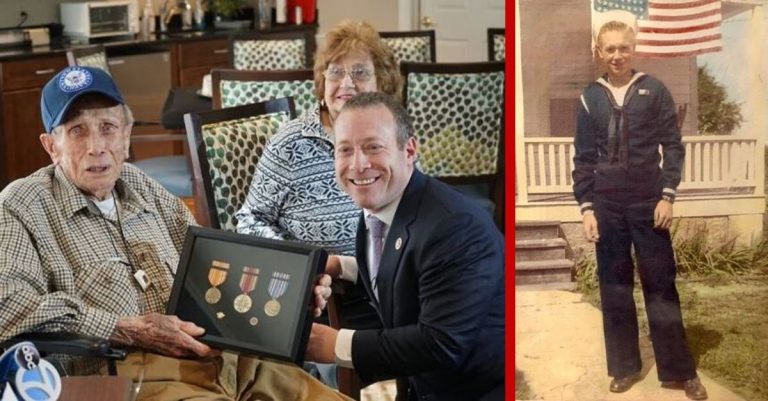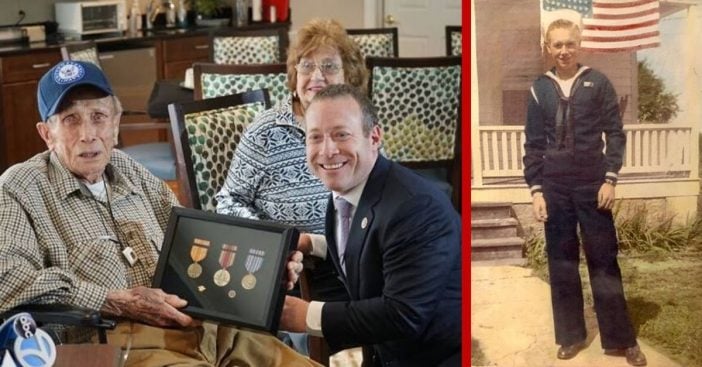 Thomas Simpson, 92, often received questions from his grandsons about World War II. Specifically, they asked the veteran he did during that turbulent and dangerous time. Simpson was prepared to tell them; however, the time wasn't right. Instead, when asked, he said: "Someday, I'll get my medals and I'll show you." Now, Simpson finally has the medals owed to him for his service.
At the Sunrise of Old Tappan assisted living facility, US Rep. Josh Gottheimer presented the New Jersey resident with his medals. CNN reports that they include the Honorable Reserve Discharge Button, the Ruptured Duck Honorable Service Lapel Pin, the Asiatic Pacific Campaign Medal, the American Campaign Medal, and the World War II Victory Medal.
Thomas Simpson felt compelled to serve early on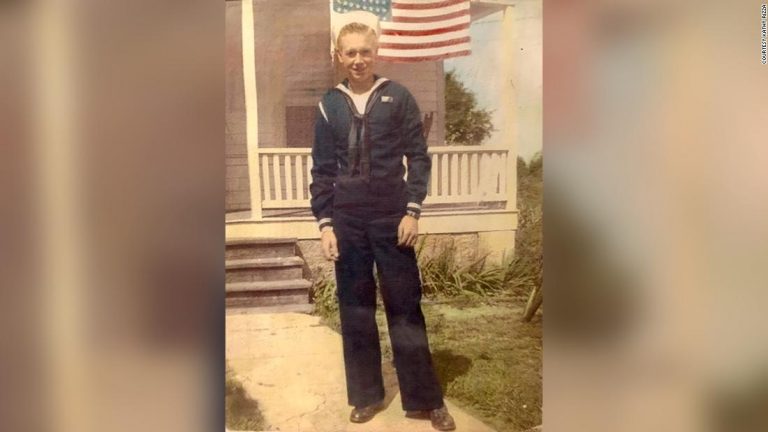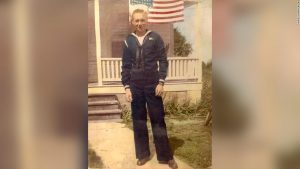 At only 17 years old, Thomas Simpson enlisted in the army. His reasons are as humble as his current attitude even after receiving his many medals. He explained, "I was just doing what the good Lord put me on Earth to do. Part of that was to protect my country and that's what I did." Though the act of serving meant a lot to Simpson by itself, he still treasures his medals, awarded seven decades after he served during World War II.
RELATED: 62-Year-Old Veteran Sets Record For Holding Plank For Over 8 Hours
"I know they're not medals for bravery or anything like that, but it just makes you feel humbled," Simpson explained to CNN. After enlisting, Simpson went to Okinawa, Japan. There, he eventually took up work as a cook after a simple conversation with his peers. He recalled, "The skipper woke me up one morning at 5 o'clock and he said, 'Do you know how to make coffee?' I said, 'Yes, sir,' and he said, 'Well, you're the new cook.'"
Now, Simpson lives with a quiet, contemplative pride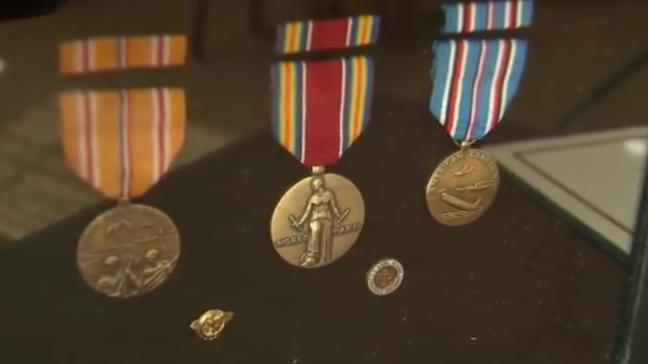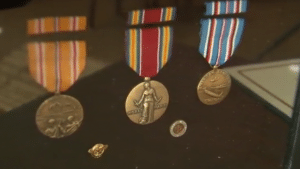 Thomas Simpson served in the Navy for about two years. After that, he kept himself busy by working at the post office then as a police officer with the River Vale Police Department. After ten to twelve years, Simpson went from being an officer to becoming chief. He also was able to marry his wife Dorothy when he returned home. In all that time, though, it's clear part of his heart always belonged to the Navy. "I've been looking at [the medals] all morning," Simpson said. "They mean everything. [It feels like] I'm back in the Navy again," he said after receiving them. Indeed, it means a lot to the country. In a statement, Gottheimer described the presentation as inspirational and invigorating. In part, that was thanks to Simpson himself. "It's an absolute honor and privilege to hear Mr. Simpson's story and to thank him for his service to our great country," Gottheimer stated.
There is, however, also a sense of urgency in acts such as these. He added, "After sacrificing so much, [veterans] and their families should never struggle to get the care or recognition they so rightfully deserve." The U.S. Department of Veterans Affairs reports that fewer than 400,000 out of 16 million U.S. World War II veterans are alive today. Additionally, the resource claims that 294 die each year. Because of this sobering statistic, Gottheimer knew this couldn't wait anymore, and 70 years was already far too long. Now, Simpson can tell his seven grandchildren and three great-grandchildren all about his adventures with the medals he earned along the way.
Watch our visit to Old Tappan this morning to present World War II veteran and Fifth District native Thomas Simpson his service medals, more than 70 years after his Naval service in Okinawa, Japan. (1/2) pic.twitter.com/IrhIDJ0tLq

— Rep Josh Gottheimer (@RepJoshG) February 24, 2020