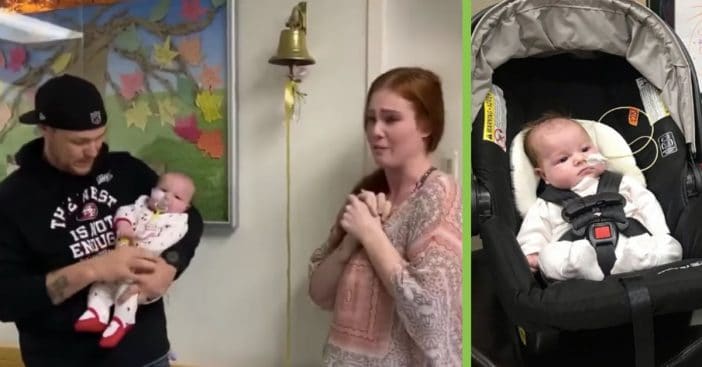 For cancer patients in remission, ringing the bell is something that many of them aspire to be able to do. For one 4-month-old girl, that was made possible (with the help of mom and dad, of course!) Lillian Grace Borden was born on September 5th. When she is born, everything seems normal and she appears to be very healthy. However, a nurse notices that Lillian isn't moving her arms and legs the way a newborn should. An MRI would later reveal something on her brain stem.
It ends up being an aggressive tumor on the brain and surgery was too risky. "It was a really bad situation," says Dr. Caroline Hastings. Chemotherapy sessions were Lillian's only hope and option. After general rounds of chemo, doctors got the go-ahead to put Lillian on a new, targeted kind of chemo. It miraculously worked.
Lillian Borden beats brain cancer!
https://www.facebook.com/NVKidsCancer/photos/a.190002894371966/2803888256316737/?type=3
Just three weeks after that new targeted chemo treatment, the tumor was gone. "Everyone in the hospital is in shock," Lillian's mother, Leann, says. "They say it's magic. I say it's faith."
RELATED: WATCH: Marine Breaks Down Sobbing When He Finally Meets Newborn Son
The doctors at UCSF Benioff Children's Hospital in Oakland, CA were officially able to declare Lillian cancer-free in January 2020. A video of her ringing the bell with an emotional mom and dad was taken. It's so beautiful and heartwarming. Best wishes and the best health for Lillian and her family! 2020 is already full of blessings and good news.
https://www.facebook.com/KFOXTV/videos/139966220345210/