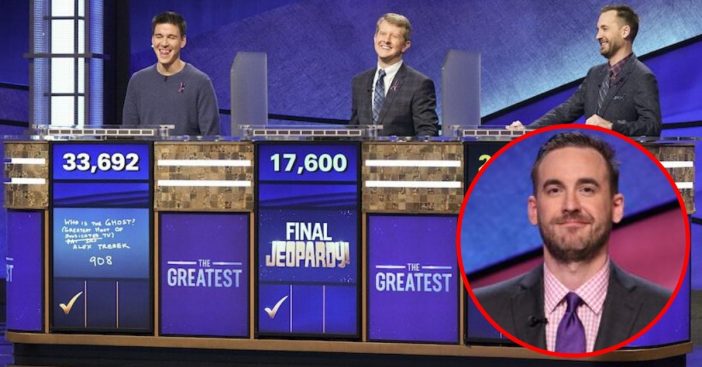 ABC recently just concluded their Jeopardy! Greatest of All Time tournament as Ken Jennings takes home the gold. Brad Rutter and James Holzhauer were also participating in the tournament. Washington Post recently sat down with Rutter to get his perspective on the tournament and losing to Jennings. If you watched the tournament, you'll recall he didn't do too well in the tournament and was often lagging way behind Jennings and Holzhauer.
Jennings ultimately went home with a $1 million prize and Holzhauer took home $250,000. So, when it comes to Rutter and his luck on the show, many are wondering what happened. "I couldn't get the buzzer mojo going, and that has usually been one of my strengths," Rutter admits. "So when you're dealing with a match like this, it can come down to a 100th of a second in terms of timing. Ken and James were able to get that down, and unfortunately I wasn't."
Brad Rutter talks losing 'Jeopardy! GOAT'
Both Jennings and Rutter agree on one thing; two of the major components of the game are being able to hit the buzzer and luck. Another key element to the game is being able to master Daily Doubles. While Rutter would 10 over the course of four matches, he answered six of them incorrectly. This caused a negative impact on his overall score.
RELATED: Fans Relate To 'Jeopardy!' Contestant Who Battles Anxiety On The Show
"You can't really afford to let yourself get frustrated," Rutter says in reference to wrong answers. "One of the reasons I've had success is [being able to] put it behind me and focus on the next clue… When I was actually up there, I was just worried about what was coming next."
Trash-talking and fighting words
While Rutter may have not played his best game, it's still worth noting that he did get a lot correct! One of these correct answers includes the "triple rhyme time" category in the first match. However, there were a few fighting words going on between the contestants as the constant scoreboards were wiped to start the second game. Beforehand, Rutter's incorrect Final Jeopardy answer would wipe his score completely, but it was still showing afterward. "Hey, Brad's score is still on there," Holzhauer notes. This earns a gasp from the audience and probably some viewers at home, too!
Rutter says he only "vaguely" remembers the fighting words and took to Twitter to formally respond to Holzhauer. "Congrats to @James_Holzhauer as well. Have the New Orleans Saints been in touch about a job? Because with their tendency to talk a bunch of trash after losing in the playoffs, you'll fit right in."
"I'm not really a trash-talking sort of guy, so it was fun to explore that," Rutter jokes. Sounds like it was really all in good fun and there's no bad blood between the two! In conclusion, Rutter was just happy he was able to get back on the show again, meet the other contestants, and see Alex Trebek again. "It's so hard to remember … what actually happened. The details kind of blur together in a mix of adrenaline and fatigue."
He says that "It's nice to see what actually went on." Check out the video below to see the moment where Holzhauer completely roasted Brad Rutter for his '0' score.