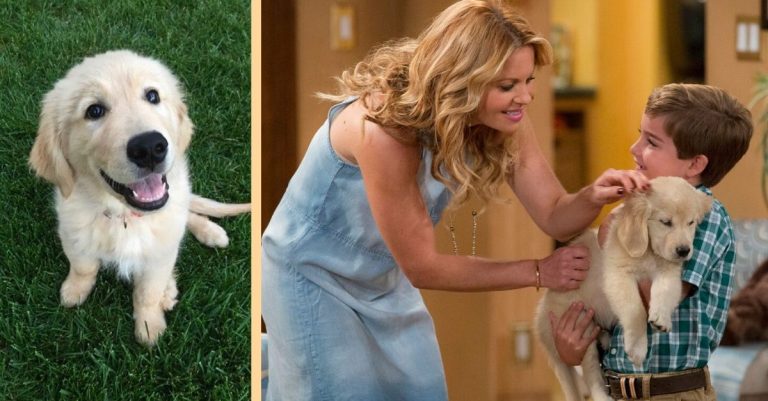 Cosmo, the family dog from Fuller House passed away this week due to surgery complications. Since his passing, several stars from the beloved franchise expressed their grief and love for Cosmo on social media. The show's Twitter and Instagram pages shared touching images of Cosmo for fans to remember him by.
The official Instagram account for Fuller House first broke the news Tuesday. With it they shared a picture of the adorable dog at his happiest, smiling up at the camera with shining eyes. The post also expressed just how much Cosmo meant to everyone involved on Fuller House, stating, "There will never be another quite like our boy."
Cosmo was as much a part of Fuller House as the cast and crew
We're sad to share that the Fullers' faithful dog Cosmo, who grew up on our set, passed away after complications from surgery. There will never be another quite like our boy. 💛 We'll miss him forever. pic.twitter.com/yVjkJONdQ9

— Fuller House (@fullerhouse) December 16, 2019
Cosmo "grew up on our set," the posts state. According to his trainer, Denise Sanders, he was four years old. We recently explored how real dog years reveal dogs to be even older than we realized. All four of those years saw Cosmo working on set with the actors of Fuller House and his trainer. But Fuller House isn't the only place you can see Cosmo. He appears in an episode of Suits and The Middle. Additionally, his trainer revealed, "He has also been in commercials for Beggin' Strips, Dietz & Watson, [Chewy], and Skechers. [He's also done] webisodes for Evite and Amazon. And photo shoots for Nautica and Jeep."
RELATED: CT Police Dog Still In The Pound Two Years Later Because No One Will Take Her In
Golden retrievers are known for their gentle temperaments and ability to learn quickly. Cosmo, his trainer admitted, expressed these traits to an exceptional degree. Cosmo "was a natural from day one." Though he and his trainer had limited access to the cast when not filming, Cosmo knew how special this work was. Sanders informed Feeling the Vibe in March that Cosmo "is always very excited when we are in production and gets to see them on a daily basis."
All who knew and loved Cosmo are mourning his passing
Our sweet boy Cosmo is now running around in doggie heaven. I imagine he's playing with Comet 😉 right now.
Cosmo has been in Fuller House since the start and we are heartbroken that he passed away during surgery complications. You'll be so missed love bug ❤️@fullerhouse pic.twitter.com/xzqULFRF8s

— Candace Cameron Bure (@candacecbure) December 16, 2019
Several more pictures of Cosmo follow the initial, joyous image shared on Instagram. Fans can see Cosmo in his element, surrounded by his family and loving every second of it. Many iconic shots and sets are not complete without his presence. One image features him stood at the iconic den in front of the staircase in the Fuller House home. Yet another features him sat on a picnic blanket, a familiar sight from the Full House intro credits.
Cast members quickly added to the collection of fond memories and tributes to television's favorite dog. Candace Cameron Bure expressed her love for Cosmo and hoped that he might get to see Comet across the Rainbow Bridge.
Jodie Sweetin, the actress behind Stephanie Tanner, shared a similar sentiment through her heartbreak. Clearly, Cosmo was a friend to everyone, and Sweetin remembers him as fondly as she and Stephanie would remember Comet.
As you may have heard, our beloved Cosmo has passed away. He had gone in for surgery and suffered complications. Our little Cosmo was always such a good boy and our hearts are 💔.

Say hello to Comet for me, buddy.… https://t.co/KaM2ZvvMNO

— Jodie Sweetin (@JodieSweetin) December 17, 2019
Even individuals with such humor in their hearts as Joey Gladstone's actor Dave Coulier felt saddened by the sad news. He vowed to remember the canine cast member each day to come.
We're all so sad that our beautiful boy, Cosmo passed away from surgery complications. He grew up fullerhouse and will be loved and missed forever. #doggieheaven #fullerhouse @ Warner Brothers Studios – Burbank, CA https://t.co/QlaaPvluN0

— Dave Coulier (@DaveCoulier) December 16, 2019
The first half of Netflix's spinoff series finale to Fuller House concluded this December. The final latter half of the finale shall debut in 2020. According to PEOPLE, the final episodes were taped just a few weeks ago.
RELATED: Learn Why Mary-Kate And Ashley Olsen Won't Appear On 'Fuller House