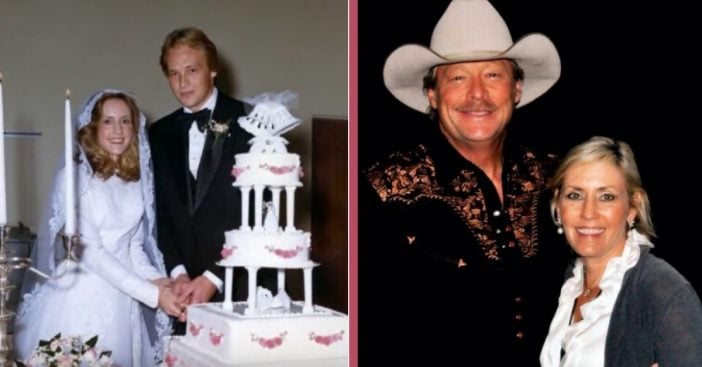 Alan Jackson began his career in country music in 1983. Throughout the ups and downs that come with a music career, one person has been by his side through it all. His high school sweetheart and wife, Denise. Long before he became the country star we all know today, he was meeting Denise Jackson in high school! She even had the same last name as him, funnily enough.
The two would marry in 1979. Denise was even the primary source who single-handedly jumpstarted Alan's career in music. While she was working as a flight attendant, she approached country singer Glen Campbell in the airport and told him of Alan's dream. He would later step in to help launch Alan's career.
Alan Jackson and his life with his high school sweetheart
I love this picture of Alan Jackson and his wife Denise Jackson. They are a special couple in my heart. pic.twitter.com/LBAoub1Kn4

— Linda Beaton (@beaton_linda) May 20, 2014
Alan's career began to take off and so did his family. He and Denise would welcome a daughter, Mattie, into the world in 1990. Daughters Ali and Dani would come in 1993 and 1997 respectively. By 2004, Denise would even make an appearance in the music video for Alan's song "Remember When." During the instrumental break of the song, the music video would show the two slow-dancing and sharing a kiss. Images of the two would play over the screens in the background. How sweet! Check out the music video for that song below.
RELATED: Hank Williams: A Short Career With A Lasting Impact On Country Music
Alan says that the song she made an appearance in for the music video was about his wife. He says the song is a reflection on his life with Denise and how they'll look back one day on all of it and say, "Remember when?" With Alan being on tour, Denise isn't always able to join him. However, she was able to join him up on stage at a concert in Atlanta, Georgia in 2007.
"I got another guest I want to introduce tonight, which I don't get to do much," he says. "My wife, Denise." She comes out on stage quickly to join her husband, wrapping an arm around him and smiling. It's clear that the two still love each other very much!