Car enthusiasts will get a kick out of this one. Anyone who has crossed paths with a vintage vehicle knows all the creative possibilities that exist when revitalizing it. Some people polish it up to exactly how it was decades ago. Others keep the appearance vintage but give the inner workings a modern twist. But others still go a whole different route and completely reimagine what their old car can be. When Brent Walter acquired his Volkswagen Beetle, his approach definitely fell into that third category.
The Volkswagen Beetle boasts a small design that definitely earns the car its nickname, the "Bug." That squat shape and limited access and seating make this vehicle compact as it scuttles about the roads. When you spot one of these bugs, you immediately think of a time decades passed. Brent Walter's reworking of the Beetle, however, resulted in something that looks both vintage and futuristic at once.
This mini bike is genius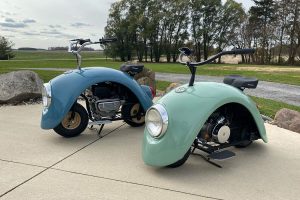 One iconic feature of the Volkswagen Beetle is its size. It gave it a nickname and made this vehicle synonymous with tight spaces – and efficiency. This car, unlike others, stuck around. Being known for taking up so little amount of space, you wouldn't expect much could be done with this car. Walter tested that belief and completely turned it on its head. The result is a set of his new creation. This self-proclaimed "maker and builder of a variety of things" made himself not one but two minibikes.
RELATED: After Walking 24 Miles For Work, Woman Receives Incredible Surprise From Co-Workers
Walter dubbed these new vehicles the VW Mini Bike. Just like the original Volkswagen Beetle gets called the Bug, the VW Mini Bike gets another endearment: the Volkspod. They certainly look like pods, evoking thoughts less centered on insects and more on a futuristic, minimalist motorbike. We're a long way off from the gyrospheres of Jurassic World, but Volkspod looks a bit like them, cut in half.
Just like the Volkswagen Beetle, the Volkspod represents compact efficiency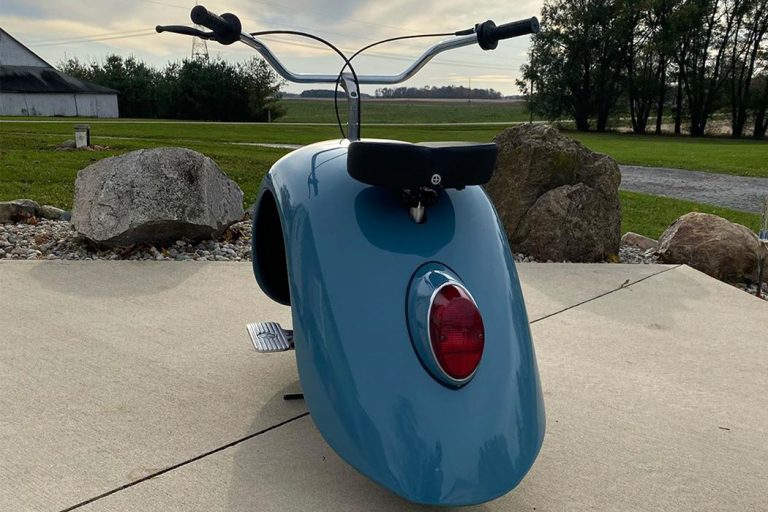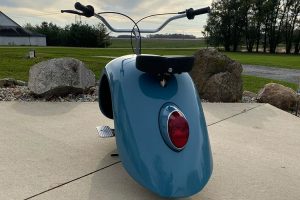 The fenders from the car's corners make up the larger amount of the minibikes. Those really were the largest parts needed, and the bikes don't get much larger after that. Only the small scooter, producing a very '90s aesthetic, and seat add more mass. After recycling the main body of the original Bug, Walter added on a 79cc engine to make sure his new creations moved well.
The Volkspod sticks to its source material in other ways too. These mini bikes come primarily in the Volswagen's famous birch green and pastel blue colors. This designer really showed that creativity can yield amazing results.