Nick Nolte recently spoke about some of his most iconic acting roles. Nolte is best remembered for his roles in Affliction (1997), The Prince of Tides (1991), and of course, 48 Hrs. (1982). It was surprising to learn why Nolte abandoned a request by 48 Hrs.' director, Walter Hill, to meet his future buddy cop, Eddie Murphy. Especially, since Nolte had traveled to New York City primarily for this reason.
Nolte opened up about flying to the East Coast to meet the young Saturday Night Live star. In the video interview, Nolte states that he was staying at a friends' apartment when he mentioned the potential meeting for the buddy cop movie. Unfortunately, his friend had some advice. Nolte told his friend that he had to meet the young SNL star but his friend responded, "The black cat? Oh, you can't use him. He's a base freak! You can't go near him." At that time, cocaine was rampant in the entertainment industry and in New York City alike. Nolte decided to listen to his friend and flew back to California without meeting with Murphy.
Director Walter Hill heard about Nolte's unsuccessful trip and responded with, "You didn't meet him, did you?" Walter Hill knew that the SNL star Eddie Murphy was not the 'base freak' that Nolte's friend had suggested. Nolte's buddy was actually referring to another SNL cast member, Garrett Morris. Morris has been open about his vigorous struggles with cocaine since he kicked the habit in the early 2000s.
Finally, Eddie Murphy flew to California and the 48 Hrs. castmates met each other. Instantly, Nick Nolte could tell that Murphy was indeed not the drug addict that his friend incorrectly warned him about. Nolte states, "He was 18 and very young. He didn't go near any of the substances."
Nolte and Murphy, These Buddy Cops Were Not Studio's 1st Choice
Even before Nick Nolte fled New York without meeting his future co-star, 48 Hrs. nearly looked extraordinarily different. Nick Nolte only got the role because other established actors turned it down. Those included Mickey Rourke, Clint Eastwood, and Jeff Bridges!
Eddie Murphy was in a similar boat. Before Walter Hill decided on the young SNL star, the studio had several other actors in mind. For example, Gregory Hines, Richard Pryor, and even a young Denzel Washington had been originally lined up for the role.
In conclusion, the moving parts and different variables that almost paired 48 Hrs. with different buddy cops truly shows how finicky the movie business is. I cannot imagine this classic '80s film with any two cops besides Nolte and Murphy.
This buddy cop movie was so successful that they made a sequel in 1990 called Another 48 Hrs. The popularity of the film continues today, as studio executives are currently working on a remake of the original. It is unclear whether Nolte or Murphy will reappear in the movie, possibly with cameos.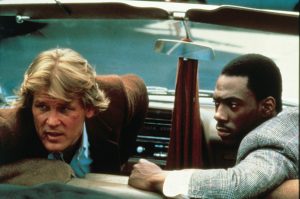 Watch Nick Nolte's full interview about some of his favorite roles below.