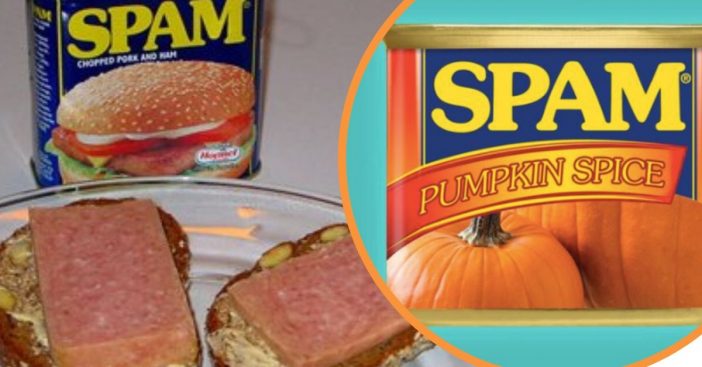 Pumpkin spice SPAM really exists and it's coming to online stores this fall.

It originally starts with a Facebook post a few years ago joking about a pumpkin spice SPAM flavor. Now, it's a reality.

The taste testers at Daily Meal try it and say it's not that bad. They also suggest some dishes it could go well with.
Yes, it looks like pumpkin spice has truly infested every single food or drink known to man. Who would have ever thought to mix pumpkin spice with SPAM? The product will be available only on Walmart's website and the official SPAM website starting September 23rd.
SPAM actually teased the concept of pumpkin spice SPAM a few years ago. In a post, they write, "Just in time for fall—SPAM® Pumpkin Spice! Ok, it might not be real, but you can still put it on your holiday wishlist! Would you?" Looks like it has become a reality!
It's apparently not too bad
According to the Daily Meal, who courageously tried this odd concoction, it's not that bad. They report the following:
Although this is one of the more peculiar pumpkin spice products on the market, surprisingly, the general consensus was that the flavor really wasn't bad. It certainly had that soft texture that anyone who's had Spam will be familiar with, as well as the expected salty, porky Spam flavor. Cinnamon, clove, allspice and nutmeg shared center stage with the rich and savory Spam flavor, however, along with a hint of sweetness.
These brave taste-testers say that the pumpkin spice SPAM would go well with breakfast dishes such as waffles or in an egg scramble. On the original Facebook post teasing the joking concept of a pumpkin spice flavor, one Facebook user comments, "Goes great with spearmint bacon and lemon eggs." Could it be true?
Be sure to get your hands on pumpkin spice SPAM when it releases this fall! Only for the brave pumpkin spice lovers. It even got news coverage (seen below)!